~ Central Taiwan's Largest Outlet Mall ~
Groundbreaking Ceremony held at Mitsui Outlet Park Taichung Port (tentative name)
Scheduled to open at the end of 2018
August 21, 2017
Mitsui Fudosan Co., Ltd.
Key Points of the Project
Taiwan's second Mitsui Outlet Park operated by the Mitsui Fudosan Group scheduled to open at the end of 2018
Largest number of stores in central Taiwan (approximately 160 stores)
An open commercial space utilizing the waterfront environment
Tokyo, Japan, August 21, 2017 - Mitsui Fudosan Co., Ltd., a leading global real estate company headquartered in Tokyo, announced today through project company SAN ZHONG GANG OUTLET CO.,LTD. that work is progressing steadily on Mitsui Outlet Park Taichung Port (tentative name), which was decided in September 2016. A groundbreaking ceremony was held today, with those in attendance including Mayor Lin Chia-lung of Taichung, and Chairman Wu Men-Feng of Taiwan International Ports Corporation, Ltd. This is Mitsui Fudosan's second project site in Taiwan, and is scheduled to open at the end of 2018.
* Mitsui Fudosan Taiwan Co., Ltd. is a wholly owned subsidiary established as a project company to advance this business
The project site is located adjacent to the Taichung Port ferry terminal, 9 kilometers from Taichung Airport, with good access to the highway interchange and high-speed rail line. The Taichung Port area is one of Taiwan's top tourist areas, being lively and attracting many tourists due to attractions including the Gaomei Wetlands (approximately 2.2 million annual visitors) renowned for their beautiful sunsets, and the Wuci Fishery Harbor (approximately 1.66 million annual visitors), which is famous for its tourist fish market. Development plans for the area raise expectations of further developments, including the planned construction of an adjacent yacht club and a shuttle bus route around tourist sites in the port area.
This facility will utilize the waterfront environment to create an attractive commercial space with an openness never before seen in Taiwan. In addition to a dining zone and 1,000-seat food court, consideration is being given to various entertainment facilities such as a large-scale Ferris wheel. The aim is to become a commercial facility that families can enjoy the whole day through by responding to the needs of residents in the Taichung catchment area and a wide array of travelers from within and outside of Taiwan.
Drawing from the experience gained from the opening in January 2016 of Mitsui Outlet Park Linkou, Japanese stores will be actively invited to take part. This facility will also invite a wide variety of fashion brands including luxury, international, sports, outdoor and casual brands to create a wide-reaching tenant composition planned to be among the biggest full-scale outlet malls in central Taiwan. The Mitsui Fudosan Group will maximize the expertise it has cultivated in developing, leasing and operating over 100 commercial facilities in Japan and overseas.
| | | |
| --- | --- | --- |
| Bird's eye perspective drawing | | Perspective drawing of the waterfront deck |
Mitsui Fudosan's Overseas Strategy
The Mitsui Fudosan Group has positioned overseas business as one of its growth areas. Under the Group's "Innovation 2017 Stage II" medium-term business plan through fiscal 2017, announced in May 2015, the Group is planning to execute investments of approximately ¥550 billion in Europe, the Americas and Asia over a period of three years from 2015 to 2017. At present, the Group is making steady progress with those investments.
In Asia, Mitsui Fudosan is actively capturing growing consumption and contributing to local areas while aggressively promoting its business to quickly expand its earnings. Initiatives include the 2011 opening of Shanjing Outlet Plaza-Ningbo in China, the opening in May 2015 of the Mitsui Outlet Park KLIA Sepang in Malaysia, the opening in January 2016 of Mitsui Outlet Park Linkou in Taiwan and progress on Mitsui Shopping Park LaLaport Kuala Lumpur (tentative name) in Kuala Lumpur. Mitsui Fudosan is also actively engaged in the real estate business in Malaysia, Singapore, Thailand, Indonesia, China and the Philippines, and is expanding development projects in Asia.
The Mitsui Fudosan Group's Business in Taiwan
In January 2016, the Mitsui Fudosan Group opened Mitsui Outlet Park Linkou, the Group's first business in Taiwan, and is steadily increasing sales on the back of customer attraction greater than initially envisaged.
In January this year, Mitsui Fudosan decided to take part in its first hotel project in Taiwan. In the same month, Mitsui Fudosan also decided to move ahead on its first LaLaport business in Taiwan. Development plans include commercial facilities and hotels throughout Taiwan, as well as housing sales, logistics facilities, and multi-use development projects.
| | | |
| --- | --- | --- |
| Perspective drawing of the mall interior | | Perspective drawing of an outdoor street |
Property Overview
Location
Taiwan Blvd Section 10, Wuqi District, Taichung City, Taiwan
Transportation Access
Approximately 22 kilometers from the center of the city using Taiwan Boulevard, the main arterial road (approximately 45 minutes by car)
Approximately 8 kilometers from Shalu Interchange of National Highway No. 3, the main arterial road running north to south through Taiwan.
Project developer / Operations management
SAN ZHONG GANG OUTLET CO.,LTD.
Business format
Factory outlet mall
Site area
Approx. 1,937,500 ft2 (Approx. 180,000 m2)
Total floor space
Approx. 645,800 ft2 (Approx. 60,000 m2)
Store floor space
Approx. 377,000 ft2 (Approx. 35,000 m2)
Structure and scale
Reinforced concrete structure 1 floor above ground (2 floors in part)
Environmental design
MIX STUDIO WORKS
Architect
TMA Architects & Associates
Construction
Reiju Construction Co., Ltd.
Number of stores
Approx. 160
Opening
End of 2018 (planned)
Map
Wide area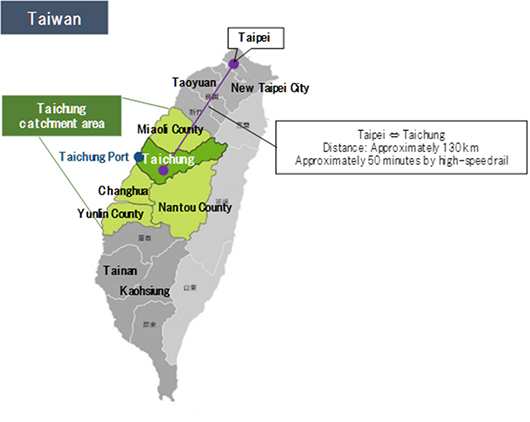 Mid-range map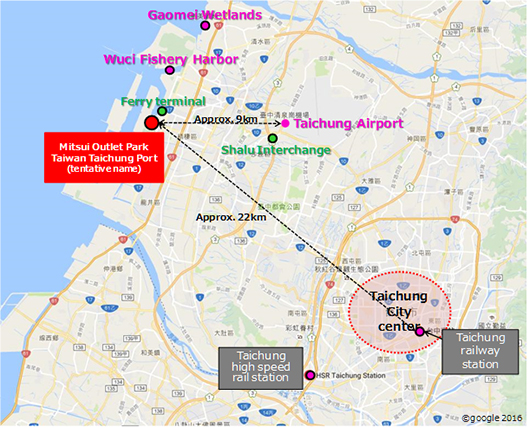 Mitsui Fudosan's commercial facility business in Asia
Country
Property
Opening year
Number of stores(approx.)
Store floor space (approx.)
China
Shanjing Outlet Plaza-Ningbo
(phase 1)2011 (phase 2)2015
190
39,700m2
Mitsui Shopping Park LaLaport Shanghai Jinqiao (tentative name)
2020 (planned)
200
60,000m2
Taiwan
Mitsui Outlet Park Linkou
2016
220
45,000m2
Mitsui Outlet Park Taichung Port (tentative name)
End of 2018(planned)
160
35,000m2
Mitsui Shopping Park LaLaport Nangang (tentative name)
2021(planned)
250
70,000m2
Malaysia
Mitsui Outlet Park KLIA SEPANG
(Phase 1)2015
130
24,000m2
(Phase 2)2018 (planned)
60
9,900m2
(Phase 3) 2021 (planned)
60
10,100m2
Mitsui Shopping Park LaLaport Kuala Lumpur (tentative name)
2021 (planned)
300
82,600 m2
Total
Seven properties
1,570
376,300 m2