"akasaka Sacas" - The Newest Redevelopment District at Akasaka
46 shops gather together at "Akasaka Biz Tower SHOPS & DINING"
to welcome the Opening on Thursday, March 6, 2008
December 7, 2007
Mitsui Fudosan Co., Ltd.
Mitsui Fudosan Co., Ltd. acts as Project Manager on behalf of Tokyo Broadcasting System, Inc. ('TBS'), the project owner of "Akasaka 5-chome TBS Development Project" at "akasaka Sacas*". We are proud to announce the names of the 46 shops opening on Thursday, March 6, 2008 at "Akasaka Biz Tower", the flagship building in this project. This commercial center within this latest Tower is named as "Akasaka Biz Tower SHOPS & DINING". Furthermore, grand opening of "akasaka Sacas" will take place on March 20, 2008.
* "akasaka Sacas"
A new term, which identifies the area, where TBS Broadcasting Center (existing building) and "Akasaka 5-chome TBS Development Project" now stand.
The Project is a multipurpose complex incorporating: the flagship building "Akasaka Biz Tower", a 180-meter office and commercial building with 39 floors and 3 underground levels; two entertainment theaters "Akasaka BLITZ" & "Akasaka ACT Theater"; "Akasaka Gallery", the cultural unit; high-classy rental residential building; and "Sacas Plaza". The development is a mixture of all three features, "work", "reside" and "play".
Upon project completion, various cultural venues at the Gallery and Sacas Plaza will be held to produce excitement. We aim to become the new icon of Akasaka, the place for entertainment and creativity. The Japanese word "Sacas" means "bloom". The "akasaka Sacas" is named after our strong wishes for a "bloomy" Akasaka, in terms of nature, culture, smiling faces, etc.
"akasaka Sacas" (perspective view from the north)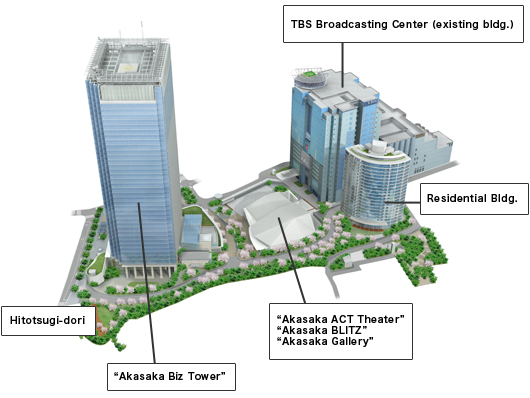 "Akasaka Biz Tower SHOPS & DINING"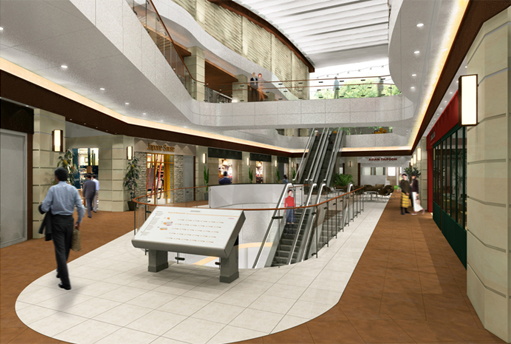 Akasaka is one of the most popular dining district in Japan, as well as a being a growing business district. This brand new commercial center "Akasaka Biz Tower SHOPS & DINING" consist of mainly restaurants, as well as retailers and guest service providers. Akasaka's long-established restaurants, new type stores and businesses and office worker friendly shops gather to serve the office workers, urban residents at and around "akasaka Sacas", as well as guests who came to enjoy the entertainment theaters. Our presence will generate affluence and enrichment and sure to further enliven the Akasaka community.
Followings are just some of the many restaurants/retailers stored at "Akasaka Biz Tower SHOPS & DINING". For the entire store lineup, please refer to the attached list.
Dining

Akasaka Rikyu
This renowned Chinese (Cantonese style) restaurant relocates its Akasaka Main Shop to "Akasaka Biz Tower SHOPS & DINING". The Head Chef Mr. Hikoaki Tan and first-rate chef from Hong Kong join and work together hard in pursuing the best cooking method and best ingredient so as to propose a nouvelle Chinese dishes to Japan.
Zakuro Group
The popular restaurants of Zakuro Group gather at "Akasaka Biz Tower SHOPS & DINING". These restaurants are: "Zakuro", the Japanese restaurant beloved by Akasaka for over 40 years; "Shabu-zen", the authentic shabu-shabu restaurant; "Granata", the Italian restaurant which is famous for getting the best out of the fresh ingredients; "Curry Shop Tops", which serves authentic traditional curry; and "Cake Shop Tops", the popular pastry shop that originated in Akasaka.
Maxim de Paris < New type restaurant. First debut in Japan >
A combination of Maxim-flavored bistro, cafe & wine bar and premium boulangerie. At the bar, you can select wine from several dozen selection, perfectly preserved for your enjoyment. The boulangerie in Paris will make its debut in Japan
DO-ZO < New type restaurant >
Brand new type of food court. At daytime, enjoy lunch and cafe. At nighttime, enjoy everything from healthy Japanese dishes to liquor. Produces "fun" for all guests with its serving hand-made dishes, fitting for various occasions.
MODERN Catalan SPANISH "Bikini" < New type restaurant >
A brand new type of Spanish restaurant will be opened under supervision of Mr. Josep Barahona Vines, the leading expert of Spanish cuisine in Japan.Will serve modern Spanish dished based on Spanish Catalan food in a la carte and/or course menu style.

Retail

COMPLETE WORKS TOKYO < New type retailer >
Lineup of high quality, basic men's fashion items, items that are unaffected by fashion trend, are available at this very selective shop.

Health & Beauty

PDS (Personal Design Studio) < New type beauty service >
Male guests who seek sophisticated appearance can find their image solution here at the beauty studio for working men. Refreshen the "tired" look with the facial massage treatment offered by the "image concierge".
We have built an atrium and installed huge glass panels for the commercial area. By using the same stone material for the columns inside and outside, we established a well-balanced, continuous design that enhances unity between the inside and abundant greenery outside. For façade, we have adopted an aged-looking sash to feature the warm and cozy design.
Mitsui Fudosan Group manages and operates vast number of office buildings, commercial properties and rental housings in the metropolitan area. We were appointed by TBS to carry out project management tasks, which includes basic planning, authority consultations & approval, marketing promotion (for leasing of office, retail units, and housings) and be the driving force of the entire project. After project completion, Mitsui Fudosan will lease the entire "Akasaka Biz Tower" and "Akasaka The Residence" from TBS for sub-lease business and serve as property manager and building operator for these buildings.
Project Outline
"Akasaka 5-chome TBS Development Project" General Outline
Location
3-1, Akasaka 5-chome, Minato-ku, Tokyo
Total Site Area
approx. 33,095 sq. meters (approx. 10, 011 tsubo)
Total Floor Area
approx. 218,461 sq. meters
Developer
Tokyo Broadcasting System, Inc.
Project Manager
Mitsui Fudosan Co., Ltd.
Design & Supervision
Kume Sekkei Co., Ltd.
Contractor
TBS Development Construction Joint Enterprise
Ohbayashi Corp., Kajima Corp., Maeda Corp., Shimizu Corp.
Schedule
February 2005 Commencement of construction
January 2008 Scheduled completion
Building Profile
(1) Akasaka BIZ Tower (Office & Commercial Building)
Size
39 above-ground stories, 3 underground floors, 1 penthouse floor Building height: approx. 179.25 meters
Structure
Steel structure
(partially steel-framed reinforced concrete structure and reinforced concrete structure)
Total floor area
approx. 186,865 sq. meters
Parking lots
404 lots
* Total retail floor area approx. 6,702 sq. meters
(2) Akasaka BLITZ, Akasaka ACT Theater, Akasaka Gallery(Cultural Building)

| | |
| --- | --- |
| Size | 4 above-ground stories, 1 underground floor Building height: approx. 28.9 meters |
| Structure | Steel structure |
| Total floor area | approx. 8,139 sq. meters |
(3) Akasaka The Residence(Residential Building)

| | |
| --- | --- |
| Size | 21 above-ground stories, 1 underground floor, 1 penthouse floor Building height: approx. 79.58 meters |
| Structure | Reinforced concrete structure |
| Total floor area | approx. 23,456 sq. meters |
| # of residences | 133 residences |
| Parking lots | 82 lots |
Map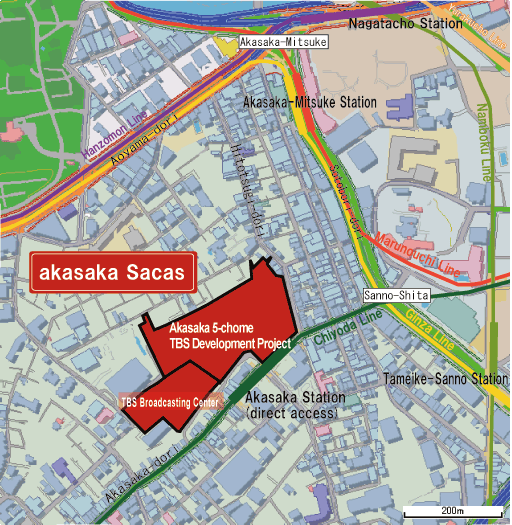 ©2006 ZENRIN CO.,LTD(Z08BB No.165)