"akasaka Sacas" - The Brand New Attraction in Akasaka
Completion of "Akasaka Biz Tower", "Akasaka ACT Theater",
"Akasaka BLITZ", "Akasaka The Residence"
January 31, 2008
Tokyo Broadcasting System, Inc
Mitsui Fudosan Co., Ltd.
Tokyo Broadcasting System, Inc. ('TBS') and Mitsui Fudosan Co., Ltd., as Project Manager for TBS have been implementing "Akasaka 5-chome TBS Development Project" at "akasaka Sacas". Today, we are announcing the completion of office/commercial building "Akasaka Biz Tower", cultural building "Akasaka ACT Theater" & "Akasaka BLITZ", rental residential building "Akasaka The Residence".
"akasaka Sacas" is a term coined to identify the entire area where the existing TBS Broadcasting Center and the site of the latest "Akasaka 5-chome TBS Development Project" now stand.
The Japanese word "Sacas" means "bloom". The "akasaka Sacas" is named after our strong wishes for a blooming of a new culture at Akasaka, many hopeful dreams to bloom, Akasaka in full bloom with smiling faces, etc. At "akasaka Sacas", the "Akasaka ACT Theater" will stage various entertainment from musical to Kabuki, and the legendary "Akasaka BLITZ" will feature live music performance. Both has great lineup of attractive events on hand. Furthermore, at the center of "akasaka Sacas" is an airy 1800 sq. meter space called "Sacas Plaza" where it will be the venue for fun and enjoying events.
Over 100 cherry trees are planted at this site. One of them is the offspring of so-called "Taki-Zakura (originated in Miharu-machi, Fukushima Prefecture)", known as one of the three major cherry trees in Japan, as well as the national natural treasure. Also, in front of the Akasaka Station Metro exit and beside the atrium escalator is a painting of "Taki-Zakura", the work of the acclaimed Japanese painter Mr. Hiroshi Senju. We are sure this area will become the urban oasis of recreation and relaxation.
Mitsui Fudosan was appointed by TBS to carry out project management, which includes tasks such as development planning, obtaining authority approvals, etc. After project completion, Mitsui Fudosan will lease the entire "Akasaka Biz Tower" and "Akasaka The Residence" from TBS for sub-lease business and serve as property manager and building operator for these buildings.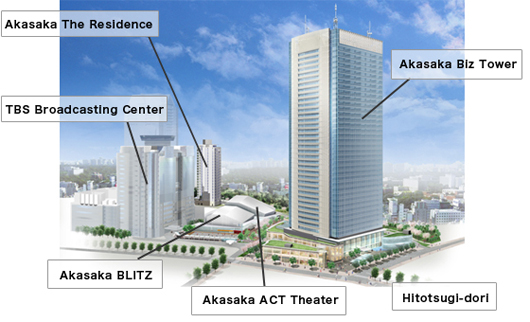 Akasaka Biz Tower
This building blends into the sky with its transparent look, made possible by using glass material for the façade. The southern side is aligned by ceramic louver which is another distinctive characteristic of this building. Each of the office floors at 4th to 38th floor is vast, pillar-free space of 2,836 sq. meters (858 tsubo) at ceiling height of 2,850 mm. It is sure to offer roomy working environment. The "sky view lounge" is also located on each floor for relaxation and tranquility of the office workers.
Akasaka Biz Tower SHOPS & DINING ... Scheduled grand opening: March 6th 2008
This is the commercial area situated between 1st basement floor to third floor within "Akasaka Biz Tower". Here, consisting of mainly restaurants and the beloved old-established local shops of Akasaka, you will find 46 fine shops/dining fitting for the Akasaka community. This sophisticated mall aims to become a place where all the guests, not just office-workers and urban residents but also for guests who come to enjoy the entertainment, are pleased and satisfied.
Akasaka ACT Theater / Akasaka BLITZ
The two entertainment facilities which existed in the past are remodeled and reborn. The two was the center of transmitting Akasaka culture toward the rest of the world. The two will continue to do so separately, each transmitting its original culture/information, but at times the two will unite to send appealing message to the world consistently. The fold-back roofs and polyhedral structure bring up the image of unique Japanese shaped form "origami" and gives the dignified impression and appearance fitting for these cultural facilities.
*Akasaka ACT Theater: Grand premier opening
Tetsuya Kumakawa K-Ballet Company's latest ballet act
"Beethoven Symphony No.9" (March 14 - )
*Akasaka BLITZ: GRAND OPEN SPECIAL LIVE "KREVA Best of Akasaka" (March 20-21)
Akasaka The Residence
Rental residential building with total of 133 housing units. Sky lounge located on the top floor (21st floor) of the building offers magnificent view of Tokyo metropolis. Furthermore, the urban residents' needs are backed-up by concierge front services and 24 hour valet services. Three designers, Mr. Kanji Ueki, Ms. Fumi Kimura, and Mr. Masuo Fujiwara have been appointed to provide supervision on interior. In addition to the high security system equipped throughout the common area and each housing unit, there is an exclusive resident-only fitness studio to provide safe, comforting and enriched daily lives for all the residents of this brand new residential building.
On March 6th, "Akasaka Biz Tower SHOPS & DINING" will welcome its opening, followed by grand opening of "akasaka Sacas" on March 20th.
Project Outline
"Akasaka 5-chome TBS Development Project" General Outline
Location
3-1/2/3, Akasaka 5-chome, Minato-ku, Tokyo
Total Site Area
33,095 sq. meters (10, 011 tsubo)
Total Floor Area
218,461 sq. meters
Developer
Tokyo Broadcasting System, Inc.
Project Manager
Mitsui Fudosan Co., Ltd.
Design & Supervision
Kume Sekkei Co., Ltd.
Contractor
TBS Development Construction Joint Enterprise
Obayashi Corp., Kajima Corp., Maeda Corp., Shimizu Corp.
Schedule
February 2005 Commencement of construction
January 2008 Building completion
Building Profile
(1) Akasaka BIZ Tower (Office & Commercial Building)
Size
39 above-ground stories, 3 underground floors, 1 penthouse floor
Building height: 179.25 meters
Structure
Steel structure
(partially steel-framed reinforced concrete structure and reinforced concrete structure)
Total floor area
186,865 sq. meters
Parking lots
404 lots
* Total retail floor area approx. 6,702 sq. meters
(2) Cultural Building ("Akasaka BLITZ", "Akasaka ACT Theater", "Akasaka Gallery")
Size
4 above-ground stories, 1 underground floor
Building height: 28.9 meters
Structure
Steel structure
Total floor area
8,139 sq. meters
(3) Rental Residential Building ("Akasaka The Residence")

| | |
| --- | --- |
| Size | 21 above-ground stories, 1 underground floor, 1 penthouse floor Building height: 79.58 meters |
| Structure | Reinforced concrete structure |
| Total floor area | 23,456 sq. meters |
| # of residences | 133 residences |
| Parking lots | 82 lots |
Map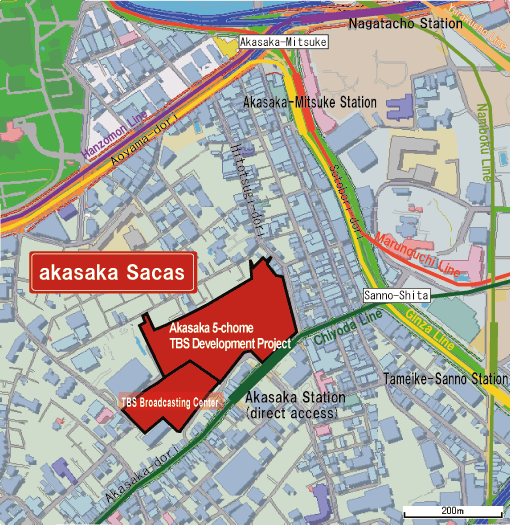 ©2006 ZENRIN CO.,LTD(Z08BB No.188)