Mitsui Fudosan to Develop Mitsui Outlet Park Kisarazu Kaneda (Tentative Name) – Opening of First Stage of One of the Largest Facilities in the Mitsui Outlet Park Series Scheduled for Spring 2012
January 20, 2010
Mitsui Fudosan Co., Ltd.
Mitsui Fudosan Co., Ltd. announced that it will commence with development of the tentatively named Mitsui Outlet Park Kisarazu Kaneda in the Nakajima area of Kisarazu City, Chiba Prefecture. The new facility is the eleventh addition to the Mitsui Outlet Park series of outlet malls across Japan. Construction of the first stage of the project is scheduled to begin in the summer of 2011, with the first stage set to open in spring of 2012.
The proposed site for the project is located near the Kisarazu-Kaneda Interchange (IC) where the Tokyo Bay Aqua-Line highway reaches the coast of Chiba Prefecture. This location provides superior access not only for traffic within Chiba Prefecture, but also for travelers from the entire Tokyo metropolitan area, including from central Tokyo and the coastal area of Kanagawa Prefecture. Furthermore, in addition to more than 100 high-speed buses arriving from Tokyo Station daily at nearby Kisarazu-Kaneda Bus Terminal, the site is a roughly 22-minute bus ride from Haneda Airport (Tokyo International Airport). These advantages make the site a prime location for both domestic customers and those from Asia and other overseas regions.
Regarding the facility, the new outlet mall is set to cover a large area of approximately 215,000 m2, and by the final stage will host some 200 to 250 stores with a total retail floor area of roughly 30,000 to 40,000 m2 according to plans. This proposed floor area surpasses that of Mitsui Outlet Park Iruma and Mitsui Outlet Park Jazz Dream Nagashima, and would make the Kisarazu Kaneda location the largest facility in the entire Mitsui Outlet Park series of outlet malls. Refer to the attached reference materials for a design profile for the first stage of the project.
Tenants on hand will include domestic and international name brands in areas such as ladies and men's fashion, children's apparel, sports and outdoors goods, accessories, and fashion merchandise. At the same time, Mitsui Fudosan is mulling efforts to attract the local restaurants and stores that retail locally produced goods enjoyed by the nearly 29 million visitors to southern Chiba Prefecture each year.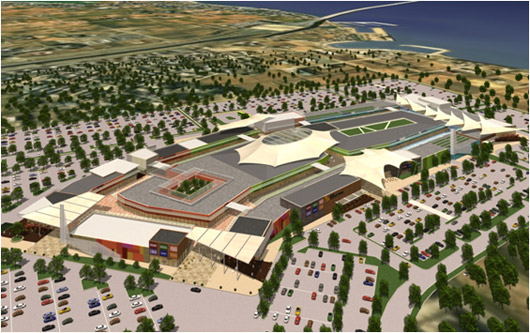 Conceptual image for first stage of the project
<About Mitsui Outlet Park>
Mitsui Fudosan presently operates eight Mitsui Outlet Park facilities across Japan. Alongside the opening of Mitsui Outlet Park Iruma (Iruma City, Saitama Prefecture) in April 2008, and Mitsui Outlet Park Sendai Port (Sendai City, Miyagi Prefecture) the following September, Mitsui Outlet Park Marine Pia Kobe (Kobe City, Hyogo Prefecture) was scaled up and reopened on March 18, 2009. The Company's ninth facility, Mitsui Outlet Park Sapporo Kita-Hiroshima, is scheduled to open this spring, followed by the opening of its tenth facility, the tentatively named Mitsui Outlet Park Shiga Ryuo (Ryuo Town, Gamo County, Shiga Prefecture) this summer. Mitsui Fudosan will continue to actively develop additional Mitsui Outlet Park facilities going forward.
Project Design Profile
| | |
| --- | --- |
| Location | Designated site within development zone for the city of Kisarazu (Chiba Prefecture) |
| Access | Tokyo Bay Aqua-Line highway (approx. 1 km from Kisarazu-Kaneda IC) |
| Business format | Factory outlet |
| Site area | Approx. 215,000 m2 |
<Design Profile of First Stage>
| | |
| --- | --- |
| Retail floor area | Approx. 25,000 m2 |
| Number of stores | Approx. 150 |
| Schedule | Start of construction in summer 2011 / opening in spring 2012 |
<Design Profile of Finalized Project > (including first stage)
| | |
| --- | --- |
| Retail floor area | Approx. 30,000 to 40,000 m2 |
| Number of stores | Approx. 200 to 250 |
| Schedule | Second stage and beyond as yet undetermined |
Map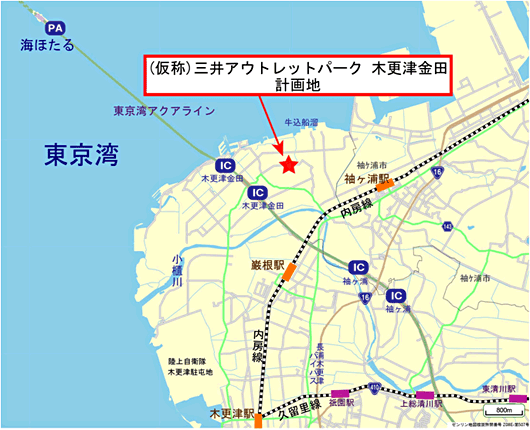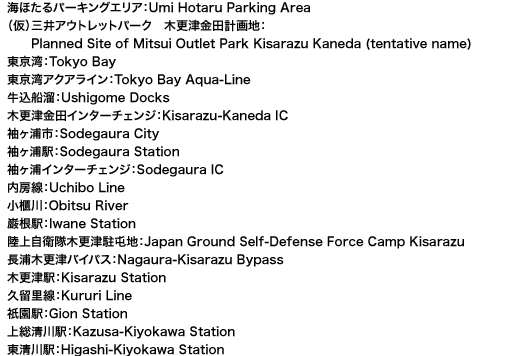 Site Layout