Mitsui Fudosan Residential to Participate in Tianjin Eco-City Housing Project
First large-scale eco-city development project in China based on the concepts of "environmental harmony," "minimal resource consumption," and "efficient resource recycling"
May 20, 2010
Mitsui Fudosan Residential Co., Ltd.
[Participation in Tianjin Eco-City Housing Project]
Mitsui Fudosan Residential Co., Ltd. will take part in a condominium and detached housing project conducted by Sino-Singapore Tianjin Eco-City Investment and Development Co., Ltd. (SSTEC). A project company established jointly with SSTEC and Tiong Seng Properties (Pte) Ltd (TS) will promote operations in residential land plots 12a and 5, with Mitsui Fudosan Residential planning a possible role in plot 6. These three blocks cover a total of roughly 2,650 residences, with mid- to high-rise housing accounting for approximately 2,250 units, and low-rise, townhouses and detached dwellings for around 400 units. Overall construction is scheduled to conclude in February 2014.
Tianjin Eco-City is a roughly 30-square kilometer development area located in the north of the Tianjin Economic-Technological Development Area (TEDA), within the Tianjin Binhai New Area in Tianjin, China. Based on the concepts of "environmental harmony," "minimal resource consumption," and "efficient resource recycling," Tianjin Eco-City is China's first large-scale environmental city project promoted at the national level. The target population for this community is 350,000 by 2020 to 2025. The project is expected to become a model for similar environmental cities that will be developed across China.
Plots 12a, 5 and 6 are located within the Start Up Area of the Tianjin Eco-City, between two stations on the Tianjin Light Rail, a railway line that extends from the former Tianjin urban district (currently the Tianjin city center) to the TEDA. The new LRT stations are scheduled to complete in late 2012.
Plot 12a, the first stage of the project where the construction of mid- to high-rise housing is scheduled to begin at the end of May 2010, is being marketed to first-time buyers in Tianjin. Units in this block will consist largely of finished 3LDK (3 bedrooms, living room, dining room, kitchen) dwellings, with sales set to begin this fall.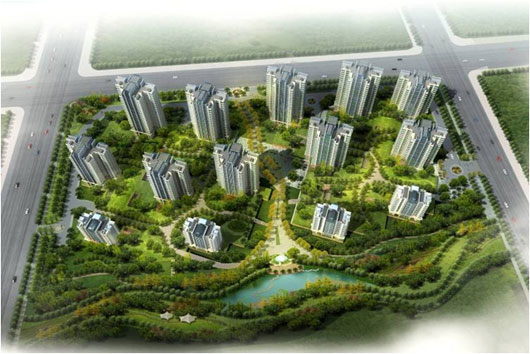 Conceptual image of project block 12a upon completion
[Developing Housing Business in China]
China's rapid economic growth in recent years is spurring demand for quality, high-value-added housing. Mitsui Fudosan Residential is answering that need, leveraging expertise honed in Japan in the creation of environmentally appealing homes and communities that meticulously meet customers' needs and wants. Our aim is to provide the domestic Chinese market with quality housing options.
For Mitsui Fudosan Residential's next housing project in China, we will take part in the Shanghai Jiading Project, a joint venture with Shanghai House Property Development Co., Ltd. of the Marubeni Group. This housing project is the first in China to result from a joint venture based solely on foreign capital.
Mitsui Fudosan has long taken action aimed at capturing business opportunities in China. Efforts began with the opening of a representative business office in Shanghai in 2005, which culminated in 2009 in the establishment of Mitsui Fudosan (Shanghai) Consulting Co., Ltd. Mitsui Fudosan Residential, meanwhile, established a new Overseas Business Dept. in April 2010.
Positioning China and the rest of East Asia as a strategic area, Mitsui Fudosan Residential will take steps to promote full-scale operations in Shanghai, Tianjin, Beijing and other major cities going forward, forming alliances across Asia with prominent developers in the housing business.
Even as we move to expand our operational presence in China and other parts of East Asia as a strategic area, Japan will continue to be viewed as an important market. In addition to carefully meeting customers' diversifying and increasingly sophisticated needs and wants with respect to housing and living, Mitsui Fudosan Residential will pursue value creation, most notably in the development of communities and sustainable living environments, in a bid to maintain and enhance its competitive strength.
Guided by our corporate statement, "Creating the Homes and Lifestyles of the Future," we at Mitsui Fudosan Residential are dedicated to providing high-quality housing and proposing new styles of living.
1. Overview of Tianjin Eco-City
Master developer
SSTEC
Site location
Tianjin, People's Republic of China (Approx. 150 km east of Beijing; approx. 45 km east of Tianjin)
Overview of planned area

Total planning area of approx. 30 km2
Area designated for housing, office buildings, commercial and cultural facilities, universities, other
Development period of 10 to 15 years
Planned population of 350,000 (by 2020 to 2025)
First large-scale environmental city development project promoted at the national level in China, based on the concepts of "environmental harmony," "minimal resource consumption," and "efficient resource recycling."
2. Project Overview
Overview of Planned Project (tentative)
Plot 12a
Plot 5
Plot 6
Site area
Approx. 63,200 m2
Approx. 137,000 m2(including land for Primary School and Kindergarten.)
Approx. 208,200 m2
Intended usage
Mid- to high-rise housing
Mid- to high-rise housing
Detached housing and low-rise townhouses
Floor area
Approx. 101,200 m2
Approx. 134,400 m2
Approx. 125,000 m2
Residential units
Approx. 900
(450 in first stage, 450 in second stage)
Approx. 1,350
Approx. 400
Schedule
Construction start in May 2010
Construction end in Mar. 2012
Construction start in Jul. 2011
Construction end in Feb. 2014
Construction start in Sep.2010
Construction end in Nov. 2013
Overview of Project Partners
(1)SSTEC

| | |
| --- | --- |
| Name | Sino-Singapore Tianjin Eco-City Investment and Development Co., Ltd. |
| Establishment | May 2009 |
| Head office address | #7 Hanbei Rd. Tianjin Eco-City. Tianjin 300467 P.R.China |
*For more information about Sino-Singapore Tianjin Eco-City, please visit www.tianjineco-city.com
(2) TS

| | |
| --- | --- |
| Name | Tiong Seng Properties (Pte) Ltd. |
| Establishment | May 1975 |
| Head office | 510 Thomson Road #08-00, SLF Building Singapore 298135 510 Thomson Road #08-00, SLF Building Singapore 298135 |
| Capital | S$5 million (approx. 325 billion yen, 1S$=65 yen) |
Area Map
Plot Map