Nihonbashi Revitalization Program [Preserving and Revitalizing the Past While Creating the Future]
East Muromachi Mitsui Building to Open October 1 as First Section of Nihonbashi East Muromachi District Development Project
October 28 Opening of COREDO Muromachi retail area
October 30 Opening/opening ceremony for Nihonbashi Mitsui Hall

June 22, 2010
Mitsui Fudosan Co., Ltd.
Mitsui Fudosan Co., Ltd. is promoting the Nihonbashi Revitalization Program, a collaborative public, private and community initiative for revitalizing and creating new appeal for the Nihonbashi area based on the concept of "preserving and revitalizing the past, while creating the future." In this release, Mitsui Fudosan would like to announce that it has finalized the overall specifications for the East Muromachi Mitsui Building (East Muromachi District Block #2-2), the first section of the Nihonbashi East Muromachi District Development Project, the core development scheme of the revitalization program.
This development, covering 5 blocks (total site area: approx. 11,900 m2) in the Nihonbashi East Muromachi District, is a large-scale, town creation-based redevelopment project scheduled for final completion in 2014. Seeking to take advantage of the features of existing streets in reenergizing the town, Mitsui Fudosan is turning the streets surrounding the district into scenic venues in their own right. For one such street, Chuo Dori, plans call for unifying the height of the low-rise skyline facing the street. Other plans will include the creation of a new shrine and approaches, sprucing up streets with cherry trees or stone pavement, and creating streets that exude the essence of the Edo era. Meanwhile, the creation of office, retail and residential areas, as well as sites providing information on local entertainment culture, will culminate in a project that will again offer a glimpse of the Nihonbashi that played such an active role in Japanese life during the Edo period.
Overview of East Muromachi Mitsui Building
First section in the Nihonbashi East Muromachi District Development Project designed to leverage street characteristics in revitalizing the town
Opening on October 28 of all 27 stores in COREDO Muromachi, a retail zone set to recapture the energy of Edo-era Nihonbashi based on the concept, "Nihonbashi – Breathing new life into Japan."
Opening on October 30 of Nihonbashi Mitsui Hall, the largest multi-purpose hall of its kind in the Nihonbashi District; opening events such as "Kabuki x Fashion Show" directed by Koshiro Matsumoto, one of the most famous Kabuki actors of our time.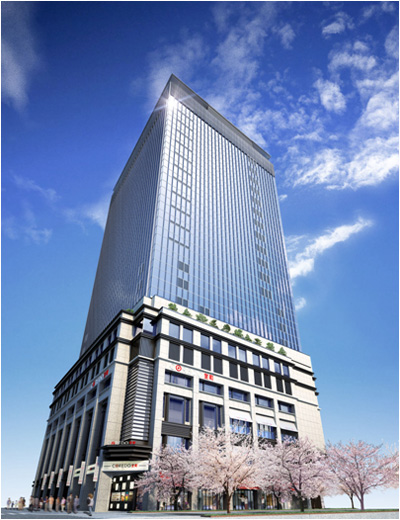 Full view of the East Muromachi Mitsui Building (Image)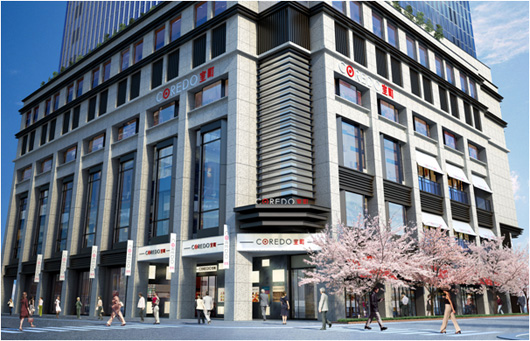 Exterior view of COREDO Muromachi (Image)
(1)About the Nihonbashi East Muromachi District Development Project and the East Muromachi Mitsui Building
Major Features of the Nihonbashi East Muromachi District Development Project
This development scheme is an integrated urban development project, comprising five blocks designated as a "Special District" under the Urban Reproduction Special Act in July 2007.
The project covers approximately 11,900 m2 of site area and will develop 180,000 m2 of gross floor space. This complex development will create and integrate offices, retail facilities, rental apartments, multi-purpose halls and other urban amenities.
Measures will be implemented to improve the streetscape surrounding the district and create energy to develop an enjoyable town to stroll around.

The lower façades of the buildings along Chuo Dori Street will be aligned at approx. 31 meters high.
Naka Dori Street and Ukiyo Alley will see electric cables and power lines buried underground and the laying of stone pavement.
Edo Sakura Dori Street will see an extension of the cherry tree planting begun near the Bank of Japan and sidewalks widened.
In the area surrounding Fukutoku Shrine, Mitsui Fudosan will create an approach to the shrine and a lush green area called Fukutoku Forest, promoting this space as a center of activity in the Nihonbashi Muromachi area.

The area will bring together stores that give a high-quality, fresh presentation of traditional Japanese style by offering the best in Japanese-made products and genuine service.
A multi-purpose hall, called Nihonbashi Mitsui Hall (East Muromachi Mitsui Building), and A facility for cultural exchange and interaction (scheduled for Block #2-3) will be built to highlight the charms of Nihonbashi and attract a diverse range of visitors to this area.
Plans call for creating a taxi stand and bicycle/motorcycle parking, and keeping parking entrances and exits close together away from the traffic line of pedestrians to enhance convenience for visitors to facilities, as well as safety for pedestrians.
An underpass for pedestrians will be built beneath Edo Sakura Dori Street. The underpass will be integrated with work to expand the underground area beneath Chuo Dori Street, as part of plans to expand and improve the underground plaza at Mitsukoshi-mae Subway Station to upgrade anti-disaster capabilities.
About the East Muromachi Mitsui Building
This multi-use facility, with 22 aboveground and 4 underground floors, will house offices, stores and a multi-purpose hall. The first basement floor through the fourth floor is a retail area containing restaurants and retail goods. Floors five and six are for the COREDO Muromachi multi-purpose hall (name: Nihonbashi Mitsui Hall); floors 10 to 21 are office space.
The exterior design of the building, created to harmonize with the historical streetscape and scenery of Chuo Dori Street, incorporates materials chosen to make the building less imposing. Stone and glass were used for the lower levels of the building, with glass and metal mainly used for the higher building levels.
As an environmental measure, rooftop greenery is featured on the lower-level roofs of the building, which also has equipment with outstanding environmental performance.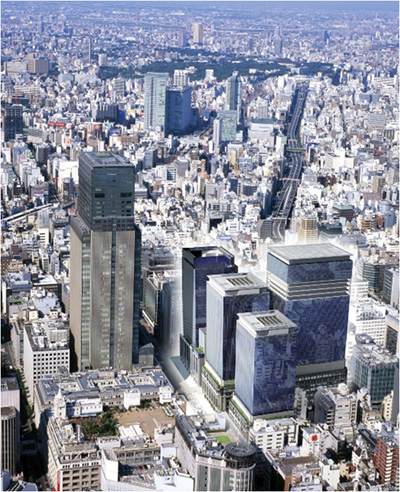 Full view of the Nihonbashi East Muromachi District Development Project (Image)
Aiming to take advantage of the features of existing streets in reenergizing the town, this large-scale development project is promoting town creation that seeks to create scenic views on the streets surrounding the district and vibrant town life.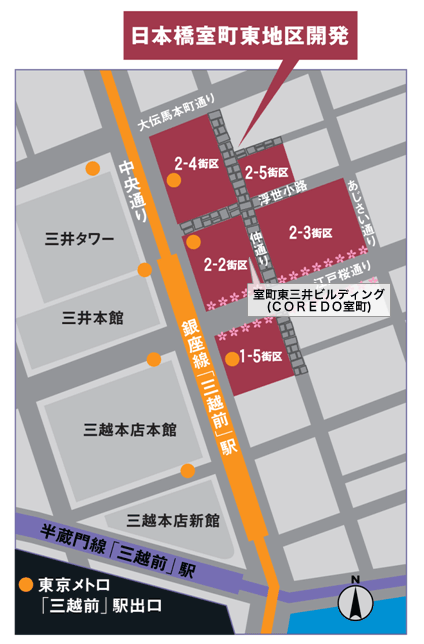 [Chuo Dori Street]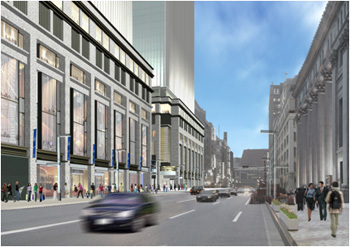 Street view with the proposed unified skyline (approx. 31 meters high) (Image)
[Naka Dori Street]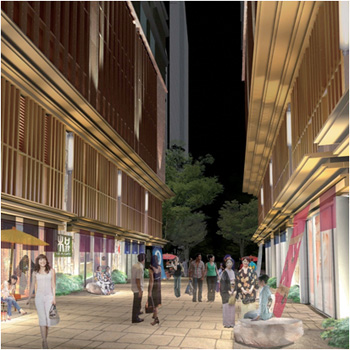 Electrical cables are underground and the street paved with stone in this street view (Image)
[Edo Sakura Dori Street]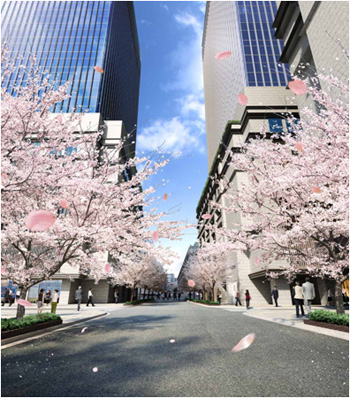 Planting of cherry trees and sidewalk expansion
[Ukiyo Alley, Fukutoku Shrine]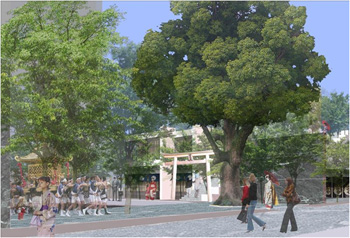 Revitalization and creation of green space around Fukutoku Shrine
(2) About COREDO Muromachi
The Edo period saw the emergence in and around Nihonbashi Muromachi of Mitsui Echigoya and several other merchant families that came to define the Edo area. Stretching along Chuo Dori Street, the area was lined with markets and shops. In addition to a famed fish market and wholesalers for dried bonito flake and seaweed dealers, this retail area included confectioners for attachés to the Bakufu government, theaters and teahouses. As a crossroads for Japan's five major roads at the time, the Nihonbashi area was one of the most energetic places of its kind anywhere in the world. Nihonbashi was also home to Nagasakiya, an inn where the Dutch trade delegation would stay when visiting from Nagasaki on official business with the Edo government; a role that also made Nihonbashi a point of contact and interaction with foreign cultures.


View of Edo-era Nihonbashi as portrayed in the Kidaishoran scroll painting replica
*Installed at the Mitsukoshi-mae Subway Station concourse
Based on the concept, "Nihonbashi – Breathing new life into Japan," COREDO Muromachi combines two key components. One is a retail zone featuring a collection of restaurants and retail shops that bring new possibilities to Nihonbashi while preserving its vibrant history. The other is Nihonbashi Mitsui Hall, a modern theater that will bring new energy to the Nihonbashi area. The amenities present are designed to meet the diverse needs of office workers in the surrounding area, as well as visitors to the Nihonbashi area, while at the same time attracting many other customers, including groups of girls and women, couples, and seniors. In attempting to recapture the vitality and energy of the Edo era, Mitsui Fudosan will help to invigorate the Nihonbashi area.
The retail zone extending from the first basement floor to the fourth floor is home to many venerable establishments, including Ninben Nihonbashi Honten and Nihonbashi Kiya, as well as shops appearing in Tokyo for the first time, such as gold leaf specialty shop HAKUZA NIHONBASHI. The area has also attracted shops such as CAFÉ AIMÉE VIBERT, a brasserie and patisserie fashioned after the teahouses and confectioners of the Edo period, and other retailers. Other restaurants include SUSHI Nihonbashi SEAMON, an Edo-style sushi shop with ties to the old Nihonbashi fish market; Nihonbashi Kinoshige, specializing in seafood dishes, and KOME-show, which offers mainly rice-based Japanese dishes. Shisenhanten Nihonbashi a new restaurant format from renowned Chinese cuisine chef Kenichi Chin, and widely popular Bistro Ishikawatei are also part of the list of alluring restaurants invited to Nihonbashi.
The design of the interior environment was entrusted to Super Potato Co., Ltd., a design firm led by Takashi Sugimoto responsible for projects that include the Park Hyatt Seoul and Hyatt Regency Kyoto. With attention paid to the smallest details, among them the use of natural rock and recycled steel materials as basic materials, the design interior imparts the feeling of ancient Japanese teahouses and homes, while bringing a hint of newness to Japanese culture and tradition.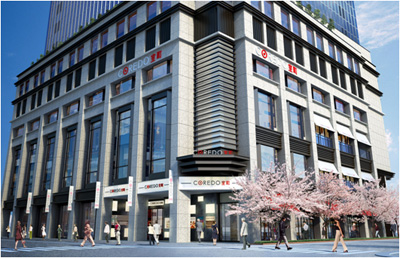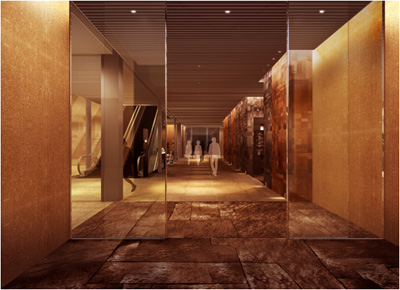 Exterior and interior view of COREDO Muromachi (Image)
List of Shops
| | Business category | Name |
| --- | --- | --- |
| B1F | Bookstore | Book Store Taro |
| B1F | Information | Nihonbashi Information Center |
| B1F | Seller of select ingredients for Japanese cuisine | En |
| 1F | Bank ATM | Mizuho Bank ATM |
| 1F | Bank ATM | Chiba Bank ATM |
| 1F | Bonito flake, seasoning and bouillon bar | Ninben Nihonbashi Honten |
| 1F | Cutlery, others | Nihonbashi Kiya |
| 1F | Gold leaf products, café, others | HAKUZA NIHONBASHI |
| 1F | Flower shop | Daiichi Engei |
| 1F | French café | CAFÉ AIMÉE VIBERT |
| 1F | Patisserie | PÂTISSERIE AIMÉE VIBERT |
| 2F | Spanish dining | Bikini PICAR |
| 2F | Sichuan dining | Shisenhanten Nihonbashi |
| 2F | Italian dining | Che Voglia! |
| 2F | Japanese drinking and dining | Nihonbashi Kinoshige |
| 2F | Japanese barbeque | Bouya |
| 3F | Chicken dishes, yakitori | Torisen |
| 3F | Ramen | Bashinosetagaya |
| 3F | Chinese dining | Son |
| 3F | Pork dishes | Nihonbashi Hirata |
| 3F | Rice dish Japanese dining | KOME-show |
| 3F | Japanese drinking and dining | nana |
| 3F | Russian dining | Roshia Tei |
| 3F | French bistro | Bistro Ishikawatei |
| 4F | Sushi | SUSHI Nihonbashi SEAMON |
| 4F | Skewer dishes | KUSHI TEI |
| 4F | Italian dishes, curry dishes, café | NINO CAFFÉ DINING |
| 4F | Japanese dining, shabu-shabu | ZAKURO |
(3)About Nihonbashi Mitsui Hall
Nihonbashi Mitsui Hall is the largest multi-purpose hall in the Nihonbashi area, and is equipped for uses ranging from conventions, exhibitions and other business needs to live music, theatrical performances and other types of entertainment. Directly connected to Mitsukoshi-mae Station, the hall can accommodate a maximum of 1,000 seats, and covers a total area of approximately 700 m2. As a new cultural Mecca in the Nihonbashi area, the hall is set to play host to an array of events that visitors of all ages can enjoy, from kabuki, rakugo and other traditional stage arts, to live music.
The opening ceremony on October 30 will feature a sanbaso dance by Koshiro Matsumoto and Somegoro Ichikawa, and a "Kabuki x Fashion Show," a collaborative event between Koshiro Matsumoto and DRUMCAN Inc. (producer and creator of Tokyo Girls Collection and other events). Meanwhile, the week of October 30 to November 7 has been designated "COREDO Muromachi Birthday! Week," and will feature events co-sponsored by Mitsui Fudosan to celebrate the opening of COREDO Muromachi and the event hall.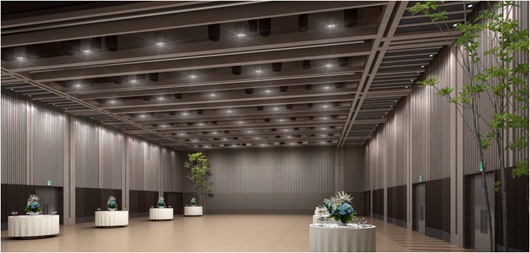 Nihonbashi Mitsui Hall (hall interior) Image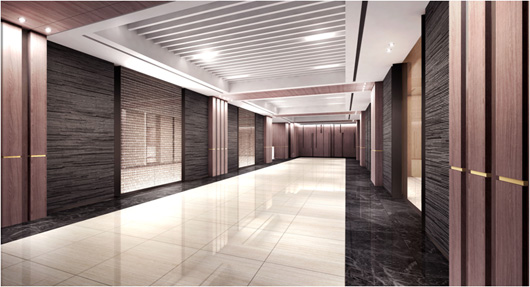 Nihonbashi Mitsui Hall (lobby) Image
[Overview of the East Muromachi Mitsui Building]
Name
East Muromachi Mitsui Building
Location
2-1-1 Nihonbashi, Chuo-ku, Tokyo
Site area
2,454 m2 approx.
Gross floor area
41,000 m2 approx.
Rentable office space
14,000 m2 approx.
Rentable retail space
3,900 m2 approx.
Main applications
(1)Offices (10th to 21st floors)
(2)COREDO Muromachi (Basement 1st floor to aboveground 6th floor)
Retail shops (Basement 1st floor to aboveground 4th floor)
Nihonbashi Mitsui Hall multi-purpose hall (5th and 6th floors)
Structure
Steel structure (partly steel-reinforced concrete/ferroconcrete)
No. of floors
22 floors above ground, 4 underground floors, 2 penthouse floors
Building height
104.99 meters (maximum height)
Parking spaces
123 spaces (114 are separate tower parking)
Developer
Mitsui Fudosan Co., Ltd.
Coordinating Architect
NIHON SEKKEI, Inc.
Design architect
Norihiko Dan and Associates
Contractor
Consortium for construction in Nihonbashi East Muromachi District Development Project #2-2 Block
Completion
October 1, 2010
[Overview of COREDO Muromachi]
Facility name
COREDO Muromachi
Retail store portion
Gross floor area
10,190 m2 approx.
No. of shops
27 plus an information center
Opening schedule
October 28 Opening of COREDO Muromachi retail area
October 30 Opening of Nihonbashi Mitsui Hall
[Nihonbashi Mitsui Hall portion]

Gross floor area

5,400 m2 approx.
Seating capacity
654 seats (using rollback chairs)
1,000 seats (using stacking chairs)