Decision on Stage 4 Development Plan for Mitsui Outlet Park Jazz Dream Nagashima
230-Store Outlet Mall – the Most in Japan – Scheduled to Open in Fall 2011
July 28, 2010
Mitsui Fudosan Co., Ltd. Nagashima Resort
Mitsui Fudosan Co., Ltd. and Nagashima Resort today announced the decision to embark on Stage 4 of their development plan for Mitsui Outlet Park Jazz Dream Nagashima (Town of Nagashima, Kuwana City, Mie Prefecture). The planned floor area expansion will increase the number of stores from 187 to approximately 230, giving the outlet mall the most stores of any comparable facility in Japan. The Stage 4 development is scheduled to open for business in fall 2011.
The design motif of the facility is based on New Orleans, a Southern port city in the United States known as the birthplace of jazz, with the space designed to evoke a fun and lively atmosphere. The concept for Stage 4 of the development is "Luxury & Resort," with the aim to create spacious facilities where visitors can enjoy shopping in a relaxed atmosphere. The mix of stores will include, in addition to a more robust collection of prominent foreign and domestic luxury brands and select shops, a stronger lineup of general lifestyle merchandise and kids fashion and accessories, in order to meet a broader array of diverse customer needs.
The mall is considered a key element of the Nagashima Resort. Surrounding the mall are other facilities operated by Nagashima Resort, including a multi-purpose leisure spot called Nagashima Spa Land; Nabana no Sato, a flower and food theme park; and hotels and luxury hot spring inns, among them Hotel Hanamizuki. These and other facilities catering to tourists have transformed the site into far and away one of the best resort zones in Japan's Tokai area. The area is set to become an even more attractive tourist destination with the opening of the new Nagoya Ampanman Children's Museum & Park in April 2010.
The mall is situated close to the Wangan Nagashima IC exit on the Ise Wangan Expressway, making it accessible not only to Chubu (Central Japan) area residents, but to a range of customers, particularly families, from destinations far and wide. Going forward, proactive steps will be taken to attract more foreign visitors traveling to Japan via the Central Japan International Airport (Centrair) to the mall and resort.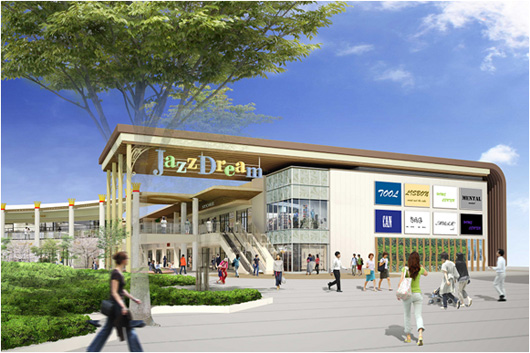 Addition from Stage 4 Development (Image)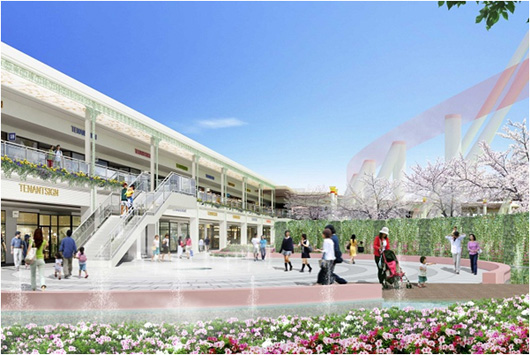 Addition from Stage 4 Development (Image)
Mitsui Fudosan Co., Ltd. currently operates 10 outlet malls across Japan, among them Mitsui Outlet Park Shiga Ryuo (Gamo County, Shiga Prefecture) opened on July 8, 2010. Future facilities include the tentatively named Mitsui Outlet Park Kurashiki (Kurashiki City, Okayama Prefecture) scheduled to open in winter 2011, and the tentatively named Mitsui Outlet Park Kisarazu Kaneda (Kisarazu City, Chiba Prefecture) set to open in spring 2012. Outside of Japan, the tentatively named Ningbo Project (People's Republic of China), which marks the first time the Mitsui Fudosan Group has taken part in a commercial development business abroad, is set to open in spring 2011. Going forward, the Group will also move to enhance the appeal of existing facilities, while actively tackling new mall development.
Overview of Entire Facility and Stage 4 Development Plan
Location
368 and others, Urayasu, Nagashima-cho, Kuwana-shi, Mie Prefecture
Access
[Car]
Close to the Wangan Nagashima IC exit on the Ise Wangan Expressway
Approx. 10 km from Nagashima IC exit on the Higashi-Meihan Expressway
[Public transportation]
Approx. 40 minutes by bus (bound for Nagashima Onsen) from Nagoya Station (Meitetsu Bus Center)
Approx. 20 minutes by bus from Kuwana Station on the Kintetsu Nagoya Line/JR Kansai Line
Business format
Factory outlet
Business method
Business-use term leasehold
Site area
Approx. 48,800 m2 (entire site, including Stage 4 development)
Building overview
Stage 1
Stage 2
Stage 3
Stages 1
to 3
(Current)
Stage 4
(Planned)
Total
Opening date

March
2002

July
2006

September
2007

-

Tentatively
fall 2011

Site area

38,000m2
approx.

-

-

38,000m2
approx.

10,800m2
approx.

48,800m2
approx.

Gross floor area

20,500m2
approx.

14,100m2
approx.

10,300m2
approx.

44,900m2
approx.

17,400m2
approx.

62,300m2
approx.

Retail Space

14,300m2
approx.

9,200m2
approx.

6,500m2
approx.

30,000m2
approx.

9,300m2
approx.

39,300m2
approx.

No. of stores

91

54

45

187

40
approx.

230 approx.

Structure
Steel structure, two floors above ground
Parking facility
Approx. 13,000 spaces (shared with Nagashima Spa Land)
Design and construction
Undecided
Expected schedule
October 2010 – Scheduled start of construction
Fall 2011 – Scheduled opening of Stage 4 development
Projected sales
Approx. ¥40 billion annually (entire facility, including Stage 4 development)
Facility management
LaLaport Management Co., Ltd.
Aerial photo (taken April 2009)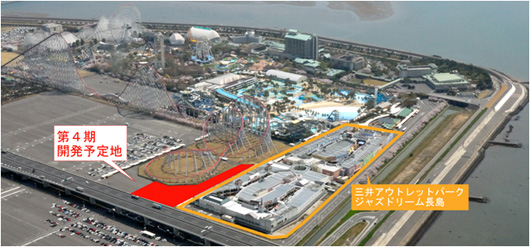 Area Map