Relaunch of Mitsui Shopping Park LaLaport Koshien
39 New Stores Set to Open in March Upon Major Renovation
73 Stores - 46 New, 27 Remodeled - Set to Open by July
Renovations to Include a New Kid's Corner and a Fully Remodeled Food Court
January 25, 2011
MMitsui Fudosan Co., Ltd.
LaLaport Management Co., Ltd.
Mitsui Fudosan Co., Ltd. and LaLaport Management Co., Ltd. are implementing a major renovation of Mitsui Shopping Park LaLaport Koshien, a shopping mall located in Nishinomiya City, Hyogo Prefecture. As the mall is renovated, 39 new stores will open in March and a total of 46 new stores will open by July. In all, 73 stores will open with the relaunch, including the remodeling of 27 existing ones.
Opened in November 2004, Mitsui Shopping Park LaLaport Koshien was conceived around the concept of a commercial facility with a relaxing atmosphere, where everyone in the community could gather. In March 2009, after a building expansion, the mall opened KidZania Koshien, the second facility of its kind in Japan. Through such efforts, the mall has welcomed customers of all age groups, from small children to the elderly. This renovation will be the largest since the mall's initial opening, and will also involve a fully remodeled food court as well as a newly introduced kid's corner to be named LaLa Kid's Park.
By mid-March, numerous specialty retail stores offering a wide range of popular fashion items, general merchandise and services, including the first OPAQUE.CLIP and Heart Market stores in Nishinomiya City and one of the largest CECIL McBEE stores nationwide, will be newly opened or renovated and reopened in the mall.
April will see the new opening of the first H&M store in a shopping mall format in the Kansai region, the most spacious ZARA store in Japan, and a large-scale UNIQLO store, in addition to a GAP store already in operation. Once complete, Mitsui Shopping Park LaLaport Koshien will be the only mall in the entire Kansai region to house all four world-renowned specialty store retailers of private label apparel (SPA). And in July, the mall will open the first Krispy Kreme DOUGHNUTS from America in Hyogo Prefecture.
Once fully renovated, new stores to open in the food court will include Takaraya, a ramen noodles eatery from Kyoto, Nikudonya Tanbaya, an eatery run by a meat wholesaler, and HOKKORIYA, an oyakodon, or chicken-and-egg rice bowl, eatery that serves Hinaijidori, or tasty branded chicken indigenous to Akita Prefecture. The layout of the food court will also receive a makeover, including a children's play area, for greater dining comfort.
Conceptual Image of the Completed Food Court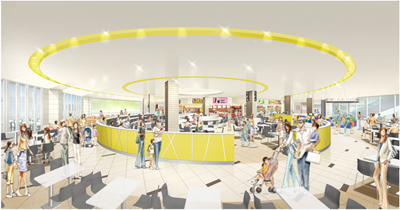 The new LaLa Kid's Park will be divided into two play areas: Baby Play Space and Kid's Play Space. In addition to play equipment installations in the two areas, the zone will have alongside it a nursing room for babies and children's wash room facilities as amenities for customers with children. Apart from this new facility, a new pop jet fountain, popular among children, will be installed to make the mall more attractive than ever for those customers.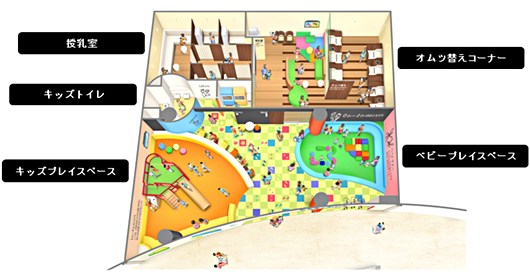 Conceptual Image of the Completed LaLa Kid's Park
Commercial properties the Mitsui Fudosan Group operates incorporate environmental initiatives, including for reducing the consumption of power and water within the facilities and the use of highly efficient, energy-saving lighting equipment. As part of this renovation, power-saving LED lighting will be introduced to the shared spaces of the mall in an effort to reduce CO2 emissions from the premises.
Specifications of Mitsui Shopping Park LaLaport Koshien
Location
1-100 Koshien Hachibancho, Nishinomiya City, Hyogo Prefecture, Japan
Transportation access
Five-minute and seven-minute walk from Hanshin Electric Railway's Koshien Station and Naruo Station, respectively Adjacent to the Koshien-suji and Rinko-sen. In close proximity to national highways Route 43 and Route 2 Approximately 1.5 kilometers from the Mukogawa interchange of Hanshin Expressway Route 3
Total site area
Approximately 87,000 m2 (125,000 m2 including parking area)
Gross floor area
Approximately 101,000 m2
Combined floor area of stores
Approximately 53,000 m2
Store number
150
Structure
Original structures: Steel structure (partly ferroconcrete) with 2 above ground floors and 1 penthouse floor
KidZania annex: Steel structure with 5 above ground floors
Parking spaces
Approximately 3,000
Maps
Extended Location Map of LaLaport Koshien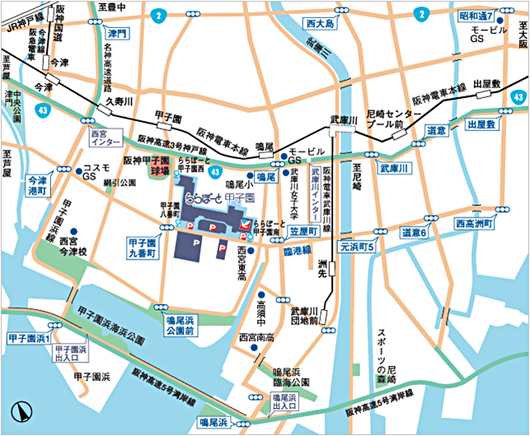 Location Map of LaLaport Koshien