Start of Construction of Mitsui Outlet Park Kurashiki on January 27, 2011
An Outlet Mall of Around 110 Stores, Among the Largest in the Chugoku Region, Set to Open Late 2011
A Lush Green Mall in Harmony With the Environment Conceived Around a "Woods of Kurashiki" Theme
January 27, 2011
Mitsui Fudosan Co., Ltd.
Mitsui Fudosan Co., Ltd. (Hiromichi Iwasa, President and CEO, Chuo-ku, Tokyo) announced today that it had begun construction on an outlet mall under development near the north exit of JR Kurashiki Station. Named Mitsui Outlet Park Kurashiki (12-1 Kotobukicho, Kurashiki City, Okayama Prefecture), the new mall is scheduled to open in the winter of 2011.
The mall is set to house around 110 stores and will be among the largest in the Chugoku region. Shops scheduled to open include those carrying prominent domestic and international brands in women's, men's and children's apparel, sports & outdoor goods, and fashion accessories.
The new facility will be developed on the former site of Kurashiki Tivoli Park, for long a familiar spot for local residents, for a mall in harmony with the environment conceived around the theme of the "Woods of Kurashiki." Greenery present, including existing trees, will be landscaped throughout the grounds covering 66,000 m2. Building surfaces will also be covered in greenery to create a lush green relaxing atmosphere. The facility, furthermore, will incorporate environmental initiatives, including the use of recycled wood for construction materials, the installation of electric car recharging stations, and the use of LED lighting.
This development is situated in front of JR Kurashiki Station, as well as nearby the Kurashiki junction of the Sanyo and Seto-Chuo Expressways. Located at the gateways to Kurashiki City, one of Okayama Prefecture's urban centers, it is positioned ideally for easy transportation access from not only anywhere in the Chugoku and Shikoku regions, but from as far away as Kansai.
The mall is a development in conjunction with a commercial property being developed by Ito-Yokado Co., Ltd., and there are plans to connect the two properties with a bridge spanning a waterway that runs through the grounds. Mitsui Fudosan and Ito-Yokado will join hands in cooperating with many tourist attractions in the vicinity, including the Kurashiki Bikan Historical Quarter, to redevelop as well as energize Kurashiki City, where over 6 million tourists visit yearly, and its surroundings.
Exterior views (tentative images)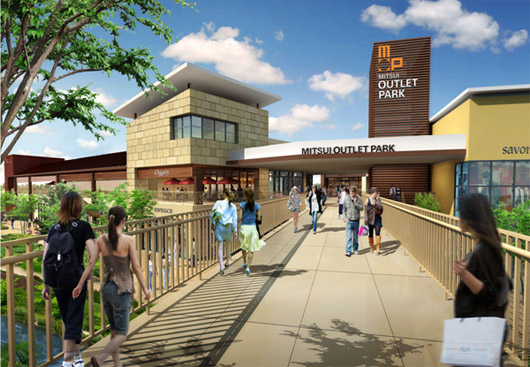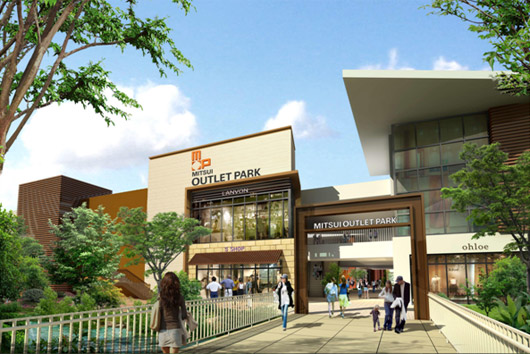 Development Specifications of Mitsui Outlet Park Kurashiki
Location
12-1 Kotobukicho, Kurashiki City, Okayama Prefecture
Developer
Mitsui Fudosan Co., Ltd.
Transportation access
In front of JR Kurashiki Station for the JR Sanyo and Hakubi lines and the Mizushima Rinkai Railway Co., Ltd. Mizushima Rinkai Line
Approximately three kilometers from the Sanyo Expressway's Kurashiki interchange
Type of development
Factory outlet mall
Total site area
Approximately 66,000 m2
Structure and scale
Steel structure, two above ground floors
Gross floor area
Main structures approximately 29,000 m2
Parking structures approximately 24,000 m2
Store number and combined floor area
Around 110 stores
Combined floor area of around 20,000 m2
Schedule
Construction start January 27, 2011
Opening Winter 2011-2012 (provisional)
Parking spaces
Approximately 1,600 (2,600 including from neighboring commercial properties)
Architectural design
The Zenitaka Corporation
Contractor
The Zenitaka Corporation and Aisawa Construction Co., Ltd.
Mitsui Fudosan currently operates 10 outlet malls across Japan. Apart from this aforementioned development, future facilities include the tentatively named Mitsui Outlet Park Kisarazu Kaneda (Kisarazu City, Chiba Prefecture) and a floor addition for Mitsui Outlet Park Jazz Dream Nagashima (Kuwana City, Mie Prefecture). Going forward, Mitsui Fudosan will actively develop and expand its business in Mitsui Outlet Parks.
Maps
Regional map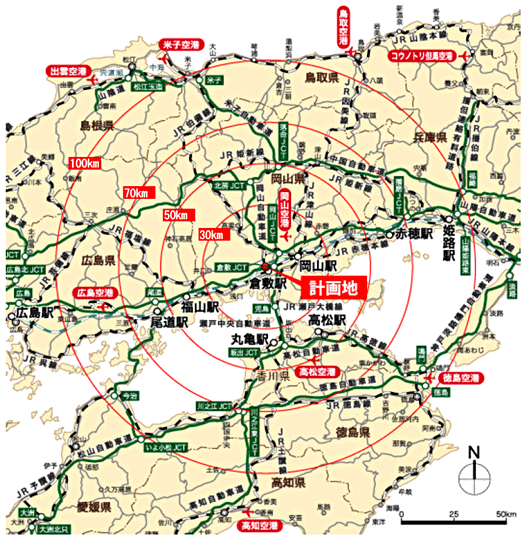 District map