A Hub of Innovation to Create New Industries that Transform the World Through Sharing of Knowledge, Technology and Ideas
KOIL (Kashiwa-no-ha Open Innovation Lab) to Open on Monday, April 14,2014
A Shared Workspace Staffed With Full-time Professionals Providing Support to Entrepreneurs, Witha Diverse Array of Functions On-site Such as a Digital Manufacturing Factory
April 10, 2014
Mitsui Fudosan Co., Ltd.
Mitsui Fudosan Co., Ltd. will open KOIL (Kashiwa-no-ha Open Innovation Lab) on Monday, April 14 as a creative hub of innovation that will create new industries by bringing together and fostering interaction among companies and individuals. KOIL is located in the multi-use facility GATE SQUARE (Location: Kashiwa City, Chiba Prefecture), which is being developed in a central block of Kashiwa-no-ha Smart City.
KOIL is a facility designed to create innovative new businesses and product and services by combining the knowledge, technology and ideas of people from all walks of life, spanning different occupations and standpoints from entrepreneurs to consumers. KOIL will serve as an open innovation center that is unlike anything seen hitherto. It will house KOIL Park, one of Japan's largest co-working spaces (members-only co-work space), and office floors to be tenanted by the business divisions of major corporations as well as venture companies. Other facilities on site will include KOIL Factory (digital manufacturing factory), which will allow members and visitors from the general public to swiftly transform ideas into prototypes, along with a café and studio, which will foster interaction among many different types of people.
The key feature of KOIL is that it will provide a community for achieving innovation, in addition to a physical space for doing so. KOIL will provide a high-quality support program for entrepreneurs and for founding businesses. It will have a staff of full time business mentors (advisors and supporters) who will help entrepreneurs to transform their ideas and technologies into viable businesses and guide them to global success. KOIL will also host a diverse spectrum of events that will facilitate interaction among major corporations and venture businesses, as well as creators, consumers and others. In these and other ways, KOIL will serve to catalyze innovation.
< KOIL's Main Facility and Features >
| | | |
| --- | --- | --- |
| Exterior of KOIL | | KOIL Park |
Mitsui Fudosan has developed and operated incubation offices (venture business support offices) in Makuhari, Kasumigaseki, Yokohama and elsewhere. We have embraced "a city that creates new industries" as a town development theme for Kashiwa-no-ha Smart City. Guided by this theme, we have worked to develop a community that will serve as fertile soil for the creation of new industries. We have, for example, supported the creation and operation of TX Entrepreneur Partners General Incorporated Association, which brings together specialists in law, accounting, marketing and other fields, as well as angel investors (individual investors) supporting entrepreneurs. Furthermore, we have sought to form a global venture business network by hosting the Asian Entrepreneurship Award, an international business contest organized in cooperation with various Asian countries.
To further expedite these efforts, Mitsui Fudosan set up the Venture Co-Creation Department on April 1, 2014 as a Company-wide organization devoted to providing programs to support entrepreneurs and venture businesses, as well as managing related communities. The Office will position KOIL, which integrates both "hard" and "soft" assets, as a platform for creating new industries. It will strive to expand and develop venture incubation programs and communities, and cooperate closely with incubation offices in Makuhari, Kasumigaseki and Yokohama to energize the venture incubation community.
<KOIL Floor Map>

Click here to enlarge
KOIL Park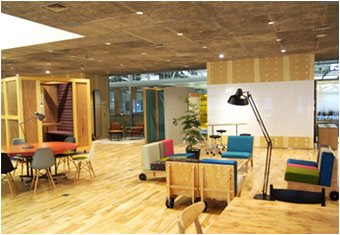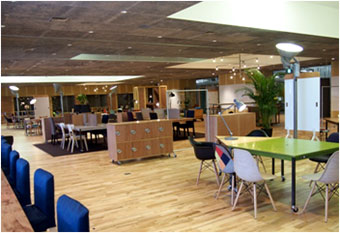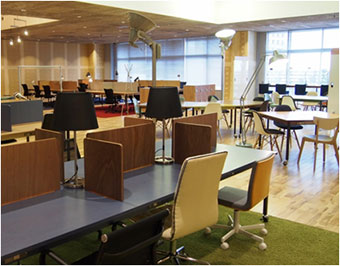 <KOIL's Main Facility and Features>
1. KOIL Park: A 170-seat area that will form one of Japan's largest co-working spaces
KOIL Park is a members-only 170-seat shared work space that lies at the heart of KOIL. It will draw a diverse range of individuals from across many different occupations and perspectives, from entrepreneurs to creators, engineers and consumers, to create collaborative projects. We have designed the space so as to encourage an open-minded approach to the creation of fresh ideas, and have brought in furniture and interior appointments that have a creative design flair. KOIL Park will support work styles that match the moods and needs of members at any particular time. Those who wish to hold a discussion with colleagues will be able to sit at a large table. Members who would like to come up with ideas while relaxing can sit on a sofa, while those who need to concentrate on tasks at hand can sit at a desk.
KOIL Park will also have conference rooms, lockers, mailboxes and other amenities for members. Venture companies will be able to also use KOIL Park as their main place of business. Needless to say, KOIL Park will be fully equipped with basic business facilities and amenities, such as the use of Internet (Wi-Fi) and power outlets, as well as copiers, printers and scanners.

Usage Plans for KOIL Park Members(as of April 2014)
Plan name
Monthly usage fee (tax excluded)
Hours of use
Remarks
"All You Can Use" Plan
¥18,000
Every day from 6:00 to 23:00
A basic plan that allows the use of open seating without any concerns about time
"All You Can Use" Plan (assigned seating)
¥27,000
Every day from 6:00 to 23:00
A basic plan that allows members to reserve a private seat. Registration under a corporate name is also possible.
After 6:00 Plus Weekend Plan
¥9,000
Weekdays from 18:00 to 23:00
Weekends and holidays from 9:00 to 18:00
A good-value priced plan for using KOIL Park after work or school or on days off
Daytime Plan
¥9,000
Weekdays from 9:00 to 18:00
A good-value priced plan for using KOIL Park on weekdays only
Five Sessions a Month Plan
¥6,000
Every day from 9:00 to 21:00
A plan for using KOIL Park up to 5 sessions a month
* A membership fee of ¥3,000 (tax excluded) comprising a registration fee and card issuance fee is due at enrollment.
* Optional services will also be available, such as the option to issue membership cards with no name for corporate use, and posting of corporate names.
* KOIL Park members may use KOIL Studio, meeting rooms and other KOIL facilities at a 20% discount.
* A "1 Day Use" Plan is also available for visitors to use the facility without enrollment for ¥1,500 a day (tax excluded).
* We also offer a menu of various discount services that enable customers with long-term contracts as well as students, local residents and others to use the facility at a reduced price.
For details, please visit our website at http://koil.jp/en/
2. KOIL Factory: Fully equipped with digital fabrication devices, such as 3D printers and laser cutting instruments
KOIL will facilitate actual business execution by providing a place where specific products take shape and initiatives are launched. Thus, it will do more than serve as a source of ideas and plans. KOIL Factory will lie at the forefront of these efforts. It will be fully equipped with cutting-edge digital fabrication devices, plus machine tools and equipment that can be used easily. KOIL Factory will be open to use by not only KOIL Park members, but ordinary visitors as well.
Prototyping is a development technique for converting ideas into three-dimensional prototypes. Although it is a crucial step that is essential to the manufacturing process, prototyping had previously posed major challenges in terms of time, labor and cost requirements. KOIL Factory will strive to solve these issues by using digital fabrication devices. Experimental facilities and devices for specialized manufacturing processes involving nanotechnology and new materials technologies will also be made available for use at nearby facilities. This will be achieved through collaboration with neighboring facilities such as Tokatsu Techno Plaza and the National Institute of Advanced Industrial Science and Technology (AIST) in Tsukuba.
KOIL Factory will also have staff on hand to support the use of the digital devices, and will make experiential learning programs available. As such, it will serve not only business needs but will also provide a place for consumers to expand the scope of their hobbies and interests.
| | | |
| --- | --- | --- |
| KOIL Factory | | 3D printers installed in KOIL Factory |


Click here to enlarge
KOIL Factory Devices (as of April 2014)
Device name
Features
Laser cutting instrument
Performs rapid, precise engraving and cutting tasks
CNC milling machine
Performs cutting tasks for materials such as thick boards that are also used to assemble furniture
3D printer
Easily re-creates an actual three dimensional object from data
3D scanner
Converts a three-dimensional object into three-dimensional data
3D clay modeler
Creates three-dimensional designs using the familiar sense of touch
KOIL Factory is fully equipped with other equipment such as a large printer, drill press, grinder, electric screwdriver, and various tool sets such as for soldering.
* First-time users must receive lessons on how to operate certain machinery, depending on the device. Furthermore, the method of use (for a fee/free of charge) will differ. For details, please visit the KOIL website (http://koil.jp/en/).
3. KOIL Studio, Meeting Room and Café will provide a place for human interaction, conveying information and holding discussions.
KOIL Studio is a spacious area that will accommodate around 80 people. It will be fully equipped with large screens and various types of audio-visual equipment. KOIL Studio can be used as a venue for presentations for users and investors, and for conferences bringing together people from around the world, among other events and occasions.
KOIL will make 14 rooms of different sizes and designs available for conferences and use as event spaces in private rooms. These will range from meeting rooms for four people to KOIL Salon, which will accommodate up to 36 people. KOIL will also have facilities in place such as video conferencing systems that enable the holding of meetings with people overseas.
Furthermore, the Café will serve not only soft drinks and alcoholic beverages, but will also be available as a bistro to enjoy lunch and dinner. The Café will be used to create scenarios unique to KOIL. For example, consumers gathering at the Café could be asked to try out prototypes produced in the KOIL Factory, in order to obtain user feedback.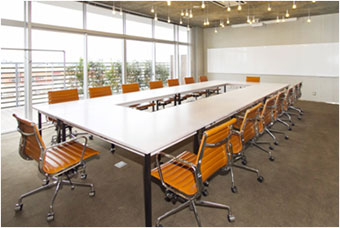 Meeting Room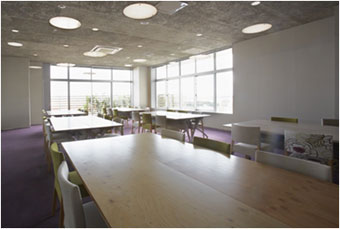 KOIL Salon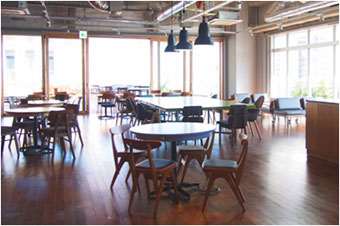 Cafe
4. A diverse range of office space that can be tenanted flexibly according to the size of a company
KOIL will make 10 rooms available on the 6th floor, the same floor as KOIL Park and KOIL Factory, as Innovation Offices - tenanted offices that can be rented for short periods and on a small scale. The reception service and KOIL Park will be available to tenants free of charge. The office floors on the 4th and 5th floors will provide rented offices that serve the needs of companies of different sizes, with rooms ranging from around 250 m2 to an entire floor of more than 2,645 m2square meters. We will offer office space to fulfill the needs of head office functions of startups, and the tenant needs of the business divisions of major corporations seeking to develop new businesses. KOIL will encourage human interaction between the users of these office floors and the Innovation Floor (6th floor) through arranging events and collaborations between facilities. In doing so, KOIL will create opportunities for a diverse array of companies and individuals to meet and interact with one another, with the aim of becoming a hub for the creation of new industries.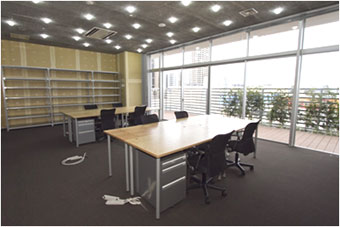 Innovation Office (6th floor)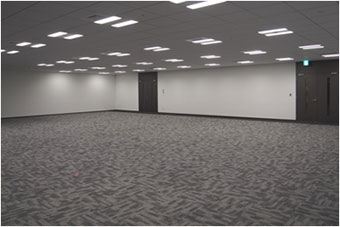 Office Floor (4th floor)
5. KOIL will provide KOIL members and others with a high-quality, hands-on support program for entrepreneurs and for founding businesses.
TX Entrepreneur Partners General Incorporated Association (hereinafter, "TEP"), one of Japan's leading organizations that provides support for entrepreneurs and for founding businesses, will move into KOIL and make it its headquarters. TEP comprises Support Members who assist entrepreneurs with specialized knowledge and experience, such as lawyers and accountants, as well as Angel Members (individual investors) who not only providing funding support, but also proactively participate in management. TEP has been extending hands-on support to companies tailored to the needs and development stage of each company, and has been promoting the growth of companies in the venture business community.
KOIL brings together TEP's full-time staff and business mentors (advisors and supporters) who possess experience in founding businesses and management, along with a wide array of specialized expertise. In doing so, KOIL will offer a one-stop contact point that can address issues of all kinds facing startups. Furthermore, TEP provides a practical support program for entrepreneurs and for founding businesses. The program covers a range of activity, from preparations for founding a company through to developing business globally and conducting an initial public offering of shares. The program is available to all KOIL members.
KOIL's Support Program for Entrepreneurs and for Founding Businesses
In-house Mentoring
KOIL members can choose the business mentor with whom they wish to consult, from among the TEP business mentors who possess experience in founding a business and in management, along with possessing a wide array of specialized expertise. KOIL members can then receive mentoring services within KOIL Park. The TEP business mentors will carefully provide advice on any issues that arise at any particular time in the course of moving ahead with business. They will respond to consulting needs such as "We would like to consult with an expert outside the company on our firm's management strategy," "We would like to seek advice on the issues our firm is facing from an experienced business founder or manager," and "We would like to seek the opinion of an experienced industry expert on how to expand our business."
1 on 1 Seminar
Corporate management requires expansive knowledge and experience. KOIL will offer one-on-one seminars and discussions with instructors that allow members to efficiently absorb as much practical knowledge as they need and want to learn at the time. From the available courses provided by instructors with a wide array of specialization and experience, members can freely choose the instructors and the subject matter of the courses they wish to take. This allows the instructors to serve as "home tutors," so to speak, of startups.
KOIL offers a diverse spectrum of courses matched to the various possible growth stages and themes of companies. Before founding or during the founding period of a company, course offerings include a course on preparing to found a business and an introductory course on financial statements. For the initial growth stage of a company, course offerings include a core course on developing business plans and a basic course on marketing. Course offerings targeting companies in an expansionary growth phase include a course on intellectual property strategy, a course on public relations strategy and a core course on overseas business expansion. And programs such as a course on preparing for an initial public offering of shares and a core course on preparing for M&As are offered for companies in a mature phase.
International Business Acceleration Program
The International Business Acceleration Program is an intensive support program for Japanese startups considering overseas business expansion and overseas startups seeking to enter the Japanese market. Programs will be prepared and finalized by customizing the program details according to the development stage and needs of the companies, their business sectors and other considerations.
* For detailed information and a fee schedule, please visit the following KOIL website: (http://www.koil.jp/about/startup/).
---
6. KOIL will host a diverse events program featuring seminars that stimulate innovation, experiential workshops and more
KOIL will host a diverse range of events for KOIL Park members and members of neighboring universities and research institutes, local residents and other consumers, and creators, engineers, entrepreneurs and others who are active worldwide. KOIL will expand the circle of open innovation by encouraging the exchange of knowledge and communication. This will achieved by involving many different types of participants in events ranging from seminars and talk events related to technology development, management, design, and creativity to hands-on manufacturing events that are open to the public, including parents and their children.
KOIL will hold these event programs in collaboration with alliance partners such as TX Entrepreneur Partners General Incorporated Association, which comprises around 200 entrepreneurs and supporters such as angel investors; Loftwork Inc., which possesses a network of about 20,000 creators in Japan and abroad; and the Japan Institute of Design Promotion (JDP), Japan's only comprehensive design promotion organization and the host of the Good Design Awards.
KOIL Overview
Name
KOIL (Kashiwa-no-ha Open Innovation Lab)
Website
http://koil.jp
Opening date
April 14, 2014 (Monday)
Access
1 minute walk from Kashiwa-no-ha Campus Station on the Tsukuba Express Line
Location
District 148-2, Kashiwa-no-ha Campus, 178-4 Wakashiba, Kashiwa City, Chiba Prefecture
No. of floors
GATE SQUARE Shop & Office Building 4th - 6th floors
Facilities
<6th Floor: Innovation Floor>
KOIL Park/KOIL Factory/KOIL Studio/KOIL Salon/Meeting Room/Café/Innovation Office/Other
<4th - 5th Floors: Office Floors>
Leased office space of two floors combined of approx. 5,403 m2
Project operator
Mitsui Fudosan Co., Ltd.
Planning, operation, and alliance partners
•TX Entrepreneur Partners General Incorporated Association:
Provide a support program at KOIL for entrepreneurs and for founding businesses
•Loftwork Inc.:
Plan and conduct events at KOIL that catalyze innovation
•Japan Institute of Design Promotion:
Jointly plan KOIL events based on the theme of design
•Naruse Inokuma Architects:
Planning and design of the Innovation Floor (6th Floor)
Location Map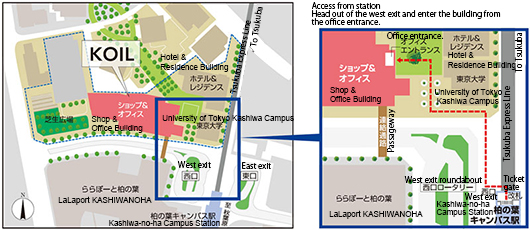 Click here to enlarge
GATE SQUARE Plan Overview
*The plan is subject to change
Name
GATE SQUARE
Location
District 148, Kashiwa-no-ha Campus, 178-4 Wakashiba, Kashiwa City, Chiba Prefecture
Access
1 minute walk from Kashiwa-no-ha Campus Station on the Tsukuba Express Line
No. of floors
Shop & Office Building
Hotel & Residence Building
7 floors above ground, 1 floor below ground
14 floors above ground, 1 floor below ground
Facilities
KOIL (4th - 6th floors):
Rentable floor space approx. 7,980 m2

LaLaport KASHIWANOHA North Wing (1st - 3rd floors):
17 stores

Rentable floor space approx. 7,502 m2
Park Axis Kashiwanoha:
International exchange residence (14th floor) 31 residences
Rental residences (8th - 13th floors) 114 residences
Mitsui Garden Hotel Kashiwanoha (1st and 3rd - 7th floors): 166 rooms
Kashiwa-no-ha Smart Center (2nd floor)
Kashiwanoha Conference Center (2nd floor)
Other: Hotel restaurant (1st floor)
Site area
Approx. 16,768 m2
Approx. 7,577 m2
Gross floor area
Approx. 32,206 m2
Approx. 23,976 m2
Structure
Steel-reinforced ferroconcrete (partial earthquake-proof structure)
Ferroconcrete (earthquake-proof structure)
Project operator
Mitsui Fudosan Co., Ltd.
Design and contracting
THE ZENITAKA CORPORATION
Construction period
Start: April 2011; Overall completion: April 2014 planned (Grand opening in July 2014 planned)


Aerial photograph of Kashiwa-no-ha Smart City (Kashiwa-no-ha Campus Station and surroundings: photographed in February 2014)
About TX Entrepreneur Partners General Incorporated Association (TEP)
TEP is an organization that conducts support activities for entrepreneurs and startups mainly in the geographical areas along the Tsukuba Express (TX) rail line. The area along the TX rail line is home to some of Japan's leading national universities and research institutions, and attracts numerous cutting-edge technologies, advanced research and researchers and entrepreneurs. TEP was established in November 2009 as a voluntary association to harness the potential of the TX belt by building a sustainable, community driven framework for providing ongoing assistance to local startups through collaboration among local universities, research institutions, government entities, private enterprises and individual supporters. TEP was upgraded to general incorporated association status in October 2012. TEP had a membership of approximately 200 individuals and organizations as of April 1, 2014, mainly comprising the following four membership categories: Entrepreneur Members, which are individuals or startups looking for support; Angel Members, who provide support; and Support Members, who include lawyers, accountants and other professionals with a wide range of specialized expertise. Through its activities to date, TEP has become one of Japan's leading networks for startups, with a track record of investing in and providing management guidance for multiple projects.
(Website: https://www.tepweb.jp/e/index.html)