Work Starts on the 472-unit Malaysian Residential Project Geo Residences
-First Japanese Company in a Joint Housing Project with Sunway, Malaysia's Largest Developer-
July 1, 2014
Mitsui Fudosan Co., Ltd.
Mitsui Fudosan Residential Co., Ltd.
Mitsui Fudosan Co., Ltd. is pleased to announce that work has begun on the 472-unit Geo Residences in a joint project between SEA Investment Four Pte. Ltd., a subsidiary of Mitsui Fudosan co., Ltd, and Sunway South Quay Sdn. Bhd., a subsidiary of Sunway Bhd, Malaysia's biggest developer, in Daerah Petaling, a district adjacent to the capital Kuala Lumpur, whose center lies approx. 15 kilometers away. Construction is planned for completion in 2017.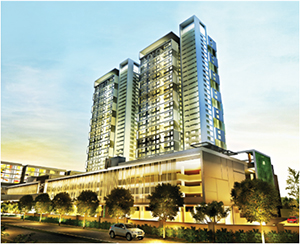 Geo Residences (Perspective Drawing)
Sunway is a Malaysia-listed company formed in 1974 with a market capitalization of Approx.¥160.0 billion (as of March2014) and approx. 12,000 group employees. Mitsui Fudosan is the first Japanese company to conduct a joint residential project with Sunway, one of the largest companies in the Malaysian real estate industry. In carrying out the project, Mitsui Fudosan will leverage the development, marketing, and know-how it has accumulated in the course of conducting the housing business in Japan and Singapore.
Geo Residences will be located in Sunway Resort City, a large-scale development project that Sunway has been developing for about 30 years since 1986. Surrounded by abundant urban functions, it is being built as the core residential development in Sunway South Quay, which is designed to be a cosmopolitan international community. Sunway Resort City is a multifunctional city including the five-star Sunway Resort Hotel & Spa, the large-scale shopping center Sunway Pyramid with over 800 stores, more than 7,000 residents, entertainment facilities, hospitals, offices, and education facilities. There are plans for new transport infrastructure with the scheduled completion of an Elevated Bus Rapid Transit (BRT) system in the area in 2015. It is connected to the KTM (a rail network linking Kuala Lumpur and suburbs), and the Light Rail Transit (the railway network running through Kuala Lumpur), also expected to be extended by 2015.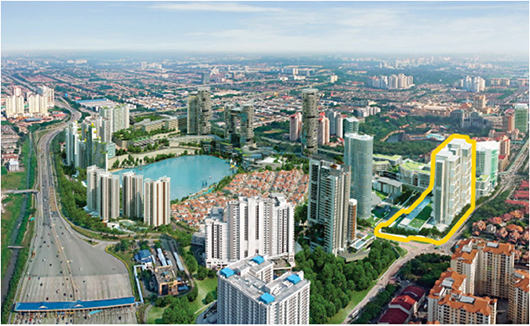 Sunway Resort City perspective view (An aerial view of the property generated by a computer)
The Mitsui Fudosan Group has positioned the overseas business as one of its growth areas. In Malaysia, the Group has ongoing projects including "(Tentative Name) Mitsui Outlet Park Kuala Lumpur International Airport (KLIA)" , scheduled to open in 2015, and the Mews Project, a residential project for the central Kuala Lumpur area. In other parts of Asia, the Group also has residential projects in Singapore, Thailand, Indonesia, and China. Also in China, the Group is developing business including the shopping centers "Shanjing Outlet Plaza-Ningbo", "LaLaport Shanghai Jinqiao (Tentative Name)"; scheduled to open in 2017, and "Taiwan Linkou Outlet Project (Tentative Name)" ; scheduled to open in 2015. Under "Innovation 2017", the Group's long-term business plan for FY2012 to FY2017 announced in 2012, the Group is planning to execute investments of approx. ¥500 billion in Europe, North America, and Asia by FY2017.
Project Overview
Location
Bandar Sunway, Daerah Petaling, Negeri Selangor, Malaysia
Access
Closest Existing Station: Setia Jaya Station, KTM Line
Site Area
Approx. 27,520 m2
Total exclusive floor area
Residential area approx. 46,661 m2
Structure
34 above-ground floors in two towers
Number of Units
472
Schedule
Start of main construction July 2014
Delivery to customers scheduled for 2017
* Sunway Berhad
Established in 1974, a Malaysian-listed major developer that includes a real estate and construction company under its umbrella.
In addition to the real estate and construction industries, Sunway is also involved in businesses including building materials and quarrying. Sunway REIT was listed in 2010.
With regards to real estate, Sunway conducts business throughout Malaysia and in other countries, centering on multifunctional developments (residential, commercial and hotels).
Market capitalization of Approx.¥160.0 billion (as of March 2014).
Location Map; Kuala Lumpur and Sunway Resort City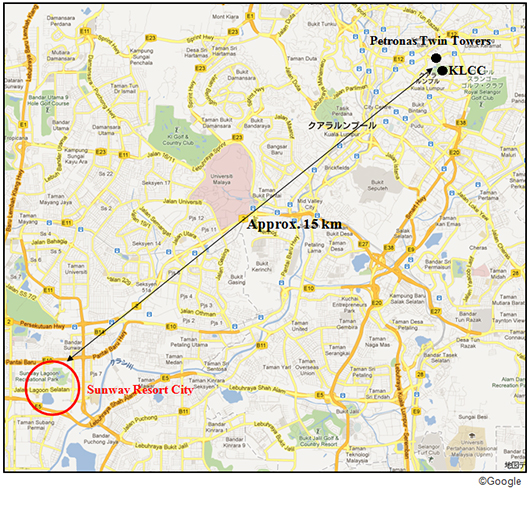 Location Map; Geo Residences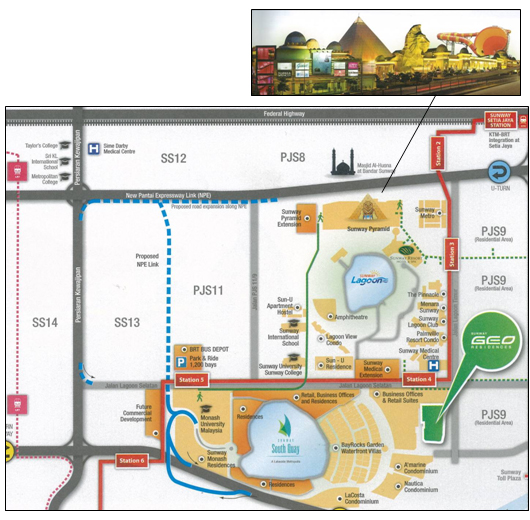 Elevated Bus Rapid Transit (BRT) system (Perspective Drawing)