DiGJAPAN! and Mitsui Fudosan Collaborate
The DiGJAPAN! smartphone app will be used to introduce Nihonbashi globally as an attractive new area in Tokyo combining tradition with the latest trends
March 22, 2016
Shobunsha Publications, Inc.
Mitsui Fudosan Co., Ltd.
Shobunsha Publications, Inc. and Mitsui Fudosan Co., Ltd. are pleased to announce that they began a collaborative effort in March 2016 to release content featuring the Nihonbashi area on Shobunsha's DiGJAPAN! smartphone app. The DiGJAPAN! app provides tourist information for free to travelers from abroad visiting Japan. The app will introduce Nihonbashi to those visitors as a new area in Tokyo combining long-established stores with brand new commercial facilities, where they can experience both the traditions and latest trends of Japan.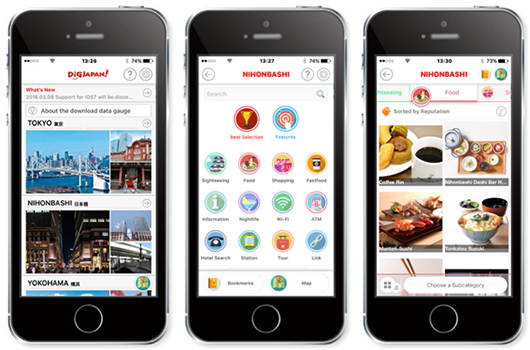 DiGJAPAN! featuring the Nihonbashi area
DiGJAPAN! will introduce tourist attractions in the Nihonbashi area recommended by Shobunsha to travelers visiting Japan, including those in the neighboring Ningyocho area. Visitors can use the app to find stores established more than 100 years ago in Nihonbashi, including Eitaro Sohonpo, a confectionery shop offering seasonal Japanese sweets; Haibara, a stationery shop with a beautiful selection of Japanese washi paper; and Nihonbashi Yoshinozushi Honten, a restaurant serving sushi by master chefs. Apart from that, the app features attractive new commercial facilities and spots, such as the Mitsui Fudosan Group's COREDO Nihonbashi, COREDO Muromachi 1, 2 and 3, and Nihonbashi Mitsui Tower, where visitors can find entertainment and shop from among a selection of the latest fashion trends and gifts. The app also introduces other activities in the Nihonbashi area, including the Tokyo Mizube Cruising Line, where visitors can take a ride on the Kawasemi Waterbus.
Content Examples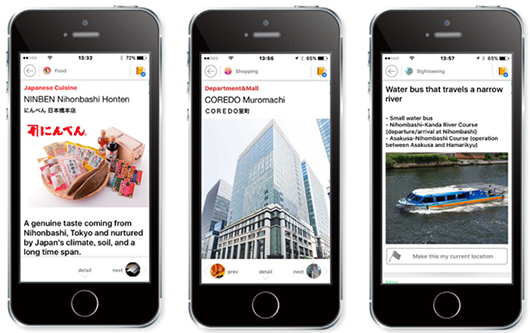 The DiGJAPAN! : https://digjapan.travel/