Work Begins on the OH-1 Project - Major Integrated Development Project in the Ohtemachi District
June 8, 2016
Mitsui & Co., Ltd.
Mitsui Fudosan Co., Ltd.
Mitsui & Co., Ltd. ("Mitsui") and Mitsui Fudosan Co., Ltd. ("Mitsui Fudosan") are currently implementing the OH-1 Project, an integrated development project in 2, Ohtemachi 1-Chome District ("the Project"). The purpose of this message is to inform you that the construction work commenced on May 18, 2016, and that a commemoration ceremony to mark the start of work on this project was held today.
In this Project, Mitsui and Mitsui Fudosan are collaborating on a large-scale integrated redevelopment initiative centering on two office buildings. The total floor area of the buildings will be 360,000m2, making this one of the biggest redevelopment projects ever undertaken in Tokyo. In addition to office space equipped with cutting-edge systems, there will also be a multipurpose hall capable of accommodating both business and entertainment activities, as well as a luxury hotel that will rank among Japan's finest. An unusual feature for a redevelopment project situated on prime land will be a large open space covering an area of about 6,000m2, which includes the place that was popularly known as Karugamo Plaza ("Duck Plaza"). Located next to the Imperial Palace grounds, this park will provide an enchanting expanse of greenery.
The Cabinet Office and the Prime Minister have designated this project as one of the National Strategic Special Zone projects because of its capacity to attract foreign businesses and promote business interaction through the reinforcement of MICE (meetings, incentives, conferences, and exhibitions/events) functions. Mitsui and Mitsui Fudosan will advance the project as an initiative that will contribute to Tokyo's international competitiveness.
The buildings are scheduled for completion in late February 2020. After completion, Mitsui will relocate its Headquarters into the office section of the Project.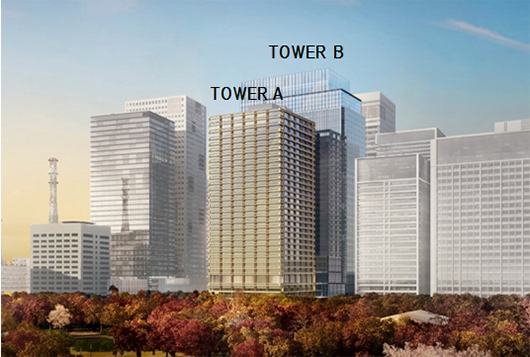 The finished project as viewed from the Imperial Palace East Gardens
Features of the OH-1 Project
Expansive park area - a focus for exchange and social interaction
On its western side, which faces the Imperial Palace, the development will encompass a green space covering approximately 6,000m2, reaching as far as the Imperial Palace gardens and the Masakado Shrine. In addition to a wooded area created using local tree species, the space will also include a water feature to create a relaxing and pleasing ambience. There will also be a plaza to accommodate a variety of outdoor events.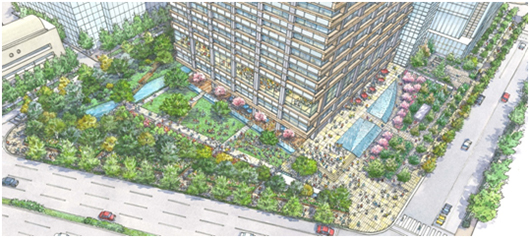 A large green area will be created on the Imperial Palace side of the site.
A multipurpose hall overlooking the plaza and park area will be constructed on the third floor of Tower A. This hall will be suitable for purposes ranging from international conferences and business events, such as product launches, to live musical performances and other entertainment events. This facility will further stimulate activity in the area by facilitating business interaction and international exchange, and by providing a new focus on cultural and artistic expression.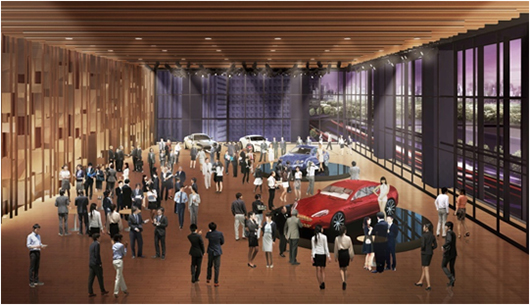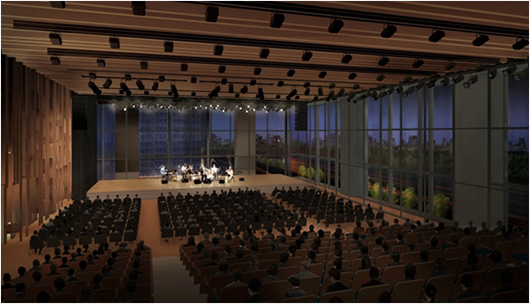 Artist's impression of the Multipurpose Hall
Master Design by Skidmore, Owings & Merrill LLP (SOM)
Skidmore, Owings & Merrill LLP (SOM), who designed New York's One World Trade Center and the Tokyo Midtown development in Roppongi, have been appointed as the design architect for the Project. The vision of Mitsui & Mitsui Fudosan is to create an innovative and subtly delicate exterior design consistent with the characteristics of Ohtemachi as a business center neighboring the Imperial Palace.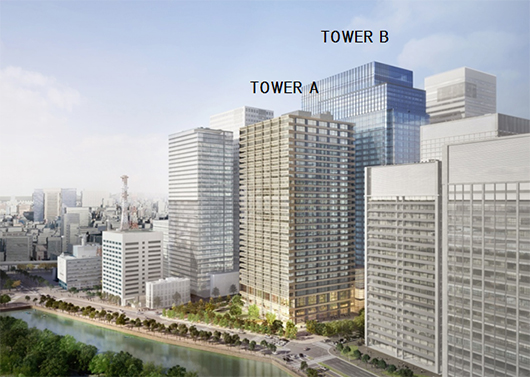 Bird's-eye view (along Uchibori Avenue)

Bird's-eye view of Tower B
(on Hibiya Avenue)

Atrium and main staircase
Highest Level of Safety and Security in Japan
Upgrade of district cooling and heating system

While the facilities will continue to function as the main plant providing the district cooling and heating services needed to support business continuity in the area, they will be upgraded, and anti-flooding and earthquake-proofing measures will be reinforced. In addition, efficiency improvements will be undertaken with the aim of reducing CO2 emissions by 1,000 tons per year.

High-performance seismic damping structures

The buildings will be fitted with the advanced HiDAX-R Oil dampers developed by Kajima Corporation. These systems are highly effective in situations ranging from wind-driven motion to an intensity 7 earthquake. They are especially effective for the prevention of shaking caused by intensity 4-5 earthquakes or long-cycle seismic motion, which occur frequently, and for the gradual reduction of shaking over a short period of time.

Energy system with high level of autonomy

The energy infrastructure will include a cogeneration system capable of generating electricity using medium-pressure gas, as well as a duel-fuel emergency generator capable of operating on either oil or medium-pressure gas. These facilities will provide a high level of power supply autonomy during emergencies. There will also be an oil reserve with sufficient fuel to run the generator for 72 hours in the event that the supply of medium-pressure gas is interrupted.
These facilities will ensure business continuity, since they will continue to supply electricity and heat to private as well as public areas if external supplies of electricity and gas are interrupted.

Improved accommodation capacity for people who are unable to travel home

If an emergency situation prevents people in the complex from traveling home, they will be able to utilize temporary accommodation facilities with space for 2,400 people (approximately 4,000m2). There will also be storage for emergency provisions (approximately 250m3, 22,000 meals and other supplies), and emergency wells.
Overview of properties included in the OH-1 Project
Location
2, Ohtemachi 1-Chome, Chiyoda-ku, Tokyo
Access
Direct access to Otemachi Station (Tokyo Metro) on the Marunouchi Line, the Tozai Line, the Chiyoda Line and the Hanzomon Line
Direct access to Otematchi Station (Toei) on the Mita Line
Main uses
Offices, retail outlets, multipurpose hall, hotel, parking areas, district heating/cooling facilities
Site area
Approx. 20,900 square meters
Floor area
Approx. 357,700 square meters
Floors
Tower A: 31 levels above ground, 5 basement levels
Tower B: 39 levels above ground, 5 basement levels
Height
Tower A:Approx. 160m Tower B:Approx. 200m
Design·Construction
Design· Supervision
Joint Venture by Nikken Sekkei Ltd. and Kajima Corporation
Construction
Kajima Corporation
Design Architect
Skidmore, Owings & Merrill LLP (SOM)
Completion of Buildings (Planned)
February 2020
*Open spaces will be constructed after the completion of the buildings
Location
(1) Takebashi Stn. (Tozai Line)
(2) Tokyo Fire Dept.
(3) Nikkei Bldg.
(4) JA Bldg.
(5) Keidanren Bldg.
(6) Otemachi Grand Cube
(7) Otemachi Financial City
(8) Otemachi 2-Chome Redevelopment Project
(9) Otemachi Stn. (Marunouchi Line)
(10) Otemachi Stn. (Hanzomon Line)
(11) Yomiuri-Shimbun Bldg.
(12) Project Site
(13) Imperial Palace

(14) Otemachi Park Bldg.
(15) Otemachi Stn. (Chiyoda Line)
(16) Otemachi Tower
(17) Otemachi Stn. (Tozai Line)
(18) Palace Hotel
(19) Otemachi Stn. (Mita Line)
(20) Eiraku Bldg.
(21) Marunouchi OAZO
(22) Wadakura Fountain Park
(23) Shin Marunouchi Bldg.
(24) Tokyo Stn. (Marunouchi Line)
(25) Tokyo Stn. (JR)
Plan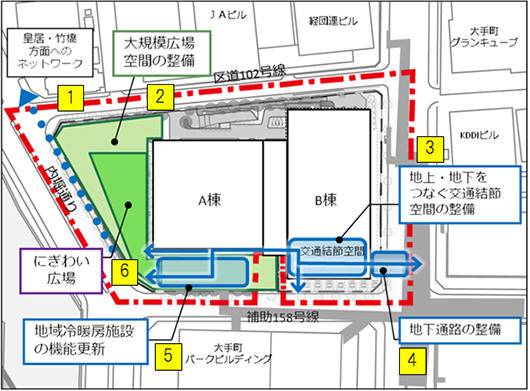 (1) Network to Imperial Palace/Takebashi
(2) Large open space
(3) Transportation interface area linking surface/subway systems
(4) Underground passageway
(5) District heating/cooling facilities (rebuilt)
(6) Activity space
Cross Section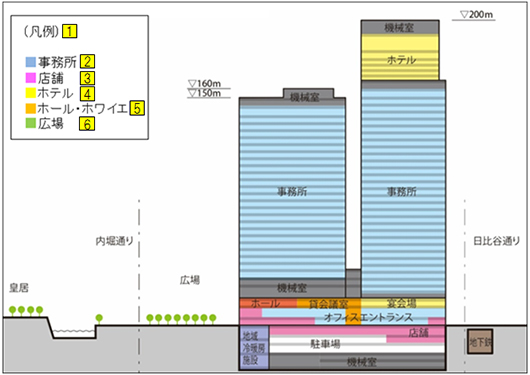 (1) Note
(2) Office
(3) Retail
(4) Hotel
(5) Hall, Foyer
(6) Open Space