The 5th Asian Entrepreneurship Award Announces 2016 Award Winners
BorderPass of Malaysia Takes First Prize
Global Innovation Award with 27 Entrants from 14 Asian Countries
June 8, 2016
Future Design Center Incorporated Association
TX Entrepreneur Partners General Incorporated Association
Division of University Corporate Relations, the University of Tokyo
Mitsui Fudosan Co., Ltd.
Future Design Center, together with Mitsui Fudosan Co., Ltd., Division of University Corporate Relations at the University of Tokyo, TX Entrepreneur Partners (TEP) and KEIDANREN, held the "Asian Entrepreneurship Award (AEA) 2016," a global innovation showcase featuring Asian startups, from June 5 through 7, 2016.
The commemorative fifth AEA featured 27 highly-capable technology startup teams selected from 14 countries and economies mainly in Asia competing via impressive presentations in English, judged under the criteria of innovativeness of business model, potential economic and social impacts and feasibility of implementation.
The 27 startups garnered inspiration through the mentorship of, and discussions with Japanese investors, experts, etc. as well as interactions with other entrepreneurs that had gathered from various countries and expanded their perspective of global business as well as human networks. In the semi-final session on the last day, all 27 entrants gave presentations in separate groups and 6 finalists moved on to the final session. After the final judgements by four judges with extensive knowledge of startup business and active global careers, the following award winners were announced.
http://fdc.or.jp/e/winners/
With an aim to form an ecosystem that cultivates and supports new startups, AEA works to bring together young entrepreneurs who use ingenuity and technology to take on challenges from the rapidly growing Asia region.
For this award, we designed the event to attract young entrepreneurs from Asian countries in order to establish a global and sustainable network with promising startups. To contribute to the development of their companies, we also offered many programs where participants could learn about the environment surrounding startups in each country as well as recent trends. It is anticipated that collaboration and overseas activities involving the AEA participants will be further developed through these programs.
Asian Entrepreneurship Award 2016 Winners
First Prize
BorderPass (Malaysia)⁄CEO : Faisal Ariff
BorderPass is an opt-in service that expedites travelers through airports by replacing paper immigration forms with online profiles, sent to the destination government when booking.
Second Prize
DRD Biotech(DRD ltd.)(Russia) ⁄CEO : Anzhey Zhimbiev
DRD Biotech develop and implements a point-of-care rapid test kits to accelerate and improve the early detection of brain damage.
Third Prize Japan New Business Conferences President Prize
Gimer Medical (Taiwan)⁄Director of International Affairs: Sharon Fan
GiMer Medical produces electrical stimulation systems applied to pain relief of chronic back pain, cancer and carpal tunnel syndrome.
[Scenes from Day 2 (June 7) of Asian Entrepreneurship Award 2016]
Semi-final Session
Entrants were divided into five groups, within which they each gave a 10-minute presentation followed by a 10-minute Q&A session.
Final Session
The six finalists each gave a 10-minute presentation followed by a 10-minute Q&A session. The session reached its peak with the powerful presentations of the six best and brightest teams. Companies:Apollo Medical Optics Inc. ' Beijing Tsinova Technology Co.Ltd. ' BorderPass ' DRD Biotech(DRD ltd.) ' Gimer Medical ' Hong Kong Organic Waste Recycling Centre Limited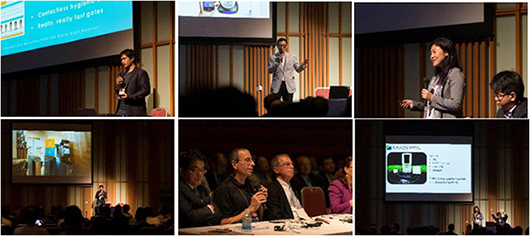 Farewell Reception
Co-hosts and sponsors made speeches and the AEA 2016 award winners were announced.