Mitsui Fudosan's CVC Fund Makes First Investment in LivingStyle, Inc., a 3D Interior Simulation Service Provider
July 12, 2016
Mitsui Fudosan Co., Ltd.
Tokyo, Japan, July 12 2016, Mitsui Fudosan Co., Ltd. has made an investment in LivingStyle, Inc. through its corporate venture capital fund, "31VENTURES Global Innovation Fund I," jointly operated by Global Brain Corporation.
LivingStyle provides users with AR based interior layout simulation system with high operability and high image quality driven by its cutting edge technologies. This system has been installed in more than 20 major interior brands in Japan, and contains over 300,000 furniture 3D models. They have been chosen as our first portfolio in order to expand Mitsui Fudosan Group's business horizon through the business alliance between LivingStyle and our subsidiary, MITSUI Designtec Co., Ltd.
These two companies will deploy unique service to the interior design and coordination industries by co-launching new software.
LivingStyle, Inc. is a company providing interior-related ICT solutions such as interior layout simulation systems using web 3D technologies, customer transfer system and marketing tools for interior shops.
Corporate Profile
Established
October, 2007
Representative Director
Toshihiro Inoue
Address
Edogawabashi Access Building 9F, 333
Yamabuki-cho, Shinjuku-ku, Tokyo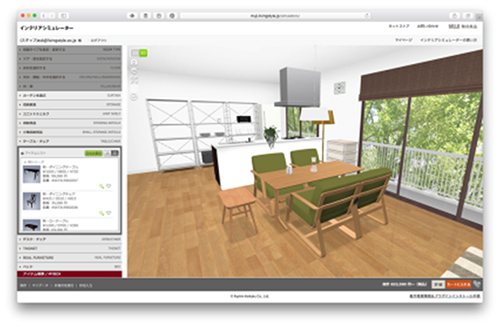 Mitsui Fudosan's Venture Co-creation Department "31VENTURES" (http://www.31ventures.jp/) Mitsui Fudosan has been accelerating its efforts in co-creation with startups for the ultimate goal to create new industries both to strengthen Mitsui Fudosan's business and to expand the scope of its operations. In April 2015, Mitsui Fudosan established the Venture Co-creation Department to achieve co-creation of new industries together with startups by providing fully integrated venture capital services, "Finance," "Support" and "Community," for ambitious startups.