Fifth-Stage Expansion Plan Finalized for Mitsui Outlet Park Jazz Dream NAGASHIMA
Scale Expanding to About 280 Stores to Become Japan's Largest Outlet Mall in Number of Stores
Scheduled to Open in Fall 2017, Together with a Large-Scale Renovation of Existing Stores
August 24, 2016
Mitsui Fudosan Co., Ltd.
Nagashima Resort Co., Ltd.
Mitsui Fudosan Co., Ltd. and Nagashima Resort Co., Ltd. today announced that they will start work on the Mitsui Outlet Park Jazz Dream NAGASHIMA Fifth-Stage Expansion Plan. Since the opening of the first stage of this facility in 2002 there have been three expansions as it has continued to grow. Under the Fifth-Stage Expansion Plan, the number of existing stores will be increased by about 40 stores, expanding the entire facility to a scale of about 280 stores, making it the largest outlet mall in Japan in terms of the number of stores. Construction work of the facility will start in October 2016 and it scheduled to open in fall 2017.
In conjunction with the Fifth-Stage Expansion Plan, a large-scale refurbishment will also be carried out, renovating or replacing existing facilities. About 15 years has passed since the first-stage facilities opened, so there will be a remodeling of the environment design, including wall designs and changes of artistic objects on display. To improve convenience and ease of movement in the mall, the number of escalators and elevators will be increased or shifted. In addition, a prayer room will also be built within the fifth-stage extension for those who need to have somewhere to pray.
The Fifth-Stage Expansion Plan and large-scale refurbishment will aim to attract sophisticated luxury and international brands in addition to enhancing stores so that they cater to diverse needs for dining, fashion, lifestyle sundries and more. Large-scale store replacement will occur in two stages in spring and fall 2017 as the facility aims to become even more enjoyable for its attractive shopping.
Mitsui Outlet Park Jazz Dream NAGASHIMA has been positioned to be part of the Nagashima Resort. This name refers to one of the Tokai area's leading leisure zones, assembling tourist and customer-attracting facilities, with a vicinity that include the comprehensive leisure land operated by Nagashima Resort Co., Ltd., which houses Nagashima Spaland theme park, the Yuami no Shima hot spring facility, Nabana no Sato flower and dining theme park, and Hotel Hanamizuki, a luxury hot spring ryokan inn. "Japaaaan," Japan's first and one of the world's biggest large-scale water attractions, newly opened inside the Jumbo Seawater Pool in July 2016, and the 4D spin-coaster "Arashi" is due to be installed in the theme park in spring 2017. The Fifth-Stage Expansion Plan will make the entire Nagashima Resort area even more attractive.
| | | |
| --- | --- | --- |
| Fifth Stage South Entrance | | Fifth Stage interior view |
| | | |
| --- | --- | --- |
| Connection between the fifth stage and existing facilities | | Existing facilities following renovation |
*Images are artist's impressions
Mitsui Fudosan currently operates 13 Mitsui Outlet Park facilities across Japan and three outlet malls overseas. In addition to outlet malls, it is also involved in numerous retail facilities within Japan, including LaLaport regional shopping centers. On October 6, 2016, it will open Mitsui Shopping Park LaLaport SHONAN HIRATSUKA in Hiratsuka City, Kanagawa Prefecture, and is also advancing a development plan for LaLaport in the city of Nagoya, Aichi Prefecture. Looking forward, Mitsui Fudosan will implement various projects or plans such as conducting replacements and renovations to further enhance the attractiveness of existing facilities.
Overview of Mitsui Outlet Park Jazz Dream NAGASHIMA
Location
368 Urayasu Nagashima-cho, Kuwana City, Mie Pref.
Access
By car:
Located immediately after exiting from the Wangan Nagashima interchange on the Isewangan Expressway.
Approximately 10 kilometers from Nagashima interchange on the Higashi-Meihan Expressway.
By public transport:
Approximately 40 minutes by bus, taking the Nagashima Onsen bus from the Meitetsu Bus Center at Nagoya Station.
Approximately 20 minutes by bus from Kuwana Station on the Kintetsu Nagoya Line and JR Kansai Main Line.
Business format
Factory outlet mall
Business model
Commercial leasehold
Existing facilities
This stage (fifth stage)
Total
Opened
March 2002
Fall 2017
-
Site area
Approximately 48,800 m2
Approximately 6,200 m2
Approximately 55,000 m2
Total floor space
Approximately 59,500 m2
Approximately 10,500 m2
Approximately 70,000 m2
floor space
Approximately 39,800 m2
Approximately 6,200 m2
Approximately 46,000 m2
Number of stores
Approximately 240
Approximately 40
Approximately 280
Structure
Steel structure, two floors above ground
Parking spaces
Approximately 13,000 (including spaces for Nagashima Spaland)
Design and construction
First stage through to fifth stage: Sumitomo Mitsui Construction Co., Ltd.
Schedule
October 2016:
Start construction of fifth stage, begin renovation of existing facilities

Spring 2017
Open first stage of large-scale store replacement
Fall 2017
Fifth-stage opening
Open second stage of large-scale store replacement and renovation
Website
http://www.31op.com/nagashima/english/
Operation and management
Mitsui Fudosan Retail Management Co., Ltd.
Mitsui Outlet Park Jazz Dream NAGASHIMA extension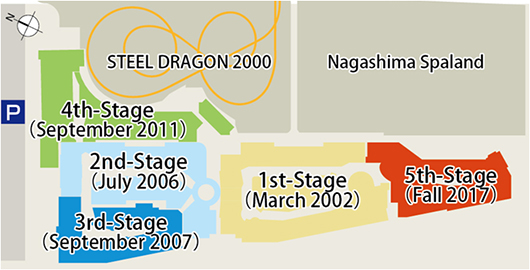 Aerial photo (taken in September 2015)