Mitsui Fudosan Group's Outlet Mall in Malaysia expanding to About 190 Stores to Become
One of Southeast Asia's Largest Outlet Malls by January 2018
November 14, 2016
Mitsui Fudosan Co., Ltd.
Mitsui Fudosan Co., Ltd., a leading global real estate company headquartered in Tokyo, announced today that MFMA Development Sdn. Bhd. (hereinafter, "MFMA"), a joint venture established with Malaysia Airports Holdings Berhad (hereinafter, "MAHB"), started phase 2 construction for Mitsui Outlet Park KLIA SEPANG, Kuala Lumpur's outlet mall nearby Kuala Lumpur International Airport. Increasing the current floor space enables expansion from the existing App 130 stores to about 190 stores, advancing to become one of Southeast Asia's largest outlet malls in terms of the number of stores. A groundbreaking ceremony was held today and the project completion is scheduled for January 2018.
Mitsui Outlet Park KLIA SEPANG opened in the area nearby Kuala Lumpur International Airport as Kuala Lumpur's first full-scale outlet mall on May 30, 2015. Located nearby two international airports and conveniently built with direct access from an expressway, the mall has attracted customers not only from within Malaysia, but also among many travelers using the international airports, mainly families comprising of people in their 20s and 30s. Within the year since its opening date, sales have been strong, exceeding initial projections, and the expansion is expected to create a facility that customers can support even further.
Store composition in phase 2 will introduce beauty related business and entertainment elements in addition to expanding the lineup of luxury and international brands. Phase 1 assembled stores across a variety of genres, including acclaimed luxury and international brands, popular Malaysian brands, Japanese brands, a rich variety of restaurants and Japan Avenue, enabling an authentic Japanese experience. Phase 2 will further spread the range of brands and products while responding to customers' wide array of needs.
Mitsui Outlet Park KLIA SEPANG is based on Paradise Village, a concept with a tropical resort theme, and is designed to convey the atmosphere of a resort area through skylights and high side-light natural lighting and a relaxing, green interior that conveys an atmosphere of being an outdoor space. The enclosed mall design is entirely air-conditioned on account of the tropical climate, creating a comfortable shopping space. The extension and additional floor space will be directly connected to existing facilities to create one continuous outlet mall.
A phase 3 expansion is slated for 2021, with plans to ultimately have an overall lettable floor space of App 44,000 m2 and App 250 stores in total.
| | | |
| --- | --- | --- |
| Exterior view of Mitsui Outlet Park KLIA SEPANG | | Phase 2 Perspective Image |
Main Features of the Mitsui Outlet Park KLIA SEPANG
Location
Facing the main road connecting the airport and central city, the mall is located App 60 kilometers south of the center of the city, about 50 minutes' drive by car. It is highly convenient for residents of the greater Kuala Lumpur area, as well as Kuala Lumpur International Airport (KLIA) or klia2 users.
Target Markets
The 8.73 million people living in the area within 100 km of the outlet mall and 48.93 million annual users of the airport (2015 figures).
Parking Space
A parking lot with over 2,000 parking spaces has been provided, taking into consideration that most visitors from the greater Kuala Lumpur area will travel by car. At least 500 more parking spaces will be added in conjunction with this increase in floor space.
Free Shuttle Bus
Two to three shuttle buses connecting KLIA, klia2 and the outlet mall operate every hour from 8:20 a.m. to 11:00 p.m.
Flight Check-in System
The system can be used for flights on Malaysia Airlines, Cathay Pacific Airways, KLM-Royal Dutch Airlines, Air France, Turkish Airlines and Air Asia. Website check-in services for other airlines are also available through the PCs provided at this facility.
Ticket Counter
Arrange bookings for buses, taxis, rental cars and more.
Support for Overseas Visitors
CIMB (A major Malaysian bank) has a foreign exchange counter, free WiFi Internet access is available in parts of the facility, and tourist privilege passes are issued when foreigners show their passports.
Event Spaces
A total of App 300 m2 has been set aside within the facility as spaces to hold events.
Serving Malaysian Needs
The facility includes halal, non-halal, and pork free restaurants as well as separate prayer rooms for men and women.
*Halal: Foods that are permissible for Muslims to eat or drink under Islamic law and excludes alcohol, meat not processed in accordance with custom and other foods. Non-Halal: Foods that are not Halal. Pork free: Foods prepared without pork and pork extract.
About the KLIA Aeropolis Plan
This property is in the "KLIA Aeropolis Project," which is expected to be fully developed in the future by MAHB. The hub of logistics facilities, a theme park and exhibition space are expected to be clustered around the property. The purpose of the project is to create important opportunities for business, sightseeing, and employment. MAHB uses this property development as a pace setter, and will sequentially promote further development plans in the future.
Mitsui Fudosan's Overseas Strategy
The Mitsui Fudosan Group has positioned overseas business as one of its growth areas. Under the Group's "Innovation 2017 Stage II" medium-term business plan through fiscal 2017, announced in May 2015, the Group is planning to execute investments of approximately ¥550 billion in Europe, the Americas and Asia over a period of three years from 2015 to 2017. At present, the Group is making steady progress through those investments. In Asia, the Group developed the Shanjing Outlet Plaza-Ningbo in 2011. In January 2016, it has also developed Mitsui Outlet Park Linkou in Taiwan. Additionally, in Malaysia, LaLaport Kuala Lumpur (tentative name) is scheduled to open in 2021, while in Taiwan, progress is being made towards the opening of Mitsui Outlet Park Taichung Port (tentative name) in 2018. Mitsui Fudosan is actively capturing growing consumption and contributing to local areas while aggressively promoting its business to strategically expand its earnings. The Group has also developed business through participation in residential projects in Singapore, Malaysia, Thailand, Indonesia, and China in recent years.
About MAHB
MAHB is the operator of 39 airports in Malaysia, including KLIA. The majority of MAHB's shares are held by a government-managed fund wholly owned by the Malaysian government. Apart from the airport business, it is also involved in other businesses such as hotels and retail property.
Mitsui Outlet Park KLIA SEPANG Property Overview
Location
Selangor State, Malaysia, within the Sepang Kuala Lumpur International Airport (KLIA) site
Access
5 minutes' drive from Kuala Lumpur International Airport and approximately 50 minutes' drive from central Kuala Lumpur
Project developers
MFMA Development Sdn. Bhd. (Project share: Mitsui Fudosan Co., Ltd. 70%, Malaysia Airports Holdings Bhd. 30%)
Business format
Factory outlet mall
Site area
approx. 178,900m2 (Overall, including phase 3)
Phase 1
Phase 2
Phase 1+2
subtotal
Phase 3
Total
Opening date
May, 2015
January, 2018
-
2021
-
Gross floor area
approx. 40,000m2
approx. 16,530m2
approx. 56,530m2
approx. 16,530m2
approx. 73,000m2
Retail space
approx. 24,000m2
approx. 9,900m2
approx. 33,900m2
approx. 9,900m2
approx. 44,000m2
No. of shops
approx. 130 stores
approx. 60 stores
approx. 190 stores
approx. 60 stores
approx. 250 stores
Schedule
May 30, 2015 Opening
November 2016 Start phase 2 construction
January 2018 Opening of phase 2 (planned)
2021 Opening of phase 3 (planned)
Operation and management
MFMA Development Sdn. Bhd.
Website
https://www.mitsuioutletparkklia.com.my
Large area map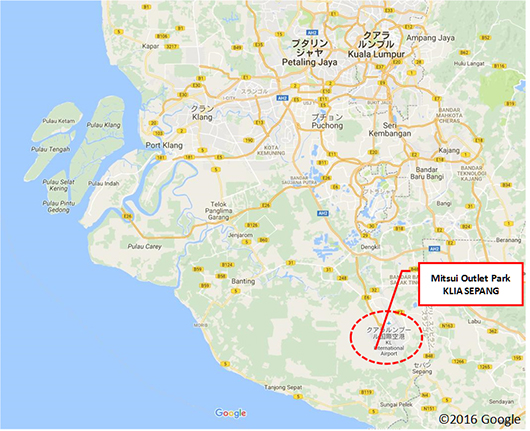 Click map to enlarge
Detail area map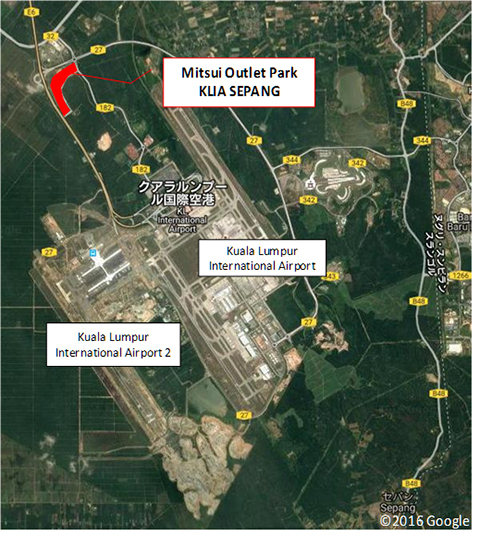 Site plan