First Regional Shopping Center in the Eastern Area of Shizuoka Prefecture
Development Starts November 9 on "Mitsui Shopping Park LaLaport NUMAZU (Tentative Name)"
Planned to Open in Fall 2019
November 6, 2017
Mitsui Fudosan Co., Ltd.
Tokyo, Japan, November 6, 2017 – Mitsui Fudosan Co., Ltd., a leading global real estate company headquartered in Tokyo, announced today that on November 9, it will start development of Mitsui Shopping Park LaLaport NUMAZU (tentative name) in the Higashishiiji district of Numazu City, Shizuoka Prefecture. Mitsui Fudosan is promoting the development of the project as its first regional shopping center in the eastern area of Shizuoka Prefecture and it is planned to open in fall 2019.
This facility will be located at the core of a plot of land (approx. 74 acres (30 hectares)) that has been included in urbanization plans as a result of a change in city planning on March 31, 2017. Work to develop public facilities will be undertaken, including widening the surrounding roads, and developing landscaped plazas and a transport terminal. The facility is expected to serve as a new hub of urban development in Numazu City.
The project site will have access to an outstanding transportation network. It will face Japan National Route 1 on its southern side and a widened city planning road named the Kanaoka Ukishima Route on its northern side. The site will also offer excellent regional access from surrounding areas, being situated very close to the Ashitaka Smart Interchange (IC) on the Tomei Expressway and the Surugawan-Numazu Smart IC on the Shin Tomei Expressway.
Main Features of the Facility
Local Community Functions
The site has established a greenery area covering a total of approximately 53,820 ft2 (approx. 5,000 m2), including three landscaped plazas, along with setting up an outdoor event space to hold events in collaboration with the local community and forming a transport terminal for public transportation services.
Commercial Functions
The facility is a collection of highly topical stores including fashion, miscellaneous goods, dining and entertainment venues mainly for those in their 30s and 40s with families, but enjoyable across a wide range of ages from the young through to seniors while aiming to be a facility appropriate for being the first LaLaport in the eastern area of Shizuoka Prefecture.
Environmental and Disaster Support
For city planning purposes, the site has been designated as a wide-area disaster management base facility. Accordingly, Mitsui Fudosan will consider entering into a disaster management agreement with Numazu City. The agreement will encompass initiatives such as providing a space within the facility for people having difficulties getting home in the event of a natural disaster.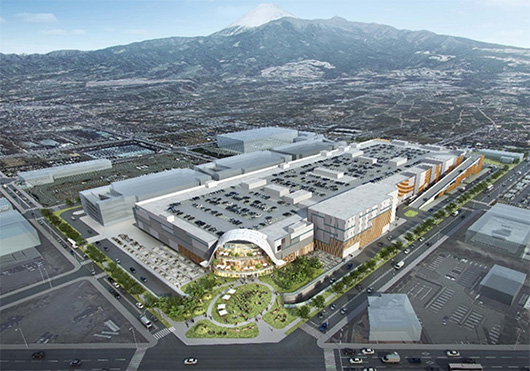 Rendering of Mitsui Shopping Park LaLaport NUMAZU (tentative name)
Overview of Mitsui Shopping Park LaLaport NUMAZU (tentative name)
Location
44-1 Kawamuko Higashishiiji, Numazu, Shizuoka Prefecture
Site Area
Approx. 1,305,662 ft2 (approx. 121,300 m2)
Total Floor Area
Approx. 1,851,393 ft2 (approx. 172,000 m2)
* Includes parking structure
Access
Approx. 2.5 km from Numazu Station on the JR Tokaido Line
Approx. 2.0 km from Katahama Station on the JR Tokaido Line
Schedule
Start of development: November 9, 2017
Start of construction: Summer 2018 (planned)
Completion of construction and opening: Fall 2019 (planned)
Development
and design / Permits and licenses Tokyu Architects & Engineers Inc.
Design and construction
Obayashi Corporation
Map
Map of the surrounding area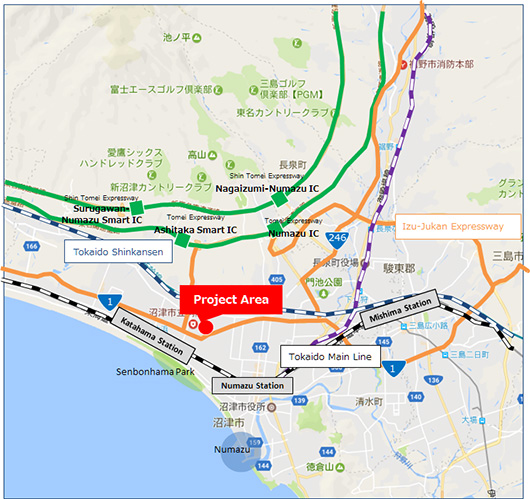 Click map to enlarge
Detailed map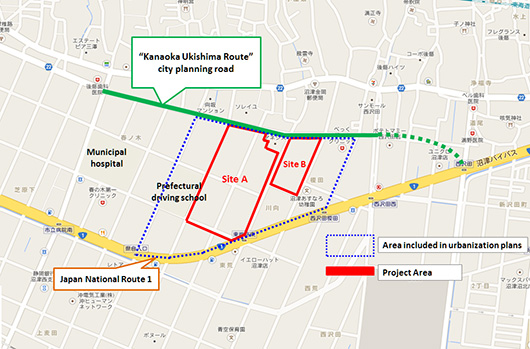 Click map to enlarge
Land use plan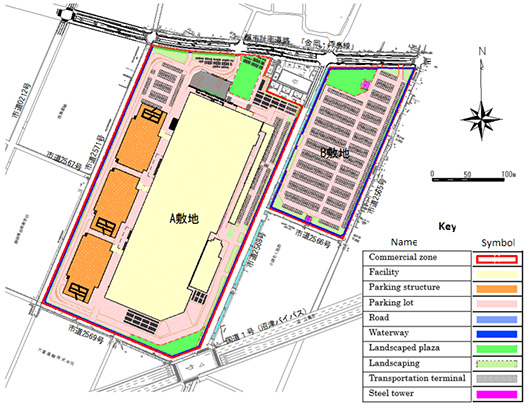 Click map to enlarge
Mitsui Fudosan's Regional Shopping Centers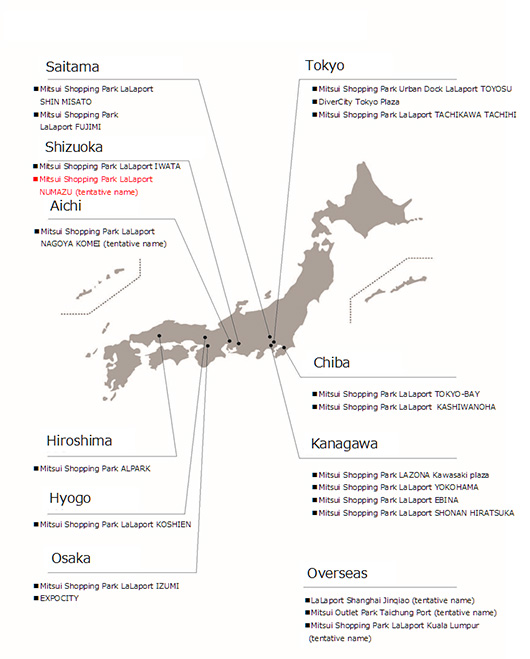 Click map to enlarge