First Large-Scale Retail Property Facility in the Three Prefectures of the Tokai Region
Mitsui Shopping Park LaLaPort NAGOYA minato AQULS
to Open September 2018
Some Stores Announced in Advance,
Joint Briefings on Recruitment for Stores to Start in April
March 8, 2019
Mitsui Fudosan Co., Ltd.
Tokyo, Japan, March 8, 2018 - Mitsui Fudosan Co., Ltd., a leading global real estate company headquartered in Tokyo, has decided to name the regional shopping center it is developing in Nagoya's Minato Ward in Aichi Prefecture as "Mitsui Shopping Park LaLaPort NAGOYA minato AQULS". The shopping center facility is scheduled to open in September 2018, and of the 217 stores, it has announced the 160 stores that have been decided in advance.
This facility will be located within minato AQULS, a town that will be newly created through a large-scale, multi-use development project being led by the Toho Gas Group and will play a core role in creating a lively neighborhood. Mitsui Fudosan Residential Co., Ltd. also plans to develop a condominium on the site of minato AQULS, located immediately north of this facility.
Mitsui Shopping Park LaLaPort NAGOYA minato AQULS provides customers with space to spend a fulfilling time in addition to actively incorporating various types of policies aimed at satisfying tenant stores and their employees. Regarding the physical amenities, measures have been taken to create environments that are easier to work in, including employee rest areas equipped with functionality and attractive design, as well as having an adjoining convenience store and daycare facility within the center. Regarding service amenities, LaLaPort NAGOYA minato AQULS Recruitment Center, which will be operated under commission by TSUNAGU SOLUTIONS Inc., will be launched. From Saturday, April 14, the center will hold a series of joint briefing sessions to aid individual stores in the recruitment of their staff.
The project site is superbly located for convenience of access with the Egawa Line, a main public road, running along its eastern side linking Nagoya from north to south, and public transport available via the Minato Kuyakusho Station (approx. 150 meters away) and the Tokai-dori Station (approx. 200 meters away) on the Nagoya Municipal Subway Meiko Line, and Minato Kuyakusho on the Nagoya City Bus network. Within the site, there will be a transportation plaza with locations for the arrival and departure of buses and taxis.
* The three Tokai region prefectures referred to in this article are the Aichi, Gifu and Mie prefectures.
Exterior view (image) of Mitsui Shopping Park LaLaport NAGOYA minato AQULS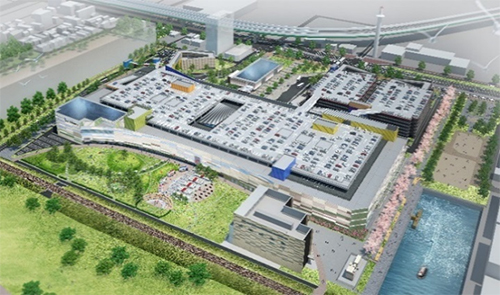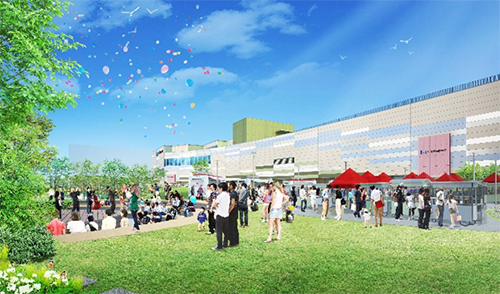 Overview of Mitsui Shopping Park LaLaport NAGOYA minato AQULS
Location
501-2, Komei 2-chome, Minato-ku, Nagoya, Aichi Prefecture
Site Area
Approx. 895,557.3 ft2 (approx. 83,200 m2)
Structure
Shopping center building: four-story (partially two-story) steel structure (Stores on 1F-3F, parking on 4F, rooftop)
Multi-story parking lot: two six-story steel structures
Total Floor Area
Shopping center building: Approx. 1,342,260 ft2 (approx. 124,700 m2)
Multi-story parking lot: Approx. 489,757.9 ft2 (approx. 45,500 m2)
Store Floor Space
Approx. 640,452.6 ft2 (approx. 59,500 m2)
Number of stores
217
Parking Spaces
Approx. 3,000
Access
Two minutes on foot from Minato Kuyakusho Station and three minutes on foot from Tokai-dori Station, on the Nagoya Municipal Subway Meiko Line
Schedule
Start of construction: April 1, 2017 Completion of construction: September 2018
Environmental design
Takenaka Corporation
<Supervision> Exterior/Interior decoration - The Buchan Group and Ishimoto Architectural & Engineering Firm, Inc.
<Supervision> Exterior - Earthscape, Inc.
Design and construction
Takenaka Corporation
Operation and management
Mitsui Fudosan Retail Management Co., Ltd.