Creating Neighborhoods while Utilizing the "Power of Sports"
Grand Openings at Mitsui Fudosan SPORTS LINK CITY FUN-TE!
April 23, 2018
Mitsui Fudosan Co., Ltd.
Tokyo, Japan, April 23, 2018 - Mitsui Fudosan Co., Ltd., a leading global real estate company headquartered in Tokyo, announced today that it held grand openings on April 22, 2018 for football facility MIFA Football Park Sendai and for the outdoor facility WILD BEACH Sendai, both in the ongoing Mitsui Fudosan SPORTS LINK CITY FUN-TE! Project located in the Izumi ward of Sendai City, Miyagi Prefecture. The grand openings follow on from the re-opening following renovations in December last year of Ice Rink Sendai. A grand opening ceremony involving junior soccer players from throughout Miyagi Prefecture and other associates was also held in conjunction with the grand openings.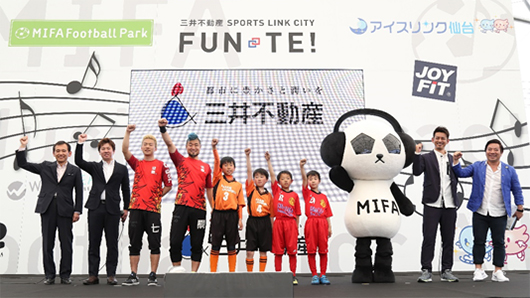 Scenes from the Mitsui Fudosan SPORTS LINK CITY FUN-TE! Grand Opening Ceremony
Speakers and guests: From left to center: Mitsui Fudosan Managing Director Yasuo Onozawa, Takeshi Honda Second from right to center: Naoki Chiba, MIFAnda (Official MIFA character)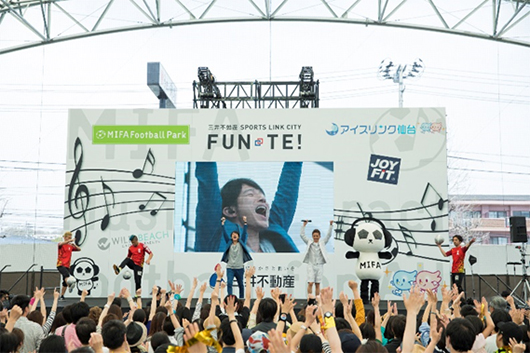 The surprise live concert put on by guests UKASUKA-G and GAKU-MC
Looking ahead, this facility will utilize Mitsui Fudosan's concept of creating neighborhoods through the "power of sports" to contribute to the community by being a facility that connects individuals, provides people of a wide span of generations from children through to adults a place to enjoy sports, and is a place to enjoy intimate communication.
Facility Overview of Mitsui Fudosan SPORTS LINK CITY FUN-TE!
Location
9-2 Takadamacho, Izumi Ward, Sendai, Miyagi Prefecture (residential address)
Access
15 minutes on foot from Izumi-chuo Station on the Sendai Subway 10 minutes by car from Sendai IC
Facility
Sports wing
(including Ice Rink Sendai), other
Clubhouse wing
(MIFA Football Park Sendai)
Dining wing
(WILD BEACH Sendai)
Total Floor Area
Approx. 60,580 ft2 (5,628 m2)
Approx. 3,010 ft2 (280 m2)
Approx. 3,120 ft2 (290 m2)
Stores
Ice Rink Sendai, JOY FIT Sendaiizumi, NICE Figure Skate
-
-
Timeline
November 1988 Opened for business inside Sendai Izumi Shopping Center
December 2017 Renovations completed
April 2018 Grand Opening
Design and construction
Sumitomo Mitsui Construction Co., Ltd.
COSMOS MORE CO., LTD.
"Mitsui Fudosan SPORTS LINK CITY FUN-TE!" HP http://fun-te.com/
The Philosophy of Mitsui Fudosan's Urban Development Utilizing the "Power of Sports"
Sports not only improve the mental and physical health of people through actions such as "Doing," "Watching" and "Supporting," it also creates new connections and has the power to revitalize communities. For Mitsui Fudosan, whose Group Statement includes an aim for a community that brings affluence and comfort to urban living and targets creation of communities that get better as they age, sees sports as an important element for attractive urban development and promotes utilization of the "Power of Sports" in urban development.
Moreover, Mitsui Fudosan has created the slogan of "BE THE CHANGE" and seeks to change itself under the themes of "Communicating," "Connecting" and "Accepting," and to use urban development as a base that will create positive change in the people, communities and society that it aims to transform.
Mitsui Fudosan's Slogan for 2020

The logo of BE THE CHANGE, which carries the meaning of each person bringing about their own change, has been designed with the motif of a "Wind" changing the world. The symbol painted in the two Mitsui Fudosan corporate colors conveys the image of a "Bird riding the wind and flying through the skies." The slogan contains the philosophy of "If people change, they can change the world" for 2020 and beyond.