Expanding the Housing Sales Business in Bangkok, Thailand
Participating in Three New Projects (total of approximately 2,100 Units)
September 27, 2016
Mitsui Fudosan Co., Ltd
Mitsui Fudosan Residential Co., Ltd.
Key Points of the Project
Participating in Three New Projects (total of approximately 2,100 Units)
Mitsui Fudosan has a housing sales track record in Thailand consisting of 12 properties
(total of approximately 10,100 units, including these three projects)
The first joint development residential housing project in Thailand is scheduled for completion in October 2016
Mitsui Fudosan Co., Ltd. and Mitsui Fudosan Residential Co., Ltd. have decided to further expand the housing sales business in the Thai capital of Bangkok through their joint venture, Mitsui Fudosan (Asia) Pte. Ltd. (headquartered in Singapore). In a display of the robust partnership with leading local developer Ananda Development Public Company Limited (Ananda), an agreement has been made to move ahead with three new properties (total of approximately 2,100 units) and sales starting from October 2016. By taking part in these three projects, the Mitsui Fudosan Group is now involved in over 10,100 units across 12 properties from its housing sales business in Bangkok.
The three new projects which Mitsui Fudosan is participating are at Phetchaburi road in central Bangkok, as well as Bangchak and Udomsuk districts in the southeast. All are conveniently located within a four-minute walk from the closest MRT (subway) or BTS Skytrain station. Construction on these properties will start around late 2016 to early 2017 and are scheduled for completion in 2018.
Unit Transfer has started from September 2016 for Ideo Q Chula-Samyan, the first joint venture project between Mitsui Fudosan and Ananda. The property is adjacent to the central Silom/Sathon office district and has been highly evaluated by the market for features such as its outstanding location, cutting-edge exterior design and attractive common facilities with nearly all 1,600 units sold.
| | | |
| --- | --- | --- |
| Ideo Mobi Asoke | | Ideo Sukhumvit 93 |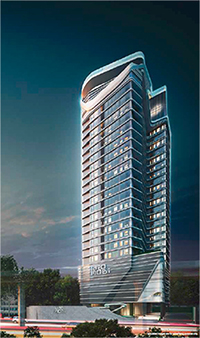 Ideo Mobi Sukhumvit 66
Ideo Mobi Asoke: 37 floors, 507 units (planned)
Located on Phetchaburi road where the Japanese Embassy was once situated, this area is also well-known for its thriving high-rise condominium developments in recent years. Positioned at a prime location for transportation, just a four-minute walk from Phetchaburi MRT (subway) station and direct access to Suvarnabhumi Airport from Makkasan Station via the Airport Rail Link, which is a seven-minute walk from the property.
Ideo Sukhumvit 93: 35 floors, 1,332 units (planned)
Located at Bangchak district in the southeastern part of Bangkok, this property is an outstanding location for convenient living with many dining and retail facilities nearby, and situated a two-minute walk from Bangchak BTS Skytrain station. The product plan will realize a highly livable and convenient property by utilizing attractive landscape design for its area of approximately 14,200 m2 and providing well-equipped common facilities including a large-scale pool and basketball court.
Ideo Mobi Sukhumvit 66: 28 floors, 298 units (planned)
Located at Udomsuk district in the southeastern part of Bangkok, this is an area attracting strong attention due to its great potential because of The Bangkok Mall, a large-scale retail mall (under construction) as well as nearby developments such as the Bangkok International Trade and Exhibition Center. In addition to its extremely convenient location, a one-minute walk from Udomsuk BTS Skytrain station, the property is also designed with attractive common areas including a sky pool and a rooftop garden, which will make it an outstanding residence.
The Bangkok real estate market has continued to grow steadily over the long term, and a strong demand for residential housing is forecast to develop in tandem with the increasing population of middle-income earners. Mitsui Fudosan is currently collaborating with Ananda on 12 projects with a total of approximately 10,100 units. In carrying out these projects, Mitsui Fudosan will leverage on the expertise it has accumulated in housing development, marketing, and other aspects in Japan and Singapore.
The Mitsui Fudosan Group has positioned overseas business as one of its growth areas. Under the Group's "Innovation 2017 Stage II" medium-term business plan through fiscal 2017, announced in May 2015, the Group has planned to execute investments of approximately ¥550 billion in Europe, the Americas and Asia over a period of three years from 2015 to 2017. At present, the Group is making steady progress with those investments.
In Southeast Asia, Mitsui Fudosan's housing development has excellent track record in Singapore over 40 years, as well as 12 properties in Thailand, 3 properties in Malaysia, and 2 properties in Indonesia. For retail properties, Mitsui Fudosan is actively capturing growing consumption and contributing to local areas while aggressively promoting its business to quickly expand earnings through initiatives such as the May 2015 opening of Mitsui Outlet Park KLIA SEPANG and progress in the Mitsui Shopping Park LaLaport Kuala Lumpur (tentative name) in Kuala Lumpur. In other parts of Asia, the Group is also developing projects and expanding our business in China, with housing developments and the Shanjing Outlet Plaza-Ningbo which opened in 2011, as well as in Taiwan, with the Mitsui Outlet Park Linkou which opened in 2016, and the Mitsui Outlet Park Taiwan Taichung Port (tentative name), which is scheduled to open in 2018.
Ananda Development Public Company Limited
Established in 1999, Ananda Development Public Company Limited is a leading Thai housing developer that listed its shares on the Stock Exchange of Thailand in December 2012.
Ananda has built a distinctive value chain with its own housing management company, real estate brokerage company, and construction company within one group. It also manages a membership organization whose members are potential customers.
Ananda is proposing comfortable, urban residential lifestyles via mass media, focusing on properties close to urban mass transit stations.
Ananda has a market capitalization of approximately 41.4 billion yen (as of September 2016) and revenues of approximately 33.1 billion yen (as of 2015).
(1 Thai baht=¥3)
Plan Overview (Planned)
Ideo Mobi Asoke
Address
Phetchaburi Bang Kapi, Huai Khwang District, Bangkok, Thailand
Access
4-minute walk from Phetchaburi station on the MRT
Site area
4,253 m2
Total floor space
35,615 m2
Total exclusive floor area
18,987 m2
Scale
37 floors above ground
Number of units
507
Schedule
October 2016 Start sales
December 2016 Start construction
2018 Complete construction
Ideo Sukhumvit 93
Address
Bangchak, Phra Khanong District, Bangkok, Thailand
Access
2-minute walk from Bangchak station on the BTS Skytrain
Site area
14,238 m2
Total floor space
85,291 m2
Total exclusive floor area
49,329 m2
Scale
35 floors above ground
Number of units
1,332
Schedule
October 2016 Start sales
January 2017 Start construction
2018 Complete construction
Ideo Mobi Sukhumvit 66
Address
Bang Na, Bang Na District, Bangkok, Thailand
Access
1-minute walk from Udomsuk station on the BTS Skytrain
Site area
3,456 m2
Total floor space
28,347 m2
Total exclusive floor area
15,585 m2
Scale
28 floors above ground
Number of units
298
Schedule
October 2016 Start sales
January 2017 Start construction
2018 Complete construction
Map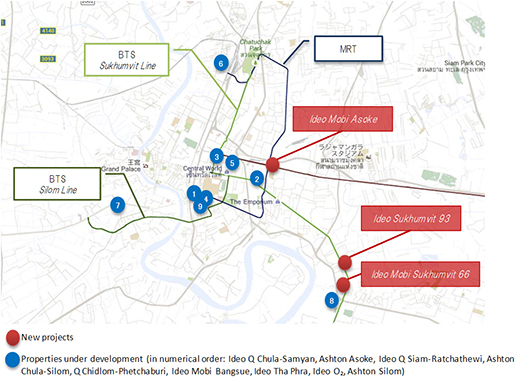 Click map to enlarge
List of Mitsui Fudosan's current housing projects in Southeast Asia (excluding projects where all residences have already been sold)
| Project Area | Property Name | Start Construction | Expected Completion | Collaborating Company |
| --- | --- | --- | --- | --- |
| Bangkok, Thailand | Ideo Q Chula-Samyan | 2014 | 2016 | Ananda Development Public Company Limited |
| Bangkok, Thailand | Ashton Asoke | 2015 | 2017 | Ananda Development Public Company Limited |
| Bangkok, Thailand | Ideo Q Siam-Ratchathewi | 2015 | 2017 | Ananda Development Public Company Limited |
| Bangkok, Thailand | Ashton Chula-Silom | 2015 | 2018 | Ananda Development Public Company Limited |
| Bangkok, Thailand | Q Chidlom-Phetchaburi | 2016 | 2017 | Ananda Development Public Company Limited |
| Bangkok, Thailand | Ideo Mobi Bangsue Grand Interchange | 2016 | 2017 | Ananda Development Public Company Limited |
| Bangkok, Thailand | Ideo Thaphra Interchange | 2016 | 2017 | Ananda Development Public Company Limited |
| Bangkok, Thailand | Ideo O2 | 2016 | 2018 | Ananda Development Public Company Limited |
| Bangkok, Thailand | Ashton Silom | 2016 | 2018 | Ananda Development Public Company Limited |
| Singapore | Nathan Suites | 2010 | 2014 | Hong Leong Group |
| Singapore | Bartley Ridge | 2013 | 2016 | Hong Leong Group |
| Singapore | The Brownstone | 2015 | 2017 | Hong Leong Group |
| Singapore | The Criterion | 2015 | 2018 | Hong Leong Group |
| Singapore | Forest Woods | 2016 | 2019 | Hong Leong Group |
| Kuala Lumpur, Malaysia | THE MEWS | 2014 | 2017 | Eastern & Oriental Berhad |
| Petaling Jaya, Malaysia | GEO RESIDENCES | 2014 | 2017 | Sunway Berhad |
| Kuala Lumpur , Malaysia | Conlay Place | 2016 | 2020 | Eastern & Oriental Berhad |
| Jakarta, Indonesia | Citra Lake Suites | 2016 | 2018 | PT. Ciputra Residence |
| Tangerang, Indonesia | The CitraRaya subdivision in the Ecopolis Block | 2013 | 2024 | PT. Ciputra Residence |