Launching of MITSUI OUTLET PARK KLIA SEPANG Phase 2
Continuously welcoming a widespread of visitors since the opening in 2015, Mitsui Outlet Park KLIA Sepang will expand to about 200 Stores by adding approximately 70 new stores starting from December 15, 2017.
November 30, 2017
Mitsui Fudosan Co., Ltd.
Key Points of the Project
Inviting approximately 70 new stores proudly makes Mitsui Outlet Park KLIA Sepang the largest outlet mall in Malaysia.
Evolving further as an attractive shopping destination, the expansion will answer to the demand of visitors by introducing a wider variety of fashion brands as well as everyday use lifestyle tenants.
Mitsui Fudosan Co., Ltd. is committed to further expand investment in Malaysia, and have established the subsidiary Mitsui Fudosan (Asia) Malaysia Sdn. Bhd.
Tokyo, Japan, November 30, 2017 - Mitsui Fudosan Co., Ltd., a leading global real estate company with its headquarter in Tokyo, announced today that the progressing MITSUI OUTLET PARK KLIA SEPANG ("MOP KLIA") Phase 2 development is ready to introduce 70 additional stores opening sequentially from December 15 2017, until the grand opening on early February 2018. MOP KLIA is an outlet concept mall developed and managed through MFMA DEVELOPMENT SDN. BHD., a joint venture company established between the business partner MALAYSIA AIRPORTS HOLDINGS BHD.
MOP KLIA, located at the Kuala Lumpur International Airport ("KLIA"), opened on May 30, 2015 as Kuala Lumpur's first full-scale outlet mall. Since its opening, MOP KLIA has strived to enhance recognition of outlet concept mall as well as MOP KLIA itself to the people of Kuala Lumpur, and have successfully increased sales through mall operation that answers to the visitor's demands. MOP KLIA have been mainly attracting Malaysian families in their 20s and 30s, as well as foreign tourists taking advantage of the location and accessibility to KLIA. MOP KLIA have grown to be regarded as Kuala Lumpur's tourist attraction.
Phase 2's environmental design follows the "tropical resort" theme of Phase 1. Phase 2 introduces the "Sky Walk" with the concept of cloud in the sky, the "River Walk" with the image of cool river flow, and the "Forest Walk" with the theme of connection of the river to the sky. These design will provide both smooth mall circulation and comfort to the visitors.
About 70 new stores will open for Phase 2, broadening selection for existing brands and product categories including luxury, international, Japanese, sports, local fashion and cosmetic. Furthermore, everyday use lifestyle stores including amusement and drugstores will join MOP KLIA to enhance convenience and to comfort the visitors.
| | | |
| --- | --- | --- |
| Exterior view of MITSUI OUTLET PARK KLIA SEPANG | | Perspective drawing of Phase 2(River Walk) |
MOP KLIA Phase 2 Topics
1. Expansion of the Outlet Mall Product Lineup
Collection of a wider range of fashion brands including 10 first-to-Malaysia outlet store brands.
Expansion and introduction of luxury and international brands including the re-opening of the newly renovated VERSACE, as well as the opening of Kipling
Japanese fashion accessory brands including G-SHOCK
Expansion of sports brands such as The North Face
Popular local brands including Padini Outlet Store
Expansion of cosmetic and beauty-oriented tenants, including THE BEAUTY LABORATORY produced by Shiseido Co., Ltd. and opening in Southeast Asia for the first time
2. Introduction of Time Consumption and Lifestyle Elements
Opening of Molly Fantasy (originated in Japan and has spread to more than 830 locations throughout Asia), an indoor theme parks equipped not just with games, but also with experience oriented play equipment.
Introduction of tenants bringing lifestyle convenience such as Watsons
Free Wi-Fi provided to visitors in all the mallís common areas
Further expansion of MOP KLIA is scheduled for 2021, which will ultimately increase its net lettable area to approx. 44,000 square meters with the stores totaling to approximately 250. This expansion will make MOP KLIA the largest outlet mall in Southeast Asia.
Mitsui Fudosan Group has established MITSUI FUDOSAN (ASIA) MALAYSIA SDN. BHD. to achieve steady and sustainable business expansion in Malaysia, by further leveraging on development and marketing expertise accumulated in Japan.
Mitsui Fudosan Group has strategically positioned overseas business as one of its growth fields. In Asia, the Group is aggressively expanding its business to capture the massive consumption growth while simultaneously contributing to local communities. The Group opened Shanjing Outlet Plaza Ningbo in China in 2011, Mitsui Outlet Park KLIA Sepang in Malaysia in May 2015, and Mitsui Outlet Park Linkou in Taiwan in January 2016. In 2018, the Group plans to open Mitsui Outlet Park Taichung Port (tentative name) in Taiwan, followed by Mitsui Shopping Park LaLaport Shanghai Jinqiao (Tentative Name) in 2020, and Mitsui Shopping Park LaLaport Kuala Lumpur in 2021. Mitsui Shopping Park LaLaport Kuala Lumpur will become the first LaLaport in Southeast Asia. Mitsui Fudosan is also active in the housing business in Malaysia, Singapore, Thailand, Indonesia, the Philippines and China, as well as the hotel business in Taiwan.
Overview of MITSUI FUDOSAN (ASIA) MALAYSIA SDN. BHD.
| | |
| --- | --- |
| Name | MITSUI FUDOSAN (ASIA) MALAYSIA SDN. BHD. |
| Location | Lot 21-02, 21st floor, Merana Hap Seng 2, Plaza Hap Seng, No.1, Jalan P.Ramlee, 50250 Kuala Lumpur, Malaysia |
| Local representative | Takehito Fukui, Managing Director |
| Capital | RM 62,760,000 |
| Established | December 2016 |
| Main Business Lines | Capturing business opportunities, promoting and operating businesses and more in commercial properties, residential housing and with other assets |
Property Overview
Location
Selangor State, Malaysia Within the Sepang Kuala Lumpur International Airport (KLIA) site
Access
Approx. 5 minutes' drive from Kuala Lumpur International Airport and approximately 50 minutes' drive from central Kuala Lumpur
Project Company
MFMA Development Sdn. Bhd.
(Project share: Mitsui Fudosan (Asia) Malaysia Sdn. Bhd. 70%, Malaysia Airports Holdings Bhd. 30%)
Business format
Factory outlet mall
Site Area
Approx. 178,900 m2 (Overall, including phase 3)
Store Area
Phase 1 Approx. 24,000 m2 (258,342 ft2)
Phase 2 Approx. 33,000 m2 (355.220 ft2)
Phase 3 Approx. 44,000 m2 (473.627 ft2) (planned)
Number of stores
Phase 1 Opening approx. 130 stores
Phase 2 Opening approx. 200 stores
Phase 3 Opening approx. 250 stores (planned)
Opening
Phase 1 Opening May 30, 2015
Phase 2 Opening December 15, 2017
Phase 3 Opening 2021 (planned)
Construction
RC Structure
Environmental design
Nonscale Co.
Design and construction
Nakano Construction Sdn. Bhd.
Operation and management
MFMA DEVELOPMENT SDN. BHD.
Website
https://www.mitsuioutletparkklia.com.my
Maps
Map of the surrounding area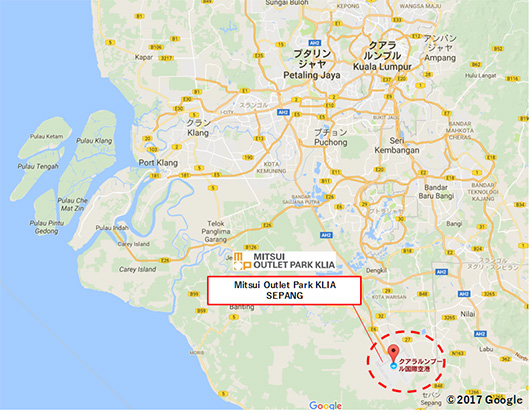 Click map to enlarge
Local map (Aerial view)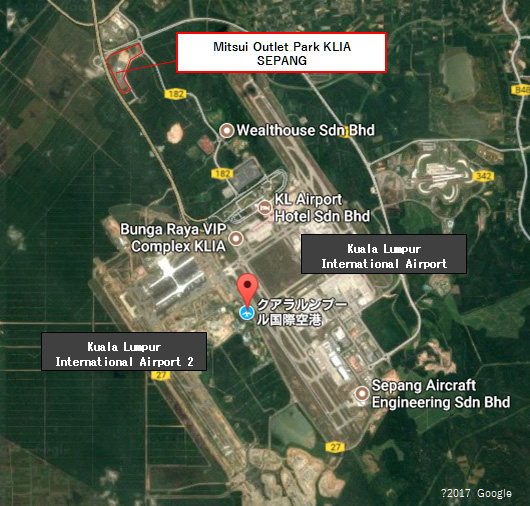 Click map to enlarge
Site map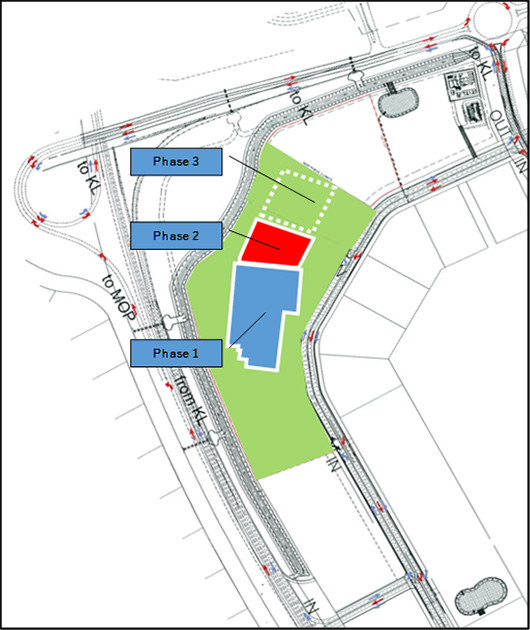 Click map to enlarge
Main Brands Opening (Phase 2)
◎:First Store in Malaysia
○:First Outlet Store in Malaysia
☆:First Outlet Store in Klang Valley
(*Klang Valley=Capital Area of Kuala Lumpur)
International Fashion Brands
☆
Body Glove
◎○☆
Sacoor one
○☆
CHAPS
○☆
Sorella
☆
Ed Hardy
VERSACE
FJB Outlet
☆
Vogue Bambini
◎○☆
HUMMER
☆
Young Curves
International Miscellaneous Goods Brands
☆
BERING
Kipling
☆
DAPHNE
☆
Lacoste
☆
ELLE
☆
MISAKI
☆
Fitflop
○☆
rieker
☆
Inspiration @ Seen
☆
The Travel Store
☆
KicKers
Japanese Brands
○☆
G-SHOCK
Wacoal
Sports / Outdoor Brands
☆
Brooks
☆
Lotto
☆
Canterbury
Salomon
☆
Columbia
☆
Teva
☆
diadora
The North Face
☆
Kronos
World of sports
Malaysian Brands
○☆
Common Sense
Poney
○☆
Extreme
Royal Selangor
HYPERGEAR
☆
Shoeholic
☆
Kutsu Kutsu
SODA
○☆
METRIX
Toy World
Padini Outlet Store
☆
VOIR
☆
Parkson
☆
whatsBag
Cosmetic / Beauty
◎○☆
THE BEAUTY LABORATORY by Shiseido
The Body Shop
Foods / Service
Molly Fantasy
Watsons
Tealive
International Fashion Brands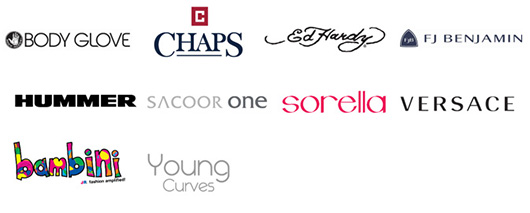 International Miscellaneous Goods Brands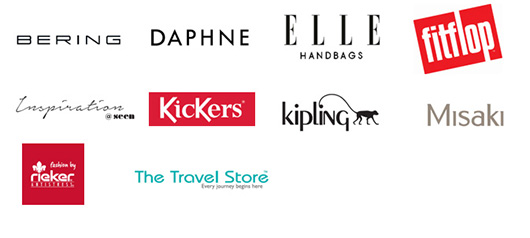 Japanese Brands

Sports / Outdoor Brands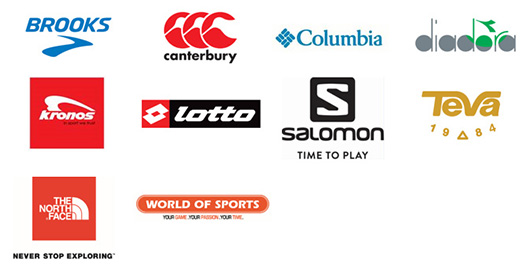 Malaysian Brands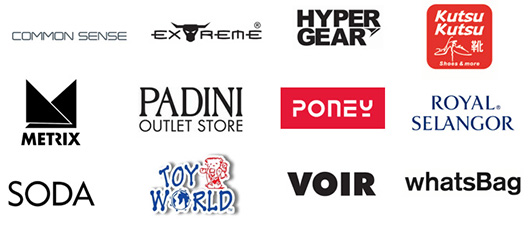 Cosmetic / Beauty-oriented

Foods / Service

List of Phase 1 Stores
List of Phase 1 Stores(PDF:112KB)
Mitsui Fudosan's Outlet Malls (as of November 2017)