AGREEMENT SIGNED FOR
A BVLGARI HOTEL IN TOKYO
TO OPEN IN 2022
April 23, 2018
Mitsui Fudosan Co., Ltd.
Bvlgari Hotels & Resorts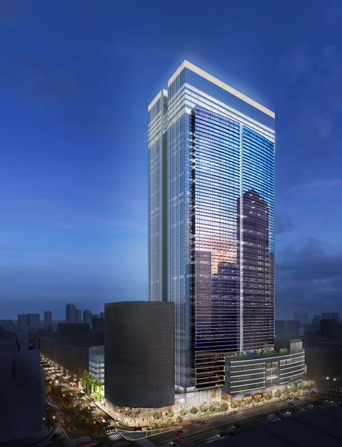 Render of The Bvlgari Hotel Tokyo*1
Tokyo, Japan, 23th April 2018 - Mitsui Fudosan Co., Ltd., a leading global real-estate company headquartered in Tokyo, signed an agreement with Bvlgari Hotels & Resorts to open Japan's first Bvlgari Hotel in the large-scale, mixed-use development planned for the Tokyo Station area. The Bvlgari Hotel Tokyo is scheduled to open at the end of 2022. The Bvlgari Hotel Tokyo will occupy the top seven floors - 39th-45th- of a ultra-skyscraper planned for construction in the Yaesu 2-Chome North District Category-I Urban Redevelopment Project*2. The hotel will be located in a very central and convenient area at a walking distance to some of the best attractions in town such as the Imperial Palace and the vibrant shopping areas of both Nihombashi and Ginza. Its proximity to the Tokyo Station and the financial districts of Nihombashi and Marunouchi makes it an ideal destination for business as well.
In addition to the Bvlgari hotel, the tower will also be a high grade mixed-use with offices and retails. The hotel will offer 98 guest rooms in a variety of configurations, mainly twin and double rooms, as well as luxury suites and an extraordinary Bvlgari Suite.
Bvlgari Hotels iconic features such as Il Bar, Il Ristorante, the fireplace Lounge, all of them with outdoor terrace, will be available for the hotel guests together with Il Cioccolato store, and a dramatic Ballroom including a large outdoor space. The about 1,500 sqm BVLGARI Spa, offering the ultimate wellbeing experience, immersing and innovative treatments, therapies and grooming for both men and women, and including a state-of-the-art fitness centre and 25-metre indoor pool, will add a further luxurious touch to the guests experience.
As with all the Bvlgari Hotels and Resorts, the Bvlgari Hotel in Tokyo will be designed by the Italian architectural firm Antonio Citterio Patricia Viel, who conveyed Bvlgari's core values of contemporary design, magnificent craftsmanship and artistic detail to create efficient living spaces reflecting the essence of the Italian most sophisticated style.
Bvlgari Hotels and Resorts is a collection of luxury hotels, and currently includes properties in Milan, London, Bali, Beijing and Dubai. New openings are planned in 2018 in Shanghai and in 2020 in Moscow and Paris. Bvlgari Hotel Tokyo will be the ninth property and the first to open in Japan.
Comment from Bvlgari CEO Jean Christophe Babin
We are extremely proud to be able to announce the Bvlgari Hotel in Tokyo, as it will be another important step for the Bvlgari Hotels & Resorts project. Japan is such a strategic market where Bvlgari as a brand has been present for 30 years. Jewellery and hospitality combine perfectly to meet Bvlgari's clients expectations of a high level of service not only in our brand stores, but also when staying in our extraordinary properties offering luxury services in an environment which reflects the Bvlgari spirit. In addition, we are particularly honored to partner on this extremely exciting project with Mitsui Fudosan, one of the leading Japanese companies in real-estate, while our uncompromising Italian contemporary style in hospitality will create a welcome addition and irresistible experience in the upscale Japanese hotel market.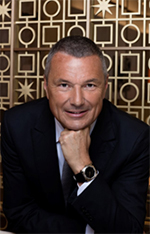 *1 Exterior Design by Pickard Chilton Inc.
*2 The Tokyo Metropolitan Government approved a rights conversion plan for this redevelopment project on January 5, 2018, and Mitsui Fudosan acquired rights to the hotel area.
About Bvlgari Hotels & Resorts
Unique locations in harmony with the surrounding area, the blend of traditional design with dramatic contemporary Italian architecture by the architectural firm Antonio Citterio Patricia Viel and superior service crafted with the same attention to quality that has always distinguished Bvlgari creations. These are the key elements that characterize The Bvlgari Hotels & Resorts collection. For all the hotels the approach is the same: the design of the interiors is strongly rooted in the traditions of the place, and careful attention is paid to every detail in a tribute to absolute luxury.
The Bvlgari Hotels & Resorts collection features the distinctive, bold Italian style typical of Bvlgari, reflected in its unique design, its contemporary Italian cuisine and its lavish spas. It conveys the excitement of the Bvlgari brand, its timeless glamour and its magnificent Italian jewelry heritage.
Having grown from a collection of three iconic Hotels & Resorts in Milan, London and Bali, Bvlgari Hotels & Resorts has recently be enriched by the Beijing and the Dubai properties . Four new Bvlgari Hotels are due to open from 2018 to 2022 in Shanghai, Moscow, Paris and Tokyo.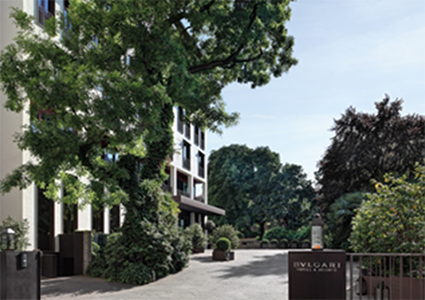 Bvlgari Hotel Milano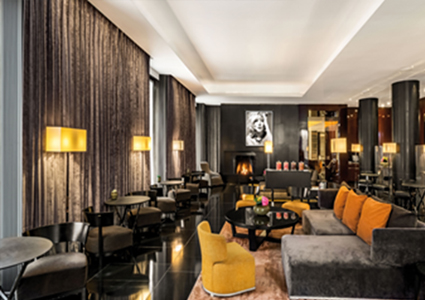 Bvlgari Hotel London
About Bvlgari
Bvlgari was founded in Rome in 1884 as a jewelry shop and quickly established a reputation for Italian excellence with exquisite craftsmanship and magnificent jewelry creations. The Company's international success has evolved into a global and diversified luxury purveyor of products and services ranging from fine jewels and watches to accessories, perfumes and hotels, with an unrivalled network of outlets in the world's most exclusive areas. Since 2011 Bvlgari is part of the LVMH Group,
About Mitsui Fudosan
A leading global real estate company headquartered in Tokyo, a broad swath of the Mitsui Fudosan Group's business, Office Buildings, Retail Facilities, Housing, Hotels & Resorts, Logistics Facilities, etc., is expanding in Japan and globally. In promoting its business, its group continues to create new markets and grow as a leading company, while establishing a solid position as a global firm.
FACT SHEET
Hotel Plan Overview (Planned)
| | |
| --- | --- |
| Total Floor Area | Approx. 204,000 ft2 (approx. 19,000 m2) |
| Floors | 39th to 45th |
| Guestrooms | 98 rooms |
| Adjoining facilities | Include bar, restaurant, spa, pool, banquet room and chapel |
| Scheduled to open | End of 2022 |
Plan Overview of Yaesu 2-Chome North District Category-I Urban Redevelopment Project (Planned)
Project developers
Yaesu 2-Chome North Zone Redevelopment Association
Location
Lot 3 and part of Lots 1 and 2, Yaesu 2-chome, Chuo-ku, Tokyo
Site Area
Approx. 144,000 ft2 (approx. 13,400 m2)
Planned start of construction
November 2018
Planned completion
August 2022
Total Floor Area
Approx. 3,153,000 ft2 (approx. 293,000 m2)
No. of floors/height
A1 Zone: 45 floors above ground, 4 floors below ground; Approx.240 m high
A2 Zone: 10 floors above ground, 4 floors below ground; Approx.41 m high
Main Purpose
Offices, retail properties, hotel, elementary school, bus terminal, cultural facilities
Map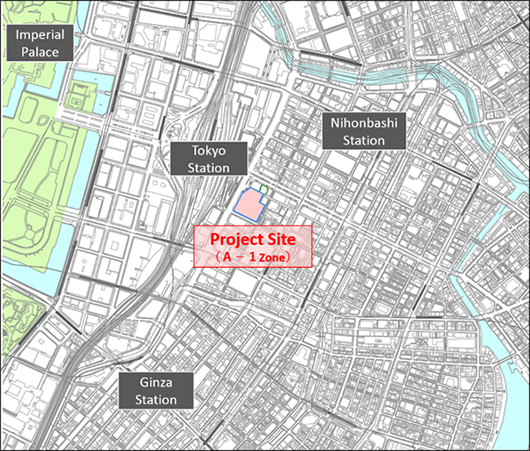 Detailed Map