Eastern Shizuoka Prefecture's First LaLaport,
a Large-Scale Retail Facility with 214 Stores
Mitsui Shopping Park LaLaport NUMAZU Grand Opening on October 4
Multifarious store lineup, well-equipped community and kids' areas
June 20, 2019
Mitsui Fudosan Co., Ltd.
Tokyo, Japan, June 20, 2019 – Mitsui Fudosan Co., Ltd., a leading global real estate company headquartered in Tokyo, announced today that Mitsui Shopping Park LaLaport NUMAZU in the Higashishiiji district of Numazu City, Shizuoka Prefecture will have a grand opening on Friday, October 4, 2019.
This facility will hold 214 stores in total, with popular stores from throughout Japan and famous local shops including 118 stores opening in eastern Shizuoka Prefecture* for the first time.
A diverse array of stores that make lifestyles more abundant and comfortable for shopping through dining have assembled at the facility, including Mercado DE SAMASA, a market operated by SAMA, which has a 100-year history in the local Numazu area, and Ramenya Iidashouten, which will be the first-ever shopping center opening as a new franchise of Yugawara Iidashouten, a ramen noodle restaurant so popular it attracts long lines of people waiting to eat there. With a well-equipped community and kids' areas, the facility provides encounters with merchandise, events and people in a way that can only be experienced at LaLaport.
This facility offers outstanding access by car, with Japan National Route 1 to the south and the Kanaoka Ukishima Route to the north. With plans to install a bus stop within the facility, access from JR Numazu Station by bus will be possible, which makes visiting the facility using public transportation even easier.
* Eastern Shizuoka Prefecture comprises the following municipalities: The cities of Numazu, Atami, Mishima, Fujinomiya, Ito, Fuji, Gotenba, Susono, Izu, Izunokuni and towns of Kannami, Shimizu, Nagaizumi and Oyama
Facility Concept : LIVE MALL NUMAZU
It goes without saying that the Numazu shopping center surrounded by abundant natural beauty is a place to enjoy shopping and dining, it is also a place to experience a sense of closeness, thrills, and unity like live shows and concerts at any time and with anyone.
That belief led to the facility concept of LIVE MALL NUMAZU.
Mitsui Fudosan intends that the facility will offer excitement to customers through encountering and interacting with new merchandise, events and people. Also, while getting even closer to the community, the Company aims to make the facility a relaxing space indispensable for daily living.


LaLaport NUMAZU Concept
LIVE MALL NUMAZU
Collection of well-equipped restaurants and diverse brands
Overall 214 stores that can be enjoyed by all people
A market that feels like a live show and experiencing a rich variety of foods

Mercado DE SAMASA, symbolized by a huge aquarium, is a hands-on market combined with a food hall and Italian restaurant for "not just buying and not just eating"
NUMAZU GRAND DINING is one of the largest LaLaport food courts with approx. 1,100 seats

A collection of charming shops to make the lifestyles of people in the local community even livelier

Stores popular throughout Japan like Gongcha, JOURNAL STANDARD relume and 3COINS to open in eastern Shizuoka Prefecture for the first time
Noteworthy Shizuoka Prefecture-based stores Flagments assemble by CHIKUMA and Pion Gift & mine

Well-equipped with shops to make lives richer and more comfortable

Two large-scale amusement facilities: cinema complex and bowling and video game center
Cosmetics and beauty shops popular in Japan and overseas, and shops supporting sporting lifestyles
One of the area's largest collections of brands for kids and teens
Comfortable places to make family time even more enjoyable
Komoriranomori is a free indoor kids' area where children can play at ease
Koniwa House is a place where families can spend time with their babies
Umi no Hiroba is equipped with play equipment and a pop jet fountain for children and adults to enjoy

Places to encounter and interact with merchandise, events and people
Hikari no Hiroba can accommodate events with large numbers of participants and is notable for its overhead lighting and shining walls
LaLa Studio, installed with the food court, can be reserved for private parties with friends and various events
A community and space in the city with merchandise, events and people that can only be experienced at LaLaport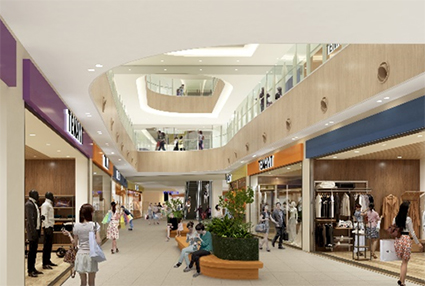 A nature mall defined by soft curves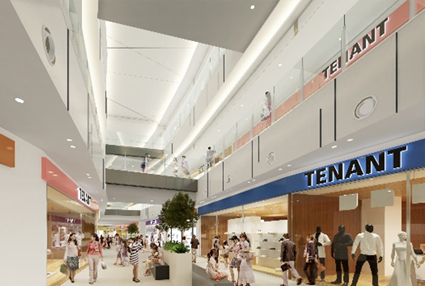 An urban mall defined by sharp, direct lines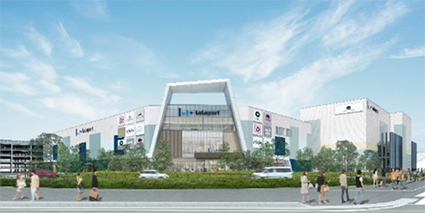 The southern entrance made in the image of Mount Fuji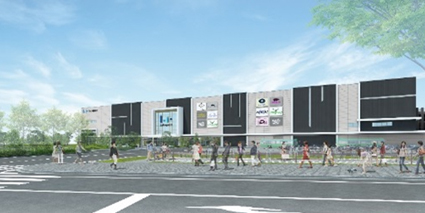 The northern entrance made in the image of a town
Project Overview for Mitsui Shopping Park LaLaport NUMAZU
Location
301-3 Higashihara, Higashishiiji, Numazu City, Shizuoka Prefecture
Site Area
Approx. 1,290,000 ft2 (approx. 119,816 m2)
Structure
Store complex: four-story steel structure above ground (Floors 1–3: stores, Floor 4: rooftop parking lot)
Multi-story parking lots: three five-story steel structures above ground
Total Floor Area
Approx. 1,776,000 ft2 (approx. 165,000 m2) *Includes parking lots
Store Floor Space
Approx. 689,000 ft2 (approx. 64,000 m2)
Number of Stores
214
Parking Spaces
Approx. 3,600 spaces
Access
Approx. 2.5 km from Numazu Station on the JR Tokaido Line
Approx. 2.0 km from Katahama Station on the JR Tokaido Line
Operating hours
Stores, services and food court: 10:00–21:00 Restaurants: 11:00–22:00
Environmental design
Exterior/interior design:
Gensler & Associates International Ltd.
Landscaping:
Landscape Plus Ltd.
Design architect
First Class Registered Architects, Obayashi Corporation
Contractors
Building roof, outer construction: Obayashi Corporation, Nagoya
Branch foundation construction: Obayashi Corporation, Nagoya
Branch parking building construction: IHI Transport Machinery Co., Ltd.
Developmental and design / Permits and licenses
Tokyu Architects & Engineers Inc.
Operation and Management
Mitsui Fudosan Retail Management Co., Ltd.
LaLaport NUMAZU Website (Japanese)
https://mitsui-shopping-park.com/lalaport/numazu/
Aerial photo of the facility (as of May 2019)