Entering Stage 3 of the Nihonbashi Revitalization Plan
Stage 1 Launch of the Nihonbashi Revitalization Plan
Nihonbashi flourished in the Edo period and it remained a dynamic hub for economic and commercial activity into second half of the 20th century. However, this prosperity disappeared in the 1990's following the collapse of Japan's economic bubble.
The Nihonbashi Revitalization Plan was started to bring together public and private sector participants and the local community in an effort to restore the neighborhood to its former glory and the first step was the opening of COREDO Nihonbashi.
This was followed by further mixed-use neighborhood creation through the development of Nihonbashi Mitsui Tower and COREDO Muromachi 1.
COREDO Nihonbashi

The Nihonbashi Revitalization Plan's pioneering commercial facility. It combines tradition with modern sensibilities to propose new products and services.

Nihonbashi Mitsui Tower

A high-rise building constructed based on the concept of continuing the history and culture of the Mitsui Main Building, that was completed in 1929, while also redeveloping the Nihonbashi district. It stands as a symbol for urban regeneration.

COREDO Muromachi1

It provides visitors with foods from across Japan and carefully selected products and also houses Nihonbashi Mitsui Hall, Nihonbashi's largest multi-purpose hall. It has contributed to further enlivening the district.
Stage 2 (2014-present)
Neighborhood creation combining the tangible and intangible based on four key concepts
Stage 2 of the Nihonbashi Revitalization Plan kicked off with the openings of COREDO Muromachi 2 and 3 in 2014. This stage involved advancing neighborhood creation that leveraged the unique appeal of the district and combined tangible and intangible aspects, based on the four key concepts of neighborhood creation, industry creation, community cohesion, and the renewal of an aqua metropolis. As a result, Nihonbashi began to see a return to its former prosperity as a more diverse range of people and companies started using the district for a variety of purposes.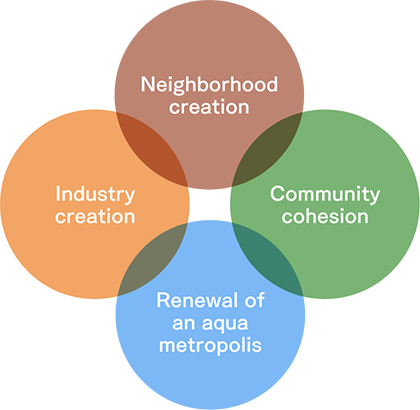 Neighborhood creation
Neighborhood creation with diverse objectives and functions.
Realizing prosperity by integrating facilities and streets.
Mixed-use neighborhood creation

Nihonbashi was primarily occupied by office buildings, so we advanced mixed-use neighborhood creation by introducing projects with a variety of uses, such as commercial facilities, a multi-purpose hall, housing, and hotels. This generated a greater diversity of people and companies.

Realizing prosperity by integrating facilities and streets

The old streets of Nihonbashi are teeming with history and culture, so we leveraged this charm in a way that directs the flow of people around the district, including establishing streets lined with cherry blossom trees and layered with flagstones.

The Murohon Building Project

Nihonbashi's Muromachi 1-chome and Honmachi 1-chome areas have retained their original streets and street-facing stores. In order to conserve and use this traditional townscape, we attracted tenants for the stores who could harmonize with the scenery to rejuvenate the area in a unique way.

Working on the Nihonbashi East Area

We attracted facilities and stores that can create a unique character for the area through efforts such as renovating small and medium-sized buildings.
Industry creation
Supporting tradition and innovation to create new industries.
Turning Nihonbashi into a life science business hub

We leveraged Nihonbashi's history and distinctiveness as the home to many pharmaceutical companies to promote the creation of industries in the life science innovation field.

Providing spaces

We worked to attract tenants by providing physical spaces for the gathering of people and information. This meant offering a full range of spaces, including serviced offices that are ideal for start-up companies or Japanese branches of overseas companies, rental offices for life science corporations, rental meeting rooms that can be used for events or inhouse meetings, and communication lounges.

Building a community

We established LINK-J to accelerate activities that generate real exchange between people from different fields and to create open innovation. It aims to become an organization that will power the future direction of life science by coordinating venture companies, corporations, organizations, venture capitalists, universities, the Tokyo Metropolitan Government, and other stakeholders in Japan and overseas.
Community cohesion
Promoting recycling-oriented neighborhood creation that maintains historic communities and cultures and that values connections between people and harmony with nature.
Sakura Fes Nihonbashi

A popular spring event that we hold with a variety of local stakeholders, including long-standing restaurants, commercial facilities, and hotels. It communicates the value offered by every aspect of the district, including the art, food, and entertainment.

Fukutoku Jinja Shrine and Fukutoku Garden

We reconstructed the main building of Fukutoku Jinja Shrine, a shrine which is at the heart of the local community. We also developed Fukutoku Garden on land adjacent to the shrine to provide a central location where the community can relax and enjoy greenery.

Establishing disaster response sites

We established primary evacuation sites where people who are unable to return home can shelter during disasters and hold disaster response drills together with the local community. Nihonbashi Muromachi Mitsui Tower is also equipped with an energy center that can provide the community with heat and electricity in an emergency. We continuously work to enhance business continuity planning functions.
Renewal of an aqua metropolis
Nihonbashi was once a water transportation hub and in order to restore its status as Tokyo's aqua metropolis, we aim to create an abundant waterside environment.
Establishment of Nihonbashi Pier

Nihonbashi Pier was completed in 2011 and is now fully established as a stop for sightseeing boats.

A new water transport experience

We are using technology to create a new water transport experience. This involves collaborating with local stakeholders to provide a new entertainment experience that is unique to Nihonbashi.
Stage 3 (2019- )
Neighborhood creation based on an understand, collaborate, communicate approach and three priority initiatives
Stage 3 of the Nihonbashi Revitalization Plan began following the opening of COREDO Muromachi Terrace.
We are advancing neighborhood creation that will contribute to solutions for global issues by continuing the initiatives started in Stage 2 while also incorporating three new priority initiatives:
"Regeneration of Waterfront Wealth," "Creation of New Industries" amd "Hosting Worldwide-Connecting International Events."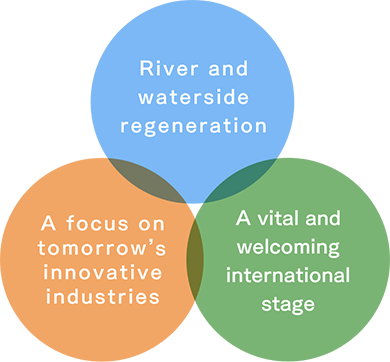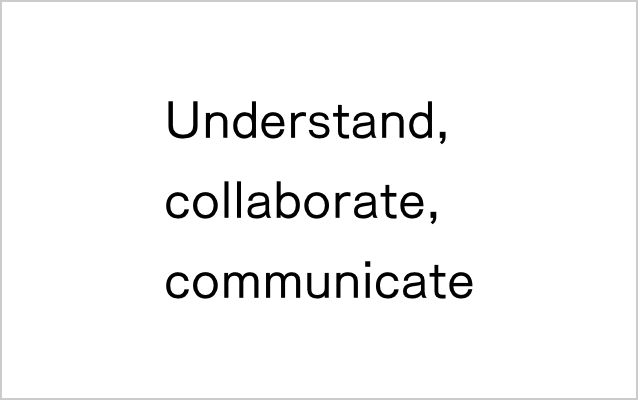 Approach to Neighborhood Creation
Stage 3 is the implementation of three priority initiatives based on an understand, collaborate, communicate approach to advance neighborhood creation that can realize the vision of the Nihonbashi Revitalization Plan.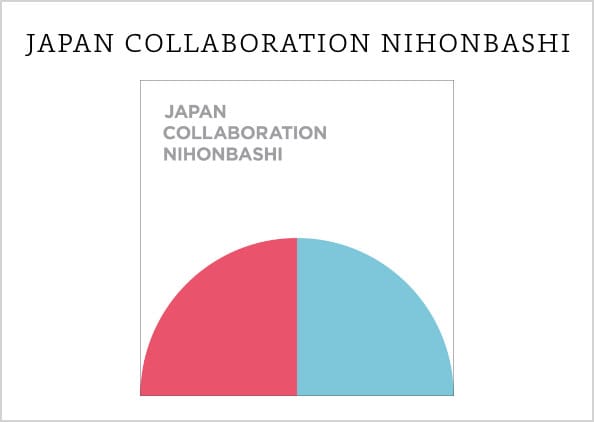 Slogan
The slogan represents the understand, collaborate, communicate approach to neighborhood creation in Stage 3 of the Nihonbashi Revitalization Plan.
We will engage in an open style of neighborhood creation and bring motivated partners into the district to conduct various collaborations that leverage Nihonbashi's ample local resources.
We will create original value in Nihonbashi and broadcast it to the world.
River and waterside regeneration
Realizing the Nihonbashi aqua metropolis as a new globally-connected centerpiece for Tokyo.
We aim to accelerate the gathering and interaction of people, goods, and concepts to make the district into a stage for the transmission of new value.
Riverside mixed-use development

We are developing a pedestrian zone along the bank of the Nihonbashi River where people can enjoy abundant space, water, and greenery. The goal is to create a new Tokyo landmark where people visiting for a variety of purposes, including shopping, sightseeing, and business, will generate a lively atmosphere.

*The image above is a projection and the actual development may differ (current as of August 2019).

A walkable network connecting Nihonbashi and Tokyo Station

The Nihonbashi area will be seamlessly connected to Tokyo Station via a network of paths filled with water and greenery, with a total length of about 1,200 meters and a width of about 100 meters, including the width of the river. These paths will also link to surrounding streets creating a pedestrian zone that makes movement around the Tokyo Station area more convenient.

A water transport network connecting central Tokyo to the waterfront

Nihonbashi will be a water transport hub close to Tokyo Station, right in the heart of the city. It will link to waterfront hubs such as Haneda, Odaiba, Shibaura, Harumi, Toyosu and Asakusa, providing new transportation options for both tourism and everyday life.
*Redevelopment is currently underway. There may be changes in scale and other aspects of the plan going forward.
A focus on tomorrow's innovative industries
Life science, aerospace, mobility, and food have been set as new strategic business areas for promoting the creation of industries unique to Nihonbashi.
We will work to develop sites and create opportunities that will generate Nihonbashi-original business and culture, leading to co-creation, as well as provide support for industry growth in terms of both tangible and intangible aspects.
Life Science

The streets of Edo-period Nihonbashi were once lined with medicine wholesalers and modern Nihonbashi is now being transformed into a hub for life science companies.
We are working create sites and opportunities that will attract a wide range of stakeholders and encourage open innovation.

Aerospace

The aerospace industry is growing rapidly due to the entry of private-sector companies and this is expected to help solve problems on the ground. We aim to create new value centered on government-industry-academia partnerships.

Mobility

Given its history as a hub for both overland and over-water travel, its mixed-used functionality that combines work, life, and play, and its waterway transport network, Nihonbashi is the perfect place to explore new forms of mobility and urban development. We aim to provide new urban services.

Food

Edo's rich culinary culture flourished in Nihonbashi, centered around riverside fish market. We will strive to both carry on and rejuvenate the district's food culture by establishing spaces for innovation that will attract a range of stakeholders from government, industry and academia and by promoting collaborations with long-standing eateries.
Holding international events
The redevelopment of Nihonbashi has created halls, conference spaces, and open spaces which we are using in coordination with public spaces, such as roads, to realize a seamlessly integrated district.
We aim to leverage the variety of unique venues and services offered by Nihonbashi, including cutting-edge urban functions, distinctive history, culture, and community, shrines and forests, and a water transportation network, to hold international events that will enliven the entire district.
Muromachi Mitsui Hall & Conference

COREDO Muromachi Terrace Oyane Hiroba