With building a Sustainable Society as our aim, we are contributing to solving ESG issues and the achievement of SDGs.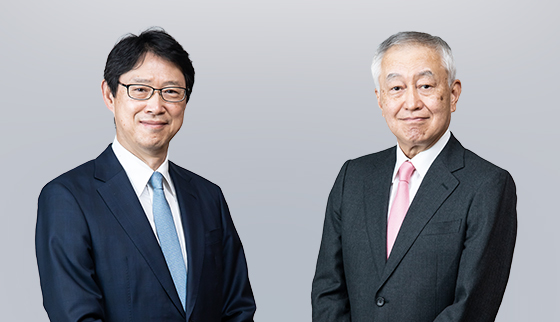 The Social Mission of Mitsui Fudosan Group
The world is battling COVID-19. Restrictions on the movement of people and goods, social distancing, and other measures to prevent the spread have had a devastating impact on economies. Even in Japan, determination of the state of the spread of infection and whether it is under control remains difficult. Until a vaccine or effective therapeutic treatments become available, it will be necessary to continue to coexist with COVID-19. With the understanding that we are engaged in a long war against this virus and must accept significant restrictions on social life and economic activities for the foreseeable future, we are facing the huge challenge of simultaneously achieving both "prevention of the spread of COVID-19" and "economic revival".
Amid the ongoing global turmoil, I believe that the top priority for companies is the protection of people's lives and health. In order to overcome this national crisis, it is vital for the public and private sectors to work together to prevent the spread of infection and to revitalize the economy.
The essential aim of Mitsui Fudosan Group is the creation of vibrant cities and communities through a diversity of businesses, and to provide enjoyment and comfort to people's lives. Now, however, the protection of lives is paramount, necessitating distancing from the hustle and bustle of the city and partial restriction of certain businesses, services and other activities.
As a result, profits will temporarily decline, but companies must not only pursue the creation of economic value and short-term profits, but also fulfill their social responsibilities. We are committed to working together with local communities, tenants and other partners to overcome this national crisis and pave the way for a sustainable society. By fulfilling these social responsibilities, we will gain even more trust from all our stakeholders including customers and tenants. Eventually when we finally see the end of the COVID-19 pandemic, I am confident that Mitsui Fudosan Group will be even more needed by society.
State of Our Businesses
Our Group is currently taking various measures to prevent the spread of COVID-19 at all facilities. Amid these challenging circumstances, we would like to share the status of our major businesses.
Our Office Buildings business is doing well. Our seven mixed-use redevelopment properties in the Hibiya, Nihonbashi, Tamachi, Otemachi, Kasuga, and Toyosu areas of Tokyo including TOKYO MIDTOWN HIBIYA which was completed in 2018, are all operating at full occupancy.
Despite the lifting of the government's emergency declaration, concern about the risks of a second wave remains, and normalization of operations and recovery of sales in our Retail Properties business will take time. In this environment, we believe that it is vital to provide proactive support for our retail tenants who are our important partners. We will share the pain and together overcome the adversities. Our Group will endeavor to strengthen our long-term relationships of trust with tenants and will aim to operate facilities with attractive stores that bring pleasure to many customers.
In our Hotels and Resorts business, we have experienced a decline in sales and profits due to the significant decrease in inbound tourists who are refraining from domestic long-distance travel. In addition, the postponement of the Tokyo Olympic and Paralympic Games has had a large impact. We view the period until demand recovers as valuable time to gain increased trust from customers. During this period, we will undertake a variety of measures such as thorough hygiene management of facilities and consideration of steps to cultivate deeper customer loyalty.
The domestic Homes and Living market has maintained strong sales with a focus on properties conveniently located in the city center and near stations. This trend has been supported by an increase in dual-income households, a rising need for close proximity between work and living, and low interest rates. Under these circumstances, our high-value-added condominiums that leverage our Group's strengths of "Central", "Large-scale", and "Redevelopment" have continued to sell well overall. Of the 3,800 units scheduled to be booked in fiscal 2020, sales contracts have been concluded on more than 80% in the early stages. The impact of the COVID-19 pandemic has been limited so far; however, we will be closely monitoring the market outlook.
In our Overseas Business, office buildings in the US and Europe account for an especially share of our business, and revenues are relatively stable because lease contracts with tenants mainly range from 10 to 15 years. The leasing state of the new office buildings is very positive with 100% of the largest development "55 Hudson Yards" in the United States in operation, and in the case of "50 Hudson Yards Development Project (tentative name)" scheduled to be completed in 2022, BlackRock and Facebook have been confirmed as tenants and contracts for 75% of space have already been signed. Also in the UK, our office properties including "1 Angel Court" and "TV Centre Redevelopment Project" are operating at 100% leasing, and more than 90% of condominiums have already been contracted.
Advancing "VISION 2025", Mitsui Fudosan's Group Long-term Visions
Our Group formulated the long-term management policy "VISION 2025" in order to innovate the real estate business and to achieve further globalization, to attain sustainable growth into the mid-2020s and beyond. In order to achieve these objectives, we have articulated a vision that calls on us to: "Successfully establish a sustainable society through the creation of neighborhoods", "Harness technology to innovate the real estate business", and "Evolve into a global company", and despite the global crisis of the spreading pandemic, I believe that this direction will remain unchanged.
Without access to an effective vaccine and therapeutic treatments, people currently have to refrain from unnecessary contact with others, but these circumstances are by no means how everyday will look in the future. We human beings are social animals by nature, and through that contact, we create energy. Once cures and preventive measures against this virus become available, the future will be as it should be: a world where people gather in cities, creating various value and innovation through vibrant interaction. We have no doubt that this future is waiting for this crisis to turn the corner. For this reason, we will continue to aim to "successfully establish a sustainable society through the creation of neighborhoods".
The rapid advance of Digital Transformation (DX) also is in synch with the direction set in "VISION 2025". Some examples of our DX-ready solutions include shared office "WORKSTYLING" as promoted by our Group, the fashion EC site "&mall", and "MFLP ICT LABO 2.0" in our logistics facilities business. The world of tomorrow will see even more diversification of work styles and lifestyles, and we are entering an era that demands even higher levels of fusion of the digital and real world. It may be necessary to revise our initial assumptions regarding the required speed and scale of change, but we will continue to implement various measures that will "harness technology to innovate the real estate business."
Some have pointed to the global COVID-19 pandemic as evidence of a "negative aspect" of globalization. However, the globalization promoted by our Group is completely different from that concept. Our global business is not primarily focused on people moving across borders. In overseas markets, we establish our real estate business as a local business, and leverage the integrated strength and capabilities of the Group to develop and expand value-added projects locally. In this way, we can continue to expand our business in the future and to "evolve into a global company."
The challenges presented by the COVID-19 pandemic are an opportunity to reaffirm our belief that companies not only are about making profits, but also have an obligation to fulfill social responsibilities. In a crisis like this, protection of the lives and health of people comes first and foremost. As a consequence, we must accept restrictions on sales activities and temporary declines in profits. And if tenants or other business partners face extreme difficulty, if we have the capacity and can afford to lend even a little assistance, we must reach out. Support of healthcare workers on the frontlines of fighting this virus is also necessary. We believe that these efforts comprise the essence of realizing a sustainable society and are in line with the spirit of ESG. Maintaining this perspective, our Group will redouble efforts to advance our ESG management and to make "VISION 2025" a reality.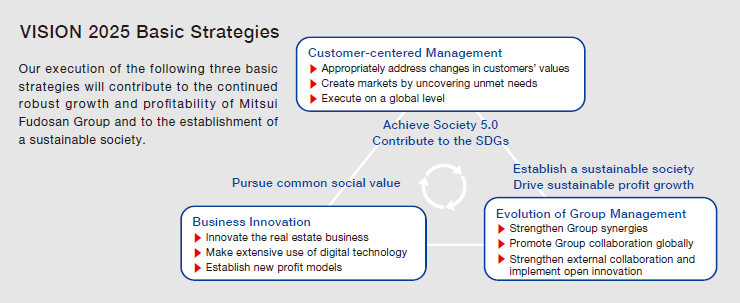 July 2021
Hiromichi Iwasa
Chairman of the Board and Chief Executive Officer

Masanobu Komoda
President and Chief Executive Officer