Through the creation of neighborhoods, we will build a Sustainable Society.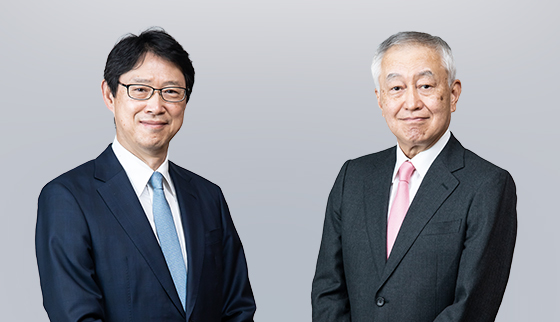 Introduction
As the newly appointed President and Chief Executive Officer of Mitsui Fudosan, I am girding myself to meet the many large responsibilities and to fulfill the vital missions of my new role. As embark on this journey, I have the highest hopes for the future and the boundless potential of Mitsui Fudosan Group. I would like to take this opportunity to share with you some of my thoughts on the future of our Group.
In our world, the digital realm and real life are coming together in new combinations and showing the way to new paradigms for living and working. The resulting new lifestyles and workstyles are, in turn, giving birth to a diversity of innovation including in fields such as virtual space, aerospace, and green energy. Today our society is demanding a serious commitment to innovation that will hone the edge of industrial competitiveness and create unrivalled added value.
In every chapter of our long history, Mitsui Fudosan Group has pursued value creation that shapes solutions to the challenges facing society. Our construction of the "hardware" of buildings and facilities and our "neighborhood creation" achievements in areas around the world have certainly earned us the right to be called a "real estate developer". However, looking back on our legacy of value creation, we can see that the true essence of our Group's business. Through our pursuit of neighborhood creation, we ultimately contribute to the improvement of industrial competitiveness and creation of new industries as well as provide places for the enrichment and advance of people and society. I believe that Mitsui Fudosan Group could be better described as a "platformer" or an "industry developer"– names that encompass a scope of aspirations beyond that of a "real estate developer".
Another essential component of our business is our huge and diverse customer portfolio built over the decades. It is one of our most valued assets, and will be a major strength in the achievement of our future growth as a Group.
Mitsui Fudosan's Roots, DNA, and Philosophy of the "& Mark"
In 2022, we celebrated the 400th anniversary of the birth of Takatoshi Mitsui, the founder of the Mitsui Group, and in 2023, we marked the 350th anniversary of our founder's move from Ise-Matsuzaka to Edo (the old name of present-day Tokyo) and the opening of a clothing emporium in Nihonbashi.
Mitsui Echigoya, the clothing emporium founded by Takatoshi Mitsui in Nihonbashi, Edo in 1673, pioneered fair and affordable cash retail transactions under the slogan "cash sales at fixed prices" in an era when products were not on display, but stored in the back, and prices were often negotiated. This "customer-oriented approach" and "enterprising spirit" were first practiced by our founder in the Edo period. They have been passed down and still live in the DNA of Mitsui Fudosan.
Our DNA is symbolically crystallized in the Mitsui Fudosan "&" logo which encapsulates out philosophy and management vision.
Rather than "Or" – a choice between different concepts, we welcome diversity, even if they comprise apparently conflicting ideals, and we seek to solve the conflicts and find coexistence with "&". This is our management philosophy and our path to realizing a sustainable society. The logo and the management vision which it expresses were adopted on the 50th anniversary of our founding in 1991, decades before the world began talking about the importance of sustainability and ESGs.
In the past, for example, real estate development was equated with the destruction of nature. That is precisely why our Group cherishes the essence of our "& Mark Philosophy" – the coexistence of the global environment "&" local communities.
"Preserving & Revitalizing the Heritage while Creating the Future", our Nihonbashi development concept is symbolic of this philosophy.
Mitsui Fudosan's Neighborhood Creation Concept
We view our Group's creation of value as driven by our dual creation of social value and economic value. Social value is created by the Group through our neighborhood creation activities and is defined as the tangible and intangible value that "moves the hearts and minds of people", "enriches their lives" and contributes to the "realization of a sustainable society".
"People Play the Leading Role" in Our Neighborhood Creation
Responding to increasingly diverse and sophisticated customer needs in the future demands that we provide customers not only with space and other tangible "hardware" aspects of our business, but also provide quality of "living/lifestyle" and "office life" and other intangibles such as the "software" of services. In other words, our business is not to simply offer customers the tangible product of real estate, but to provide them with real estate as a service.
We call this "Real Estate as a Service", and based on this way of thinking, we are sharpening the edge of our competitiveness by proactively accelerating the digital transformation of our business.
Creation of Neighborhoods that Improve with Age
As we move forward with neighborhood creation with people in the leading role, the cities themselves must also evolve in response to changes in the people who come to visit, live and work in the city and changes in what they expect and want from the city. The passing years are engraved in the face of the city as memories of time, and can be measured in the growth of greenery.
By creating a high-quality community firmly rooted in the city and providing high-quality town management, the city becomes more attractive as the years go by. We call this process "improving with age". Completion of the construction of buildings is not the goal, but rather the start of our approach to neighborhood creation.
Future Prospects and Initiatives
The current times demand that companies do not create only economic value, but also social value. Of course, pursuit of these values is compatible with our own aims. We believe that this simultaneous dual pursuit of creating economic value and solving social issues contributes to the realization of the sustainable society, and ultimately to the sustainable growth of the Group.
With the aim of further improving our corporate value, these are the issues that the Group should take the lead in tackling immediately.
Realization of a Decarbonized Society
In the pursuit of our business, our Group is responsible for building and advancing social infrastructure. In crafting our response to climate change as one of our social responsibilities, we have positioned efforts toward decarbonization as our most important issue to address. In addition to setting medium- to long-term goals for reducing greenhouse gas emissions, our answer was to formulate the action plan which Mitsui Fudosan should implement as a leader in the real estate industry. In November 2021, we announced our Group Action Plan for realizing a decarbonized society with 2022 as the first year of its implementation.
The realization of a decarbonized society is both an issue that must be urgently addressed by the unified efforts of society and a challenge to be answered by the philosophy of "coexistence in harmony" expressed by our "&" logo. Endeavoring in unison with all our stakeholders, Mitsui Fudosan Group will reinforce our efforts and realize the Action Plan.
Diversity & Inclusion (D&I) Initiatives
The "&" mark also stands for "linking diverse values". In recent years, this concept has been rephrased as "Diversity & Inclusion," and underscored in our formulation of policy and initiatives with the aim of promoting diversity in our corporate management. Last year in 2021, the Group formulated the Diversity & Inclusion Declaration and Initiative Policy with promotion of women's empowerment positioned as a key theme with group-wide quantitative and qualitative targets.
Mitsui Fudosan Group recognizes that the most potent driving force behind the creation of corporate value is the asset of "people". Through the unprecedented employment and empowering of global-oriented staff and women and the fusion of the diversity of their values and capabilities as a team, we aim to synergize and transform these human resources into a value-creation force; to take full advantage of the insights and know-how produced by their unique chemistry; and to create new business opportunities.
Optimally Combining Real and Digital Environments in Neighborhood Creation
The COVID-19 pandemic has led to changes in the way we live and work. We believe that it is extremely important to recognize that these changes are irreversible and necessitate a transformation of our business models.
The usefulness of remote work came as one of the biggest realizations of the impact of the pandemic-driven changes, but there was also a renewed recognition that real space possesses value which cannot be replaced by that of the digi tal model . Examples of thi s unique value include innovation sparked by the interaction of people in a real space, the birth of new values from random encounters such as a casual chat, and impressive experiences that involve all the senses such as sports and entertainment.
Neighborhood creation in the post-corona era demands the opt imizat ion o f our combinat ion o f real and digital environments. For the parts where digital is optimal, we must thoroughly utilize digital technology and the data collected in the city. Where real space is most suitable, the unique value of real space must be maximized.
In Conclusion
Mitsui Fudosan Group expects all of our businesses to face increased competition in the future, and we believe that it is extremely important for us to respond by "creating demand" in every business area. Demand creation will require our acceleration of the creation of new industries by providing an open innovation platform and by bringing together the expertise and knowledge of the companies, society, and the people who comprise them.
Moreover, for our business-to-consumer (B2C) businesses such as Homes and Living, Retail Properties, Hotels and Resorts, and Sports and Entertainment, we will leverage our diverse customer portfolio and secure the participation of various parties in our proposal of new ways to live more fulfilling and enjoyable lives. We believe that this will lead to the generation of new demand.
Mitsui Fudosan Group will continue to move forward in unison and grow as an "industrial developer" in step with the advance of society.
Takashi Ueda
President and Chief Executive Officer