Diversity
Combining diverse functions and talents to create new value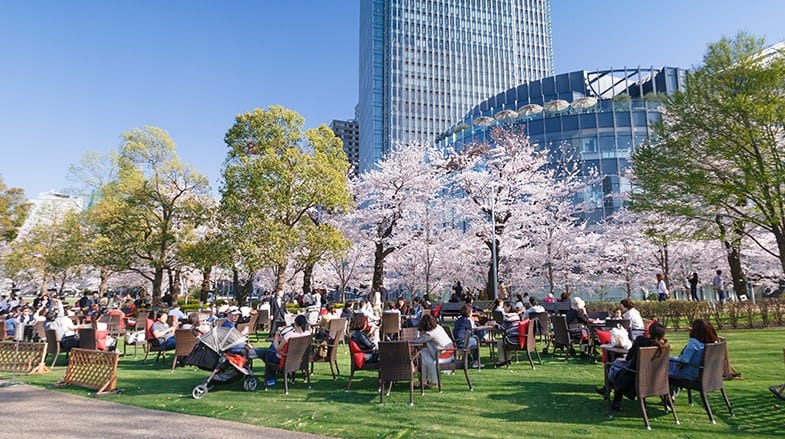 Work. Living. Play. Relaxation. TOKYO MIDTOWN is an mixed-use neighborhood that brings all these together. In addition to offering high-performance facilities, including offices, housing, a hotel, and galleries, it also creates new value through synergies between various functions.
Learn x Nurture

Workshops for children are held during the summer holidays. Events are also held in partnership with design facilities in the neighborhood to further showcase its capabilities as a hub for design.

Relax x Enjoy

Morning Yoga sessions, which enable participants to enjoy the power of the sun, and Evening Yoga sessions, which provide a nighttime view of the neighborhood and Tokyo Tower, are held in a grassy plaza surrounded by greenery.

Work x Gather x Stay

Companies renting offices in TOKYO MIDTOWN can use the multi-purpose hall, conference rooms, and the Ritz-Carlton, Tokyo hotel to hold local events.

Live x Work x Heal

Tokyo Midtown Medical Center provides advance medical care to a large number of people, including people who live and work nearby.
Hospitality
Providing quality time through detailed attentiveness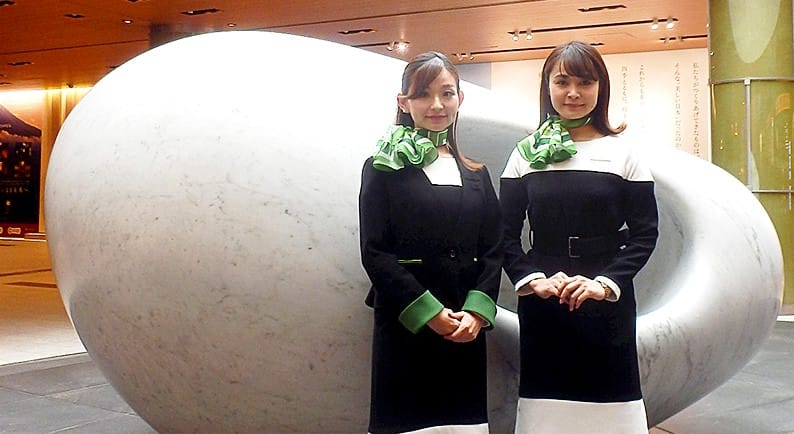 Japan has a long and beautiful tradition of providing a warm welcome in the spirit of hospitality.
We aim to have all staff involved in the operation of TOKYO MIDTOWN, from attendants and store staff to cleaners, security guards, and event staff, show thorough attentiveness to all visitors to ensure they have a comfortable and enjoyable time.
Responding to the diversifying needs of the times
In order to meet the needs of the times, including a growing number of families and visitors from overseas, TOKYO MIDTOWN aims to provide a high level of service in both tangible and intangible aspects.
Establishment of prayer rooms

As a means of handling foreign visitors through the establishment of new facilities, we have established a prayer room for women on the first floor and one for men on the third floor as a way of catering to visitors from overseas. They include a Qibla Mark which shows Muslim worshippers the direction to Mecca.

Cultural sensitivity training

We are further raising the level of hospitality by providing attendants and store staff with cultural sensitivity training that teaches them about the culture and customs of different countries. This training is reflected in store menu displays and everyday customer interactions.

Customer Conversation Guidance Sheets

We have created Customer Conversation Guidance Sheets that provide information about the facility and neighboring facilities together with helpful illustrations in order to provide accurate and easy to understand guidance for all customers. These are available in multiple languages to cater for customers from overseas.

Events and services for children

TOKYO MIDTOWN boasts easy access from Roppongi, open spaces surrounded by greenery, and gallery and museum facilities, making it an enjoyable spot for families. We provide various services and events for children and their parents.
Meticulous hospitality through custom training programs
We ensure that attendants, whose role is to provide guidance to customers in communal spaces, can offer a high level of service through regular training that covers a variety of options. We also check the level of service twice a year using mystery shoppers.
Additionally, all staff working at TOKYO MIDTOWN receive custom training to further improve hospitality.
Concierge service

A concierge post is always open to provide detailed responses to customer requests.

Attendants

We usually have 20 attendants on hand and also have staff who are able to speak foreign languages and Japanese sign language.

Hospitality training

Universal training taken by all employees working at TOKYO MIDTOWN.

Hospitality awards

Every three months, we recognize staff who have been thanked and praised by customers.
On the Green
Proposing lifestyles that can coexist with nature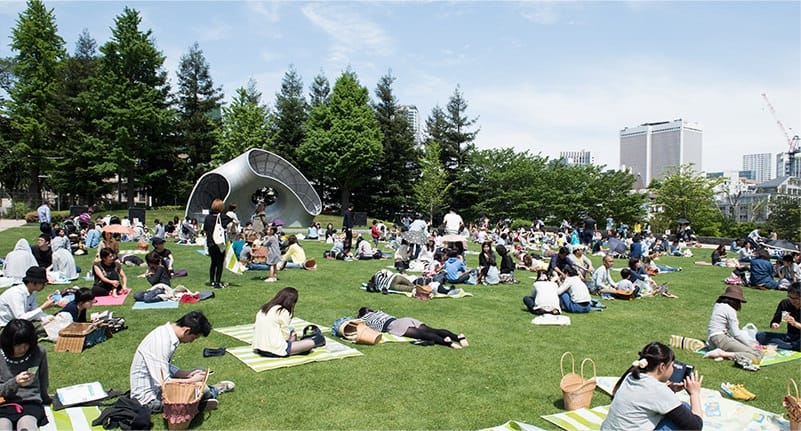 One of TOKYO MIDTOWN's major charms is that it offers plenty of greenery, a valuable resource in the city.
It has inherited the existing greenery of the site and created new greenery in partnership with the community to cultivate and conserve precious green spaces that will be enjoyed for 50, or even 100 years, into the future.
Open spaces filled with greenery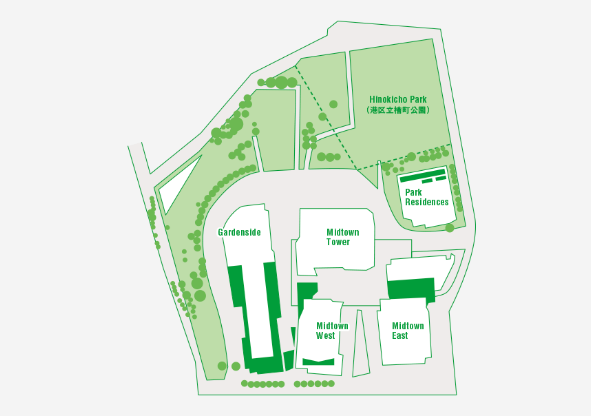 TOKYO MIDTOWN's landscape has been designed to incorporate traditional Japanese gardening concepts that have been passed down for generations. Together with neighboring Hinokicho Park, it provides approximately four hectares of open, green space where both visitors and local residents can gather and relax. We have preserved and replanted around 140 trees from the former Defense Agency site, including camphor and cherry blossom trees. We are also planting around 20,000 new trees and shrubs so that the area of greenery has more than 2.7 times the amount of plant life than when development started. Since the facility opened, we have continued to manage this greenery, which includes trees that may have been standing on the site for over 100 years, so that it can contribute to the tranquility and vitality of the neighborhood.
At the opening in 2007

2016
Four seasons in the open space
In spring, visitors can enjoy the scenery provided by over 100 cherry blossom trees, mostly Yoshino cherry blossoms, and in summer they can cool down in the small paddling stream. In fall, cinema events are held on the grassy plaza and in winter, the space is lit up with illuminations.
MIDTOWN BLOSSOM

MIDTOWN LOVES SUMMER

MIDPARK CINEMA

MIDTOWN CHRISTMAS
Creativity
Cultivating creativity and imagination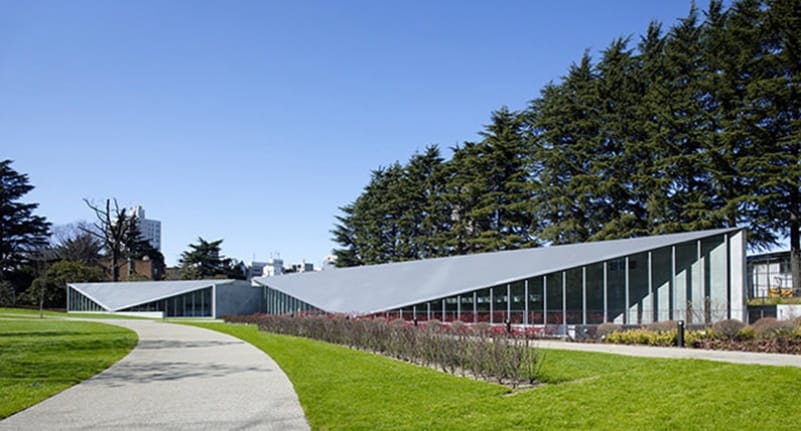 TOKYO MIDTOWN is enlivened by buildings and artwork made by architects and artists active around Japan and all over the world. We are part of efforts to make Roppongi an international art and design hub through activities that communicate new Japanese value, sensibility, and talent.
A neighborhood overflowing with Japan's finest cultural facilities for art, design, and photography
SUNTORY MUSEUM of ART

Opened in 1961 and moved to TOKYO MIDTOWN in 2007. Its core concept is to communicate the joy of "Art in Life."

21_21 DESIGN SIGHT

A venue for inspiring thoughts and sharing messages and proposals about a variety of subjects, including everyday life, through design.

FUJIFILM SQUARE

A showroom centered around a photo gallery operated by FUJIFILM Corporation, which has its head office in TOKYO MIDTOWN.

Tokyo Midtown Design Hub

A place for holding exhibitions and seminars that use design capabilities to bring together and inspire people, businesses, and knowledge.
Holding a wide variety of art and design-focused events throughout the year.
Tokyo Midtown Award

Held since 2008 with the goal of discovering and supporting the next generation of artists and designers.

Tokyo Midtown DESIGN TOUCH

A collection of designs exhibited throughout the neighborhood under the theme of "design that can be enjoyed through the five senses."

Roppongi Art Night

An art event that uses Roppongi as a stage for performances, workshops, and more.
Properties
TOKYO MIDTOWN is a large-scale mixed-use development that provides the various functions needed by a city, including offices, housing, a hotel, stores, and galleries. It finds ways to combine these functions to create synergies that benefit the entire neighborhood.
To the official TOKYO MIDTOWN website