Elegance
A neighborhood teeming with cultural excitement that attracts connoisseurs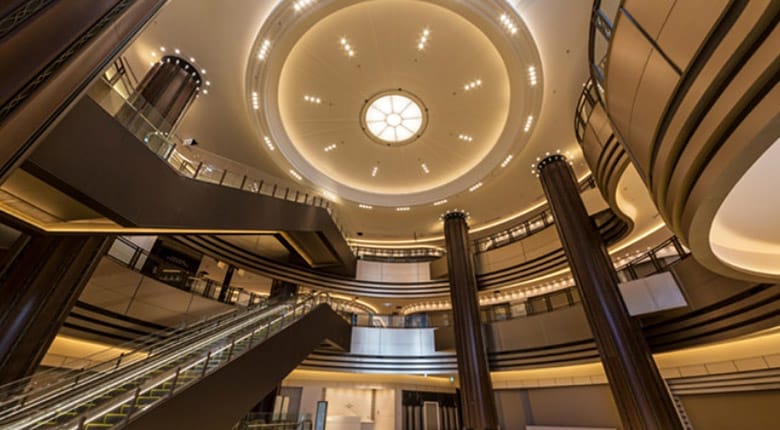 Since the Meiji period, the Hibiya area has always been at the forefront of modernization, overflowing with pioneering spirit.
This period saw the construction of the Rokumeikan, which was used by the Meiji government to host state visitors and diplomats, followed by the Imperial Hotel which was used to accommodate important visitors from overseas, as Hibiya evolved into a place where adults would go for social interaction and to unwind.
Hibiya developed as a place for exchange and entertaining guests and we used the neighborhood's famous accommodation places, overflowing with elegance and a spirit of international hospitality, as a core concept when designing the building and its commercial facilities.
A "dancing tower" inspired by the memory of the Rokumeikan and blessed with abundant greenery
「When designing TOKYO MIDTOWN HIBIYA, we aimed to realize coherence with the greenery of Hibiya Park and to utilize the local scenery in the landscape and facility designs. The building design was entrusted to the world-renowned Hopkins Architects, Britain's leading architecture firm.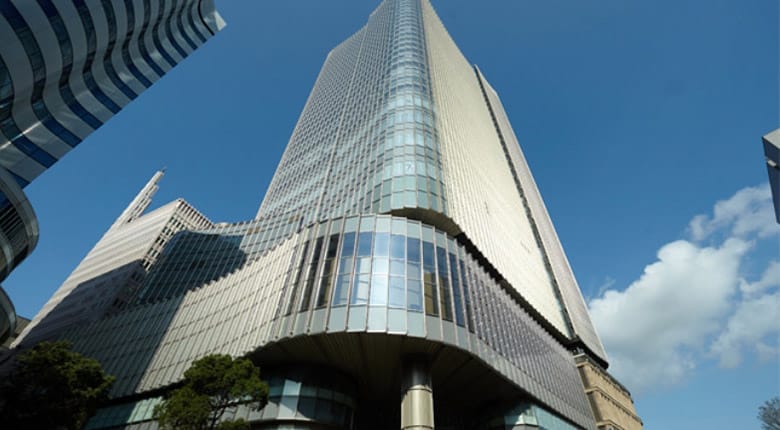 Lead designer Simon Fraser shared the thinking behind the design.
"The crown of the building and its curving walls give it a distinctive design that you will not see anywhere else. The façade also provides a gentle impression that separates it from other buildings. Whichever angle you view it from, TOKYO MIDTOWN HIBIYA stands out and demonstrates a unique presence as a landmark building.
Our initial design concept was inspired by the Rokumeikan, which used to stand in the area. We started with an image of a couple dancing together at a ball. This "dancing tower" concept determined the building's gentle façade. We also incorporated a stone-built essence into the lower floors as a representation of elegance."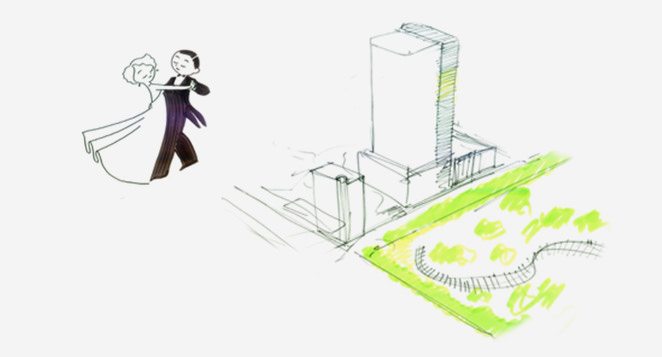 Premium experiences for connoisseurs that can only be found in Hibiya
We have realized a line-up of 60 highly original stores under the concept of "THE PREMIUM TIME, HIBIYA," with the aim of providing customers with special experiences in luxurious spaces in a manner that is appropriate for Hibiya, a neighborhood that has a history of rebirth and an atmosphere of celebration that is out of the ordinary.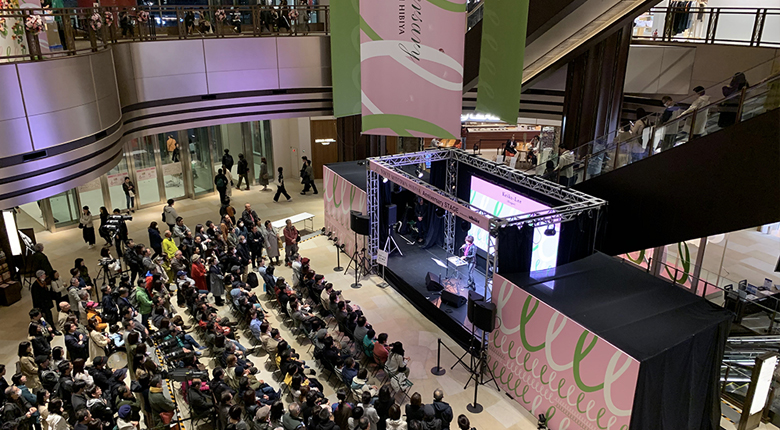 The atrium
The shared areas on the commercial floors have been designed based on the concept of "a city of theaters." We created bright, glamorous spaces filled with sophisticated charm in a manner that is befitting of Hibiya, a sacred ground for art, culture, and entertainment.
The three-story atrium was inspired by traditional theater spaces. It features gentle curves that broaden the elegant space providing a lively venue for various events.
The below-ground arcades have been rebuilt with a modern design that also preserves memories of the neighborhood by using the Sanshin Building, an iconic building which used to stand on the site, as a motif.
To the official TOKYO MIDTOWN HIBIYA website