Facebook's Largest Base in the U.S. east coastto Occupy 50 Hudson Yards, Manhattan's Largest Development Project Valued at Over ¥400 Billion
November 15 , 2019
Mitsui Fudosan Co., Ltd.
Key Points of this Press Release
Facebook will establish their largest base on the U.S. east coast at 50 Hudson Yards
Leases have been signed for approximately 75% of total floor space through BlackRock and Facebook occupancy
Mitsui Fudosan Co., Ltd, a leading global real estate company headquartered in Tokyo, announces that it and its partners have entered into a lease with Facebook (Head office: U.S.; CEO: Mark Elliot Zuckerberg), which has developed the world's largest social network service, for their largest base on the U.S. east coast at 50 Hudson Yards , a project which Mitsui Fudosan Co., Ltd. is currently involved in.
The Facebook contract is for more than 100,000 m2 of floor space, and combined with the already-confirmed rental agreement with BlackRock, the world's largest investment management company, contracts have been signed for approximately 75% of the total floor space.
50 Hudson Yards is an office building development project in Manhattan, New York, that Mitsui Fudosan Co., Ltd. is participating in through its U.S. subsidiary Mitsui Fudosan America, Inc. (CEO: John Westerfield). This project is an office building development project in Hudson Yards, the largest-scale mixed use redevelopment project in Manhattan, and is of the largest-scale for a single office building in Manhattan, with approximately 264,000 m2 of floor space. The total project value is approximately 400 billion yen ($1 = ¥108), of which Mitsui Fudosan's share is 90%. Construction is expected to be completed in 2022.
The Hudson Yards redevelopment project is located on the western side of Manhattan's Midtown, which has undergone remarkable changes in recent years. It is a large-scale redevelopment project on a development site with a total of approx. 11 hectares. This mixed-use redevelopment project, planned to feature five office buildings, commercial facilities, high-end condominiums, rental housing, a luxury hotel, cultural facilities, a school, and more, is already occupied by tenants including the headquarters of Coach, Inc., L'Oreal USA, SAP, KKR, Boston Consulting Group, and Time Warner Inc., with Manhattan's first Neiman Marcus, a luxury department store, already open. Direct access is available to a 1.6 hectare park and the High Line, a greenway built on an abandoned elevated freight line, both adjacent to the development. The Hudson Yards development is led by Related Companies , one of the biggest developers in the U.S., and by the Oxford Properties Group , the real estate investment and development arm of one of Canada's largest institutional investors.
Housing mainly office space, 50 Hudson Yards will have 78 floors above ground and 3 below, and a total floor area of approx. 264,000 m2. It is located with direct access to the 34th street Hudson Yards subway station, with a park in front of the building's entrance. This state-of-the-art office building will feature the large floor plates preferred by a wide range of tenants, several dedicated lobby areas envisaged to address the needs of large-scale tenants using the building for their headquarters, high environmental performance, with LEED GOLD certification planned, as well as other appealing features including a port-cochere, rare for Manhattan, and a parking garage.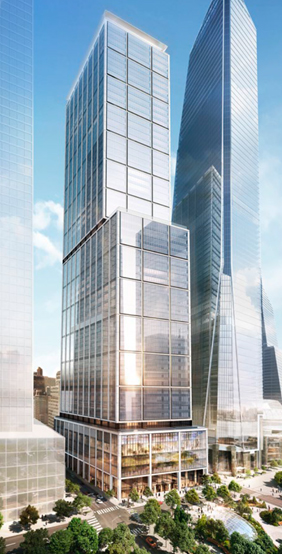 The Mitsui Fudosan Group's Overseas Strategy
The Mitsui Fudosan Group has positioned overseas business as one of its growth areas and is engaged in projects in Western countries, such as the U.S., UK, and elsewhere in Europe, as well as in China, Taiwan, and Southeast Asia. In the U.S., Mitsui Fudosan is developing housing and other multi-use projects, and aims to capture even more new business opportunities going forward.

Rendering of Hudson Yards seen from the Hudson River side
Property Overview
Property Name
50 Hudson Yards
Location
50 Hudson Yards, New York, NY
Structure
58 above ground and 3 below
Site Area
Approx. 69,000 ft2 (Approx. 6,400 m2)
Total Floor Area
Approx. 2,842,000 ft2 (Approx. 264,000 m2)
Purpose
Offices and commercial facilities
Architect
Foster+Partners
Construction
Hudson Yards Construction
Schedule
Construction start: 2017
Construction completion: 2022 (planned)
Hudson Yards Overview
Hudson Yards is situated for highly convenient access to public transportation. The No. 7 subway line linking Times Square and Grand Central Station is now open to the public, and Penn Station, the departure point for long-distance trains as well as the Long Island Rail Road and New Jersey Transit commuter services, is also within walking distance.
Plans for this development include five state-of-the-art office buildings, more than 100 stores and restaurants, about 4,000 residences, unique cultural properties, public open space, a public school, and a luxury hotel with more than 200 guest rooms. Hudson Yards is a rare example of a development plan that features ample greenery and space for relaxation.
HUDSON YARDS NEW YORK: https://www.hudsonyardsnewyork.com/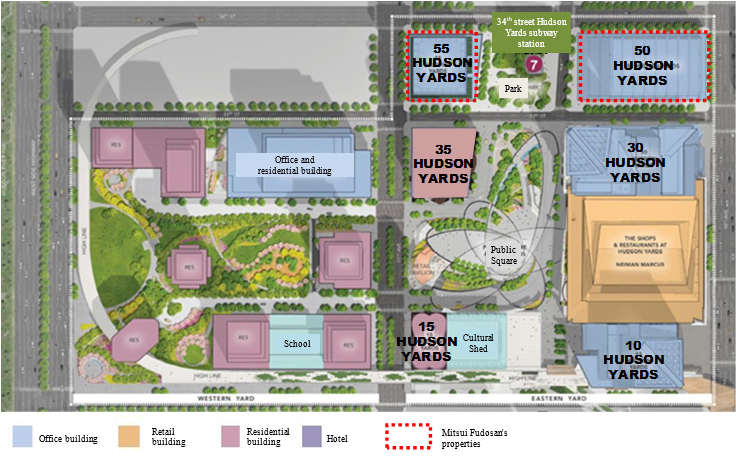 Map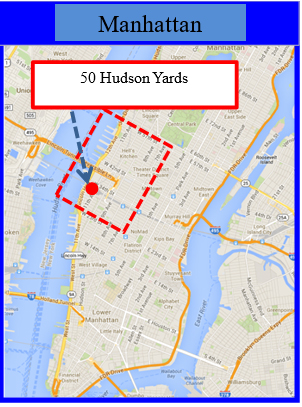 Detailed Map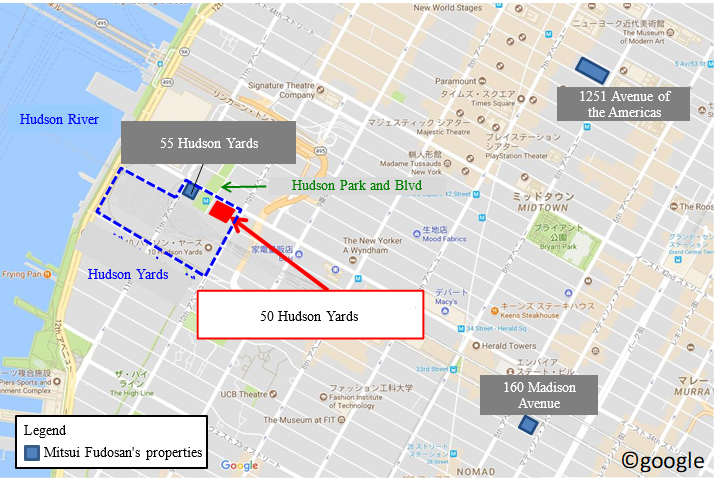 Office Business Development in the U.S.
55 Hudson Yards
| | |
| --- | --- |
| Location | 55 Hudson Yards, New York, NY |
| Completion | 2018 |
| Site Area | Approx. 40,000 ft2 (Approx. 3,700 m2) |
| Total Floor Area | 1,265,700 ft2 (Approx. 117,600 m2) |
| Floors | 51 above ground and 2 below with 1 penthouse floor |
| Purpose | Offices and commercial facilities |
| Overview | Mitsui Fudosan developed with Related Cos. and Oxford Properties Group from 2015 |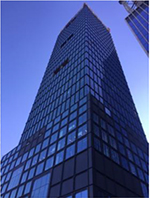 527 Madison Avenue
| | |
| --- | --- |
| Location | 527 Madison Avenue, New York,NY |
| Completion | 1986 |
| Site Area | 11,650 ft2 (Approx. 1,100 m2) |
| Total Floor Area | 209,604 ft2 (Approx. 19,500 m2) |
| Floors | 26 floors above and 1 below |
| Purpose | Offices and commercial facilities |
| Overview | Acquired 2008 |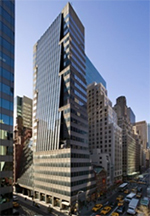 1251 Avenue of the Americas
| | |
| --- | --- |
| Location | 1251 Avenue of the Americas, New York,NY |
| Completion | 1970 |
| Site Area | 99,359 ft2 (Approx. 9,230 m2) |
| Total Floor Area | 2,317,635 ft2 (Approx. 215,310 m2) |
| Floors | 54 above ground and 4 below |
| Purpose | Offices and commercial facilities |
| Overview | Acquired in 1986 |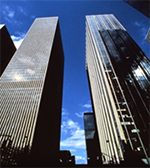 Waterfront Corporate Center III
| | |
| --- | --- |
| Location | 221 River Street, Hoboken, NJ 07030 |
| Completion | 2015 |
| Site Area | Approx. 54,000 ft2 (Approx. 5,000 m2) |
| Total Floor Area | Approx. 578,000 ft2 (Approx. 54,000 m2) |
| Floors | 14 above ground and 1 below |
| Purpose | Offices |
| Overview | Acquired 2016 |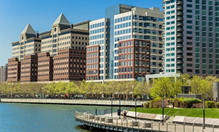 1200 17th Street
| | |
| --- | --- |
| Location | 1200 17th Street NW, Washington D.C |
| Completion | September 2014 |
| Site Area | 17,013 ft2 (Approx. 1,580 m2) |
| Total Floor Area | 233,132 ft2 (Approx. 21,660 m2) |
| Floors | 11 above ground and 2 below |
| Purpose | Offices and commercial facilities |
| Overview | Mitsui Fudosan developed with joint developer from 2012 |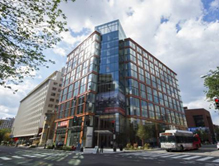 Homer Building
| | |
| --- | --- |
| Location | 601 13th Street NW, Washington D.C |
| Completion | 1913 |
| Site Area | 43,318 ft2 (Approx. 4,020 m2) |
| Total Floor Area | 491,913 ft2 (Approx. 45,600 m2) |
| Floors | 12 above ground and 5 below |
| Purpose | Offices, commercial facilities and parking |
| Overview | Acquired in 2012 |
270 Brannan Street
| | |
| --- | --- |
| Location | 270 Brannan Street, San Francisco, CA |
| Completion | 2016 |
| Site Area | 37,813 ft2 (Approx. 3,500 m2) |
| Total Floor Area | 213,302 ft2 (Approx. 19,800 m2) |
| Floors | North wing 7 floors, South wing 5 floors |
| Purpose | Offices and commercial facilities |
| Overview | Mitsui Fudosan developed with joint developer from 2014 |