Mitsui Fudosan Participates in Large-Scale Office Building Development in San Francisco totaling Over 1.2 Million Square Feet
Brannan Square Development Project Promotion
January 16, 2020
Mitsui Fudosan Co., Ltd.
Key Points of the Project
Participation in a major project that will be Mitsui Fudosan's largest-scale office development on the west coast of the U.S.
A rare development opportunity in an area with high barriers to entry and powerful demand especially from technology-oriented industry sectors.
Tokyo, Japan, January 15, 2020 - Mitsui Fudosan Co., Ltd, a leading global real estate company headquartered in Tokyo, has decided to participate in the development of Brannan Square - a complex of three office buildings in San Francisco, California, through its subsidiary Mitsui Fudosan America, Inc. (representative: John Westerfield). Currently, Mitsui Fudosan America has one office building in the City of San Francisco - 270 Brannan. Brannan Square will be the second office property on the west coast and will be one of Mitsui Fudosan's largest-scale projects in the region
Brannan Square, located at 598 Brannan Street, will consist of three independent buildings: Building 1 will be 11 floors; Building 2 will be 13 floors; and Building 3 will be 10 floors. The buildings will surround a park that is included in the development. Total floor space across the three buildings is approx. 1.2 million ft2 (112,000 m2). Phase I of construction will consist of buildings 1 and 2 and begin in late summer 2020 with delivery expected autumn 2022. The buildings will feature floorplates averaging over 30,000 square feet with 14-14'9" foot office floor to floor heights and broad windows.. In addition, the site has easy access to Silicon Valley, making it popular among technology-oriented companies, and is located in the South of Market (SoMa) neighborhood, where further development (future redevelopment) is expected. This is an extremely rare opportunity to develop new office space in San Francisco, which has extremely high barriers to entry.
Furthermore, the property is easily accessible with many convenient transportation options . The site is a three minute walk to the new 4th St & Brannan St subway station on the Muni T Line, a seven minute walk to the King Street Caltrain Station, and offers immediate freeway access to highways 101, I-80 and I-280. Employees working in the building will benefit from retail, terraces and an adjacent park.
Tishman Speyer, the partner on this project, is a leading owner, developer, operator and fund manger of first-class real estate around the world.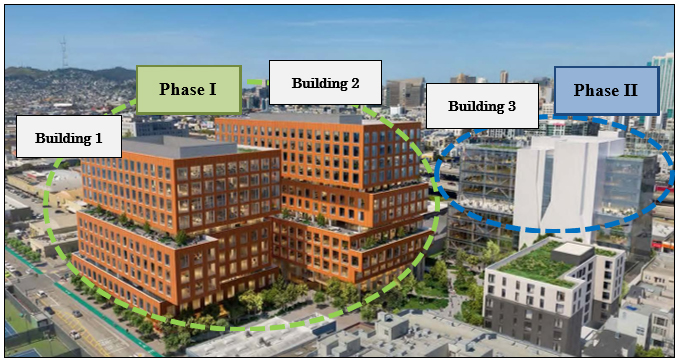 Brannan Square Perspective drawing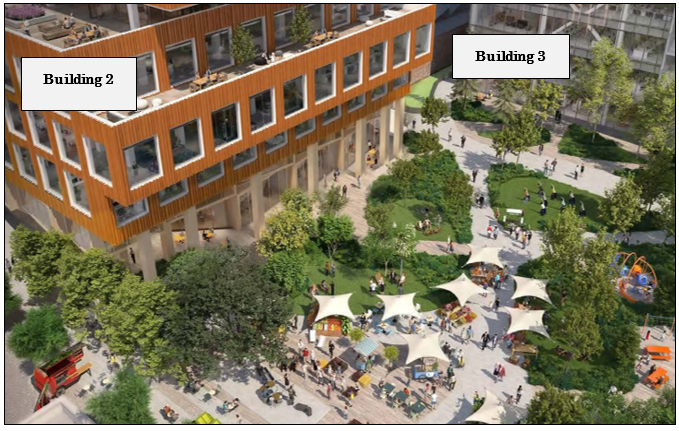 Park Perspective drawing
Tishman Speyer
Tishman Speyer, founded in 1978, is active across the United States, Europe, Latin America and Asia, building and managing premier office, residential and retail space in 29 key global markets for industry-leading tenants. The firm has acquired, developed and operated a portfolio of over 400 assets in 7 counrtries worldwide, including the U.S., countries in Europe, Latin America and Asia. The company has had operations in San Francisco for more than 20 years.
Mitsui Fudosan's Overseas Strategy
The Mitsui Fudosan Group has targeted overseas business as one of its growth areas and is engaged in projects in countries, such as the U.S., UK, as well as in China, Taiwan, and Southeast Asia.
In the U.S., Mitsui Fudosan is developing housing and other mixed-use projects, and aims to capture additional new business opportunities going forward.
Overview of the property
Property Name
Brannan Square
Location
598 Brannan Street, San Francisco, CA
Scale
Building 1: 11 floors
Building 2: 13 floors
Building 3: 10 floors
Site Area
Approx. 195,000 ft2 (approx. 18,000 m2)
Total Floor Area
Approx. 1,203,000 ft2 (approx. 112,000 m2)
Asset Class
Offices, Retail
Schedule
< Buildings 1 and 2 >
Construction planned to start in 2020
Construction planned for completion in 2022
< Building >
Construction planned to start in 2021
Construction scheduled for completion in 2023