Largest Regional Shopping Center in the Central Area of Aichi Prefecture
Mitsui Shopping Park LaLaport AICHI TOGO to Open in September 2020
188 Stores Announced in Advance,
Job Vacancy Group Orientations for Stores to Begin from April
February 13, 2020
Mitsui Fudosan Co., Ltd.
Tokyo, Japan, February 13, 2020—Mitsui Fudosan Co., Ltd., a leading global real estate company headquartered in Tokyo, announced today it has decided to name the facility under development in Togo Town, Aichi District, Aichi Prefecture as Mitsui Shopping Park LaLaport AICHI TOGO. The facility is expected to open for business in September 2020, with 188 stores announced in advance. The facility has a rich variety in its tenant lineup, including HEIWADO, a supermarket convenient for daily shopping, Alpen Outdoors FLAGSHIP STORE, an outdoors store with an abundant product lineup, and VS PARK, a facility providing a new sense of entertainment.
This project site is part of the Togo Central District Land Readjustment Project and will create a bustling area with commercial facilities that contribute to the development of the entire town. This facility will create a commercial environment full of attractions and contribute to a new kind of neighborhood creation under the environmental design concept of a "Town Clubhouse" with a wide variety of stores that people can enjoy in the same place and form a community base to attract many people. The project facility is in an outstanding location with access in all directions from north to south and east to west due to its proximity to national route 153 and prefectural road 57, which are main public roads. Furthermore, there are plans to newly set up a bus terminal handling multiple buses adjacent to the south side of the facility.
In addition to providing a variety of one-stop shopping services that can be enjoyed by customers in a wide range of age groups, the facility is also actively undertaking all sorts of measures to satisfy store tenants and employees as well. The facility is preparing an environment that makes it easier to work, including an employee lounge with enhancements to function and attention to design details, a convenience store annex, and a parking lot for employees use. To support employment opportunities at the stores, the LaLaport AICHI TOGO Employment Center (Subcontractor: AIDEM Inc.) will be set up and begin recruitment for job vacancies at each store in succession starting from Saturday, April 11 in the form of group orientations.
Details for other stores aside from those released in advance will be announced in May 2020.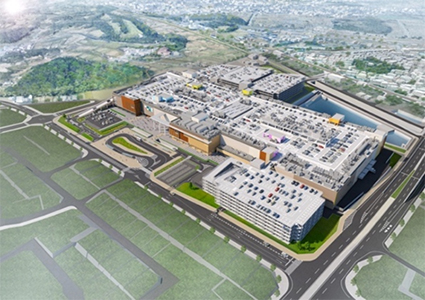 Concept image of Mitsui Shopping Park LaLaport AICHI TOGO
(Left: Bird's-eye view; Right: Central courtyard)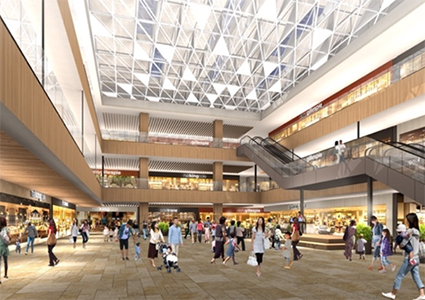 Main Features of the Facility
■A multifarious store lineup for shopping through to dining
The facility offers customers in a wide range of age groups the enjoyment of one-stop shopping with about 210 commercial facilities, among the most in the central Aichi Prefecture area, and a high variety of topical stores for fashion, sundries, dining, entertainment, services and more.
< Supermarket > HEIWADO, Heiwado Co., Ltd.

Liven up the dinner table with fresh food
HEIWADO provides customers with satisfaction and an enjoyable shopping space.
Aiming to be a store of abundance that customers visit daily with a substantial lineup of fresh products providing thrills, excitement, surprises and emotion like a market with seasonal fruits and vegetables, regional fresh fish, strictly selected meats and freshly prepared ready-to-eat foods.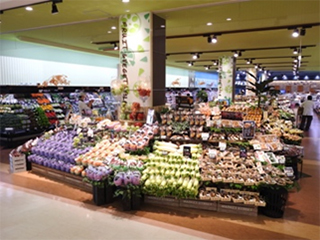 < Outdoor > Alpen Outdoors FLAGSHIP STORE, Alpen Co., Ltd.

An outdoors store proudly offering the most extensive product lineup in Japan
Alpen Outdoors FLAGSHIP STORE will appear at LaLaport AICHI TOGO. The store has set up sales points for popular brands such as The North Face, Snow Peak and Coleman, responding to a wide range of needs related to outdoor activities that families can enjoy. The store interior has been designed meticulously, giving it a feeling of authenticity that makes it appear as though it's an actual campsite for customers to enjoy.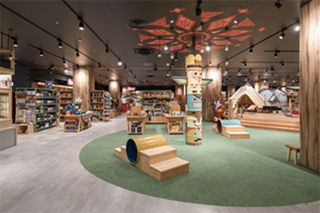 < Entertainment > VS PARK, BANDAI NAMCO Amusement Inc.
A variety sports facility generating a new sense of entertainment
A variety sports facility jam-packed with entertaining elements enabling experiences similar to taking part in a TV variety show.
Planning to install activities that will be the first of their type in Japan, including Nigekiru, an ultra-short distance sprint to flee from a wild animal on screen.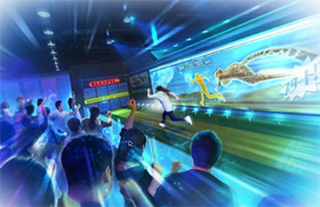 < Fashion >
Select luxury shops making ideal lifestyles a reality
A fun lineup of select shops spreading the latest trends will open in the facility and please all ages and genders, bringing color and abundance to daily life and proposing elegant lifestyles.

* All images are shown for illustration purposes only.
■ Initiatives aimed at creating a comfortable work environment
The facility been fastidious in enhancing functional aspects and design and set up employee lounges on each floor for employees to take breaks easily, as it aims to create a comfortable work environment with enhanced employee satisfaction. It also plans to set up adjoining facilities for employees such as convenience stores easily accessible to lounges and exclusive parking areas.
Counter seats with divider screens
Sofa area where it's easy to take a nap
Power outlets for charging mobile phones
Free Wi-Fi
Washbasin for brushing teeth
Powder area
Smoking area
Convenience store (adjoining space)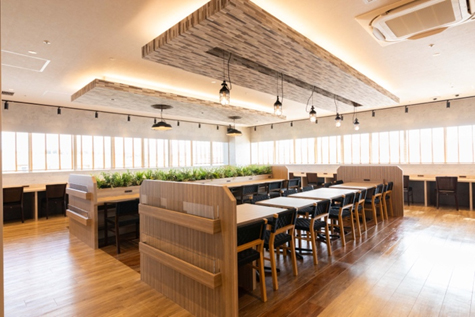 Employee lounge
* Reference photo: Mitsui Shopping Park LaLaport NUMAZU
< Schedule of joint briefing sessions for recruitment for facility stores >
Date and time
Venue
First session
11:00–17:00 Saturday, April 11, 2020
Fukiage Hall, Nagoya Trade and Industry Center
Fashion Exhibition Site 1 (2F)
Second session
11:00–17:00 Monday, May 25, 2020
Fukiage Hall, Nagoya Trade and Industry Center
Fashion Exhibition Site 2 (3F)
* Information regarding the third and subsequent sessions will be posted on the Company website soon after being decided
* The LaLaport AICHI TOGO Employment Center will host the sessions. Please refer to the following website for the latest information (in Japanese)
Recruitment: https://job-gear.net/lptogo
Overview of Mitsui Shopping Park LaLaport AICHI TOGO
Location
Haruki and others, Togo Town, Aichi District, Aichi Prefecture (Part of Togo Central District Land Readjustment Project)
Site area
Approx. 957,988 ft2 (approx. 89,000 m2)
Structure
Commercial facilities building
Steel structure, four floors above ground
(Commercial facilities: 1st –3rd floors; Parking space: 4th – rooftop floors)
Multistory parking buildings
One steel structure, four floors above ground
One steel structure, five floors above ground
Two steel structures, six floors above ground
Total floor area
Commercial facility: Approx. 1,129,134 ft2 (approx. 104,900 m2)
Multistory parking buildings: Approx. 867,571 ft2 (approx. 80,600 m2)
Store floor area
Approx. 687,813 ft2 (approx. 63,900 m2)
Number of stores
Approx. 210
Number of parking spaces
Approx. 3,900
Access
Approx. 2.2 km from Nisshin Station on the Meitetsu Toyota Line
Schedule
Start of construction: March 1, 2019
End of construction and opening: September 2020 (planned)
Design
Takenaka Corporation
Construction
Building roof, outer construction: Takenaka Corporation
Multistory parking building construction: Watahan Solutions Co., Ltd.
Environmental design
STUDIO TAKU SHIMIZU INC.
Basic building design
Ishimoto Architectural & Engineering Firm, Inc.
Operation and management
Mitsui Fudosan Retail Management Co., Ltd.
LaLaport AICHI TOGO teaser website
https://mitsui-shopping-park.com/lalaport/togo/
Map
Map of the surrounding area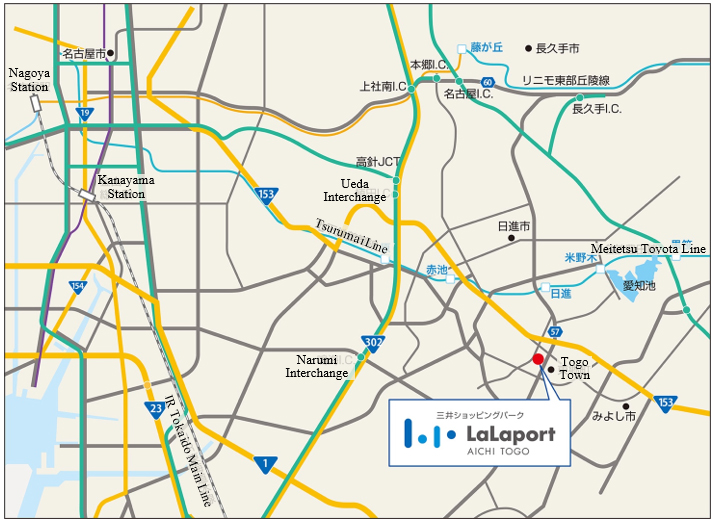 Detailed map