A New Landmark in Shibuya for Encountering People, Goods, and Concepts, Creating Communication
Grand Opening of MIYASHITA PARK on June 18, 2020 (Thursday)
Approximately 90 Highly Unique Stores to Open in a Recreational Park and Town Area
February 20, 2020
Mitsui Fudosan Co., Ltd.
Tokyo, Japan, February 27, 2020—Mitsui Fudosan Co., Ltd. a leading global real estate company headquartered in Tokyo announced today that it has decided on June 18, 2020 (Thursday) as the opening date for MIYASHITA PARK, a PPP* project being developed with Shibuya City in 6-20 Jingumae, Shibuya-ku, Tokyo. Approximately 90 highly unique stores are to open at the MIYASHITA PARK retail property, embodying the fashion, gourmet cuisine, and culture of Shibuya.
Moreover, MIYASHITA PARK's official teaser website (https://www.miyashita-park.tokyo—in Japanese) goes online today, and will be continuously announcing the latest information and so forth (The name of the retail property is to be announced later).
* Public-private partnership (PPP): General term for collaborative projects between public and private sectors
- Key Points of this Press Release -
The development concept is a place that seamlessly blends the two different elements of "new stimulation and talking points" with "comfort and pleasure," offering encounters with new people, goods, experiences, and culture with every visit. This new type of mixed-use facility combining a park, retail property, and hotel will serve as a hub for cultural communication and exchange, creating excitement for Shibuya town in Tokyo.
The retail property will feature a store composition to satisfy diverse values and highly cultural needs, including luxury brands and street brands, side streets and clubs, and shared offices that have a strong affinity with Miyashita Park, Shibuya Ward and the surrounding area. As a new "street" in Shibuya, highly unique and approximately 330 m long, the property will continuously serve as a source of various information.
With a canopy of green covering the entire retail property, a hybrid indoor-outdoor mall construction, and shared spaces to give a relaxed yet exciting atmosphere, the facility will provide a pleasant space where visitors can feel the appeal of the park.
* All images in this news release are for illustration purposes only.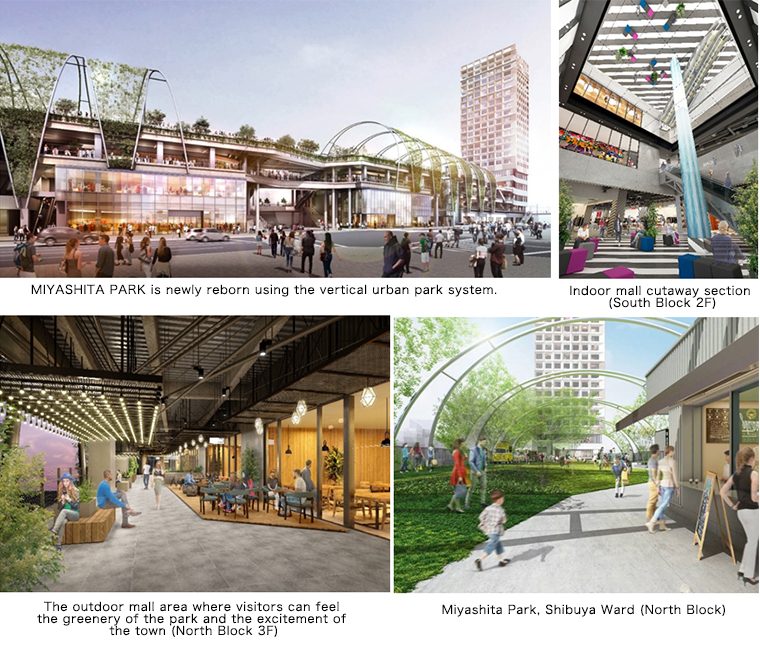 (1) A new mixed-use facility to create a cultural communication and exchange hub in Shibuya
MIYASHITA PARK is situated between the Shibuya periphery area, which is undergoing large-scale redevelopment, and the Harajuku-Omotesando area, which is a trend communication hub for Japan. Moreover, the facility has a special location connecting directly to Cat Street, which has many highly unique stores. Making use of this, the facility will combine the special character of the Shibuya area which has produced a slew of stimulating youth cultures, the appeal of the park, where anyone can spend time freely in a richly green space, and the values of a new era amid a maturing consumer culture. With these features, the facility will provide space for creating communities that encounter new people, goods, experiences, and culture with each visit, exchange diverse sensitivities, and create new value.
Moreover, the facility is more than a retail property, as it is integrated with Miyashita Park and the hotel "sequence | MIYASHITA PARK," and will serve as a new "street" in Shibuya with a total length of 330 m where visitors can discover ways of spending time that suit their style and experience the enjoyment of walking around the town whenever they visit. In this role, the street will serve as a hub for the surrounding area that aims to attract Tokyo and the World, and to communicate new cultures.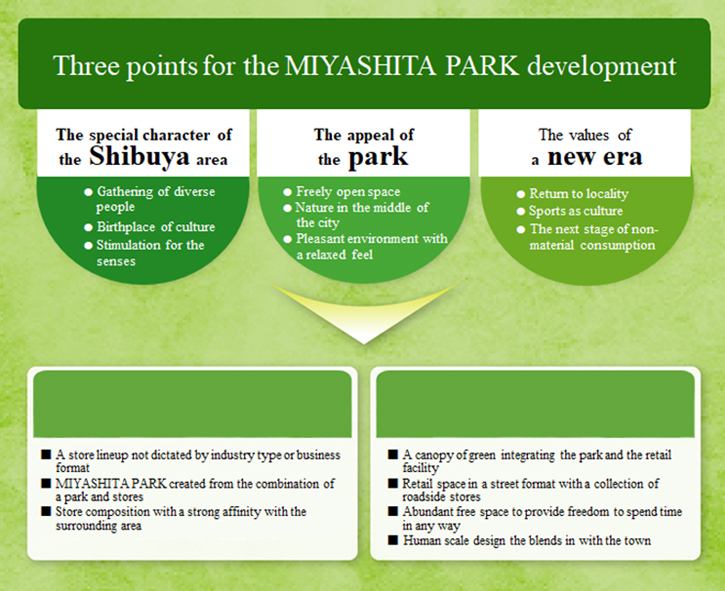 (2) A collection of various stores not dictated by industry type of business format, creating a new "street" in Shibuya
The MIYASHITA PARK retail property aims to be a place where two different elements combine and interact across the entire facility to create new excitement. The elements are "new stimulation and talking points" that are encountered through the gathering of diverse people and "comfort and pleasure" that feel a precious part of nature in an urban setting. The facility is working to attract stores with the merchandising concept of "a four-story park where stimulation meets comfort."
Connecting various fashion and culture areas, such as the area around Shibuya Station which is under redevelopment, Aoyama, Omotesando, Harajuku, and Yoyogi Park, the MIYASHIA PARK retail property has a collection of various stores not dictated by industry type or business format, including six stores debuting in Japan and 31 stores debuting in a retail property. The facility will be born as a new "street" in Shibuya, an area rich in diversity and uniqueness that inspires eras and trends.
Each floor is composed to make use of the pleasant atmosphere of the park and the distinctive character of the surrounding area. The first floor of the South Block is enhanced to communicate the traditional Japanese side street culture more strongly as "Shibuya Yokocho," while the second and third floors feature sports and culture brands with a strong affinity to activities in the park. Meanwhile, the first and second floors of the North Block, which connects with the Harajuku area and Cat Street, have a large number of discriminating fashion brands to provide an enjoyable shopping experience. Combined with supporting hotel use it will satisfy the broad needs of visitors, including inbound tourists.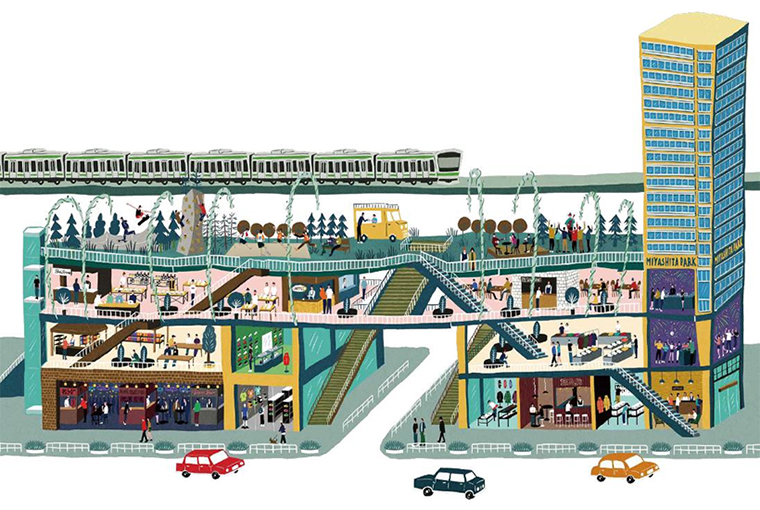 Floor and zoning composition of MIYASHITA PARK for enjoyment of the park
Categories and features of retail property stores
Park and community
Sports brands with a strong affinity with activity that enhance time spent in the park, restaurants to liven up time spent relaxing in the park, and shared offices
Fashion
A new fashion street featuring designer brands opening stores in Japan for the first time, including global luxury brands, and discriminating Japanese brands
Culture
Distinctive specialty stores of Shibuya, which constantly creates and develop new cultures that lead and inspire new subcultures in dance, music, and other areas
Market street
A market that creates activity and excitement at the entrance of the facility with a collection of numerous small stores such as accessory, fashion, food, services, and local souvenir stores
Cafēs and restaurants
A rich variety of cafes and restaurants where park visitors can casually stop by and enjoy a meal or a break
Night entertainment
Night entertainment for a great evening out until late with clubs and side streets that can also meet the needs of overseas visitors
(3) Approximately 90 highly unique stores opening, including 6 stores debuting in Japan and 31 stores debuting in a retail property
■ Park and community
The facility has attracted brands and restaurants that have a strong affinity with Miyashita Park, enabling visitors to further enhance leisure time spent at the park, which features sports activities such as a skating area and a bouldering wall, and along with a plaza with a lawn.
Sports and outdoor brands include, adidas Brand Center, the brand's largest directly managed store in Japan, as well as a well-established skateboard specialty store, instant skateboards, which is popular with a broad sector of skaters from amateur to professional. Other stores opening includes GRIT NATION, which proposes workouts that use the plaza with lawn area, such as yoga and training, as well as the high-protein, low-calorie food restaurant KINNIKU SHOKUDO, which is a favorite among sports lovers. Furthermore, the FOOD HALL on the third floor of the South Block has a collection of casual fast-food stores offering easy take-out food, such as VALUME, through which Coca-Cola Bottlers Japan Inc.
communicates the appeal of Coca-Cola. Meanwhile, in the park, Starbucks Coffee will open an outlet, providing not only shoppers, but various visitors to the park with a place to spend time in comfort.
The first floor of the South Block will be tenanted by Working Styling, the Company's multi-hub-type shared office for corporate clients, proposing a new sense of distance between working time and leisure time. While catering to diverse lifestyles, the facility will also have adjoining space to communicate information that creates new customer contact points.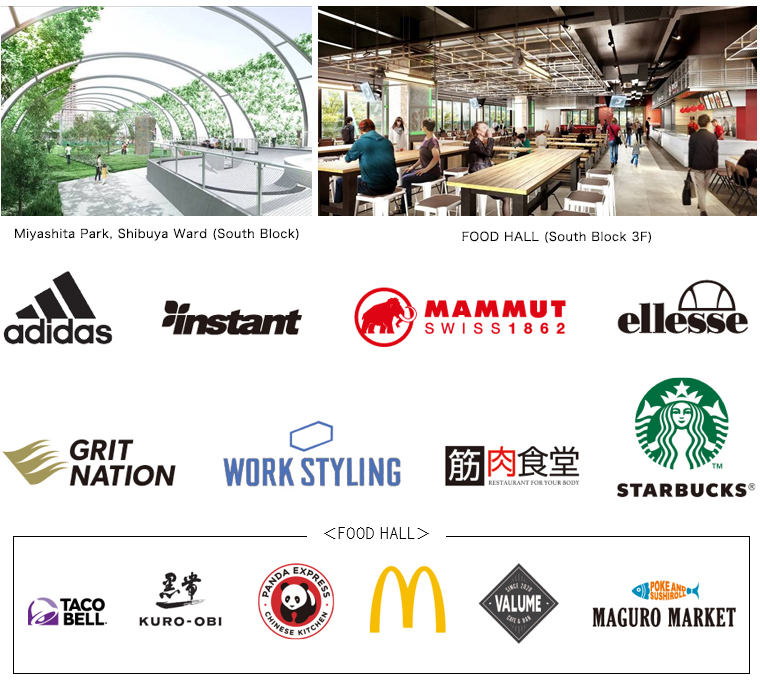 ■ Fashion
MIYASHITA PARK connects with various streets that have created various fashions and cultures through the ages, such as Meiji-dori street, Cat Street, and Fire-dori street. The first floor of the North Block faces onto Meiji-dori, and will feature the world's first LOUIS VUITTON men's flagship store, a GUCCI store offering a full collection over two floors, as well as roadside stores of leading global brands such as BALENCIAGA and PRADA.

The second floor of the North Block and South Block will see openings of the debut Canadian MOOSE KNUCKLES store in Japan, along with retail property debut stores for L'ECHOPPE, Firsthand, and Sukima. Discriminating brand stores by Japanese designers will also open, including SOPH., and wander, and MINOTAUR INST. In this way, MIYASHITA PARK will become a new fashion street connecting the area around Shibuya Station, Harajuku, Omotesando, and so forth.

■ Culture
Shibuya town has long served as a place where diverse people would come together for things that they liked and form communities that created new cultures. The new facility has collected distinctive stores that create a space where spontaneous cultures continue and develop, and were cultures unique to MIYASHITA PARK will be newly generated.
The facility will host stores such as En STUDIO, which operates a dance studio based in the Shibuya area, Face Records, which also collates the selection of the background music for MIYASHITA PARK, the new art platform Sai, and TENROIN Cafē Shibuya, which will host various workshops such as select books and cameras. In addition, ONEO Ltd. which has been responsible for operating the Shibuya Harajuku Fashion Festival and discovering and promoting Shibuya designers, will open EQUALAND SHIBUYA as a new community space.
The legendary culture magazine TOKiON will be revived and open a fashion shop in MIYASHITA PARK
The legendary culture magazine TOKiON that ran from 1996 to 2008 will be revived! TOKiON the STORE will open as a flagship shop in MIYASHITA PARK and serve as a new culture communication point for the Shibuya area including Miyashita Park.


■ Market street
In the second floor area of the South Block, which is on the Shibuya Station side, a market will be opened with numerous small stores, including accessories, fashion, food, services, cafes, and local souvenirs stores, creating a lively entrance to welcome visitors to the town.
Stores opening in the market street include the Kit Kat Chocolatory, where customers can create their own original Kit Kat at the brand's first experience-type store in Japan, HIGHTIDE STORE MIYASHITA PARK, a stationery specialist opening in the Kanto Area for the first time, gram contemporary, an accessory shop making its retail facility debut, HARIO Lampwork Factory, a glass accessory shop, and DENIS MADE IN TOKYO, a men's haircare brand. The area will also feature a number of limited-time pop-up stores, including the plain white T-shirt specialty store #FFFFFFT.zip, opening its first store in a retail facility, and the first Jamba juice stand to open in Japan.

■ Cafes and restaurants
Both the North Block and South Block have a variety of cafes and restaurants located in areas near the access traffic flow to the park on the fourth floor to enhance visitors' enjoyment of leisure time and activities in the park. A host of different cafes and restaurants will open offering a full range of takeout food and drinks, including Bread, Espresso & Machiawase, designed with a concept of serving as a new meet-up spot for Shibuya, and CAFĒ KITSUNĒ, opened by the lifestyle brand, MAISON KITSUNĒ.
Furthermore, on the third floor of the North Block, which offers convenient access to the plaza with lawn, where many people will gather for events and so forth, a restaurant zone with abundant variety will offer easy casual meals to suit every taste, with restaurants including the locally popular Shibuya restaurants Miyashita Naru and Aoyama Shanway, as well as Shibuya Winery, Shibuya's first wine and dining restaurant with an onsite winery, and GRAN SOL TOKYO, the first Japanese branch of a popular restaurant from Saint Sebastian.

■ Night entertainment
MIYASHITA PARK will also feature a full range of night entertainment so that visitors from overseas, who have sharply increased over the past few years, and visitors to Shibuya can also enjoy their evenings during their stay. On the first, second, and third floors of the North Block, directly below the hotel, the culture station or will open, combining a cafē & music bar, art gallery, and a club. In addition, on the first floor of the South Block, the Shibuya Yokocho will feature a variety of 19 restaurants, bars, and other night time venues in a space around 100 m long, which will host various collaborative programs and events, creating excitement in Shibuya town as a new local night spot where many people will gather throughout the day.
or
or will be Japans first complex-type entertainment facility, integrating a club, art gallery, and cafē. The art gallery on the second floor will have a featured artist that changes periodically, starting with the up-and-coming artist Shohei Otomo. The third floor is the main floor, which will feature globally active DJs to provide an experience of authentic sounds and powerful illumination. The cafē on the first floor will open from 8:00 am to 8:00 pm, serving breakfast and lunch.
Club time on all floors will be from 8:00 pm to 5:00 am.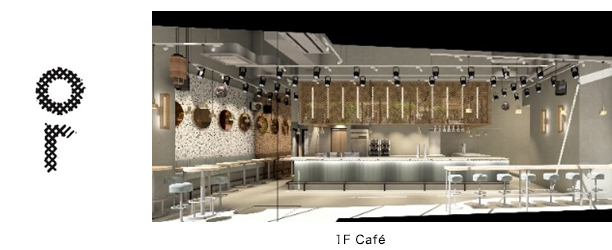 Shibuya Yokocho
This new entertainment spot in Shibuya will be operated by HAMAKURA PRODUCE INC., which worked on Ebisu Yokocho, which originally sparked a surge in popularity of the Yokocho (side-street) format. The area will include various content, such as an array of restaurants using carefully selected ingredients sourced from areas around Japan to serve local soul food and a restaurant serving traditional dishes eaten by sumo wrestlers operated by a former wrestler. There are also collaborations using anime and 2.5 D musicals, as well as bars run by local proprietresses, and performances by enka singers and DJs. With its 19 stores, the Yokocho will operate all day, every day, as Shibuya's information communication hub.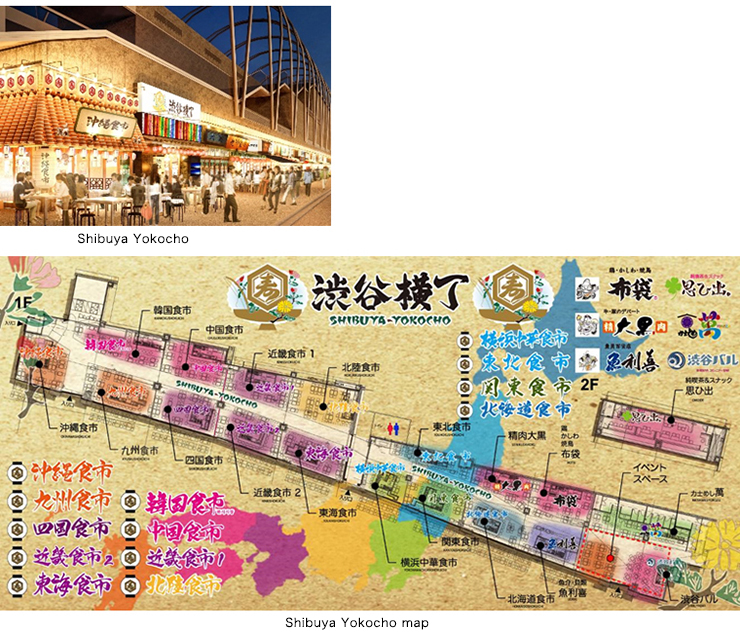 (4) PARK STYLE design allows visitors to enjoy the pleasure of the park while spending their time freely
MIYASHITA PARK is designed to appear as a four-story park covering the entire city block, receiving stimulation from the bustle of the town while providing a human-scale space where the pleasure of a park can be felt everywhere. A canopy of green envelops the entire retail property, developing a deep green color with the passage of time, growing more elegant with age while presenting the atmosphere of a forest walking path where the natural wind and greenery can be felt. For the green canopy, different plants such as creepers and jasmine have been used appropriately in consideration of the differences in sunshine hours depending on direction. This design enables the plants develop strong roots throughout the year to create a growing environment, while in summer they block an appropriate amount of sunlight to provide a sense of coolness to the entire park.

In the South Block, the facility has an indoor mall section that is designed to evoke a market where diverse brands are gathered, while the North Block has adopted an outdoor mall format that connects to the bustle of Meiji-dori street. The approximately 330 m street has an expansive design, with wide cutaways and numerous sitting areas for a relaxing atmosphere. This design provides the comfort of a completely weatherproof retail property and the pleasure and enjoyment of walking around town or in a park.
Twenty four escalators and seven elevators will provide access to Miyashita Park on the roof, supporting stress-free, easy use of the facility.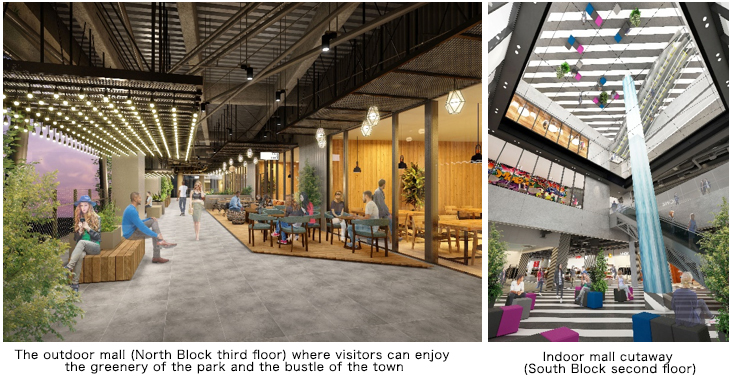 In conjunction with the opening of MIYASHITA PARK, the pedestrian bridge over Jingu-dori street that connects with the North Block will be upgraded to a pedestrian network, and the corridor connecting Shibuya Station to the South Block will also be upgraded, while the two pedestrian bridges on Meiji-dori street will be connected directly. These upgrades will support smooth access for visitors to the park and the building. In addition, the pay-by-time car park, motorcycle park, and bicycle park facility will be upgraded as before and repositioned to help improve circulation around MIYASHITA PARK, which will become the hub.


Image of MIYASHITA PARK access improvements
MIYASHITA PARK plan overview
City block name
MIYASHITA PARK
Location (lot number)
6-20 Jingumae, Shibuya-ku, Tokyo
Access
3 minutes' walk from Shibuya Station on the JR Yamanote Line, Saikyo Line, Shonan-Shinjuku Line, Tokyo Metro Hanzomon Line, Ginza Line, Fukutoshin Line, Tokyu Toyoko Line, Denentoshi Line, and Keio Inokashira Line
Scheduled completion date
April 30, 2020 (Thursday)
Opening
June 18, 2020 (Thursday)
Project owner
Mitsui Fudosan Co., Ltd.
Operator
Park
Retail property
Hotel
Miyashita Park Partners
Mitsui Fudosan Retail Management Co., Ltd.
Mitsui Fudosan Hotel Management Co., Ltd.
Project architect
Nikken Sekkei Ltd
Design and construction
Takenaka Corporation
Structure scale
Shibuya Ward park

Retail building


South Block
(steel structure) 1F-4F with floor area of 127,509 ft2 (11,846 m2), excluding parking lot, bicycle parking lot, etc.
North Block

(steel, steel reinforced concrete and reinforced concrete structure) B1-3F with floor area of 129,360 ft2 (12,018 m2), excluding parking lot
Hotel building
4-18F (240 guest rooms)
Parking lot
Capacity
375 spaces (97 in South Block and 278 in North Block; of which 243 spaces are provided as required by the City Planning Act)
Length
Approximately 330 m
Site area
115,604 ft2 (approx.10,740 m2)
Total floor area
495,139 ft2 (approx. 46,000 m2)
Map