Scaling Up to Approximately 310 Stores to Become One of Taiwan's Largest Outlet Malls
Mitsui Fudosan Decides to Commence the Phase 2 Development Plan for MITSUI OUTLET PARK LINKOU
Approximately 90 Stores Scheduled to Open in Phase 2 in 2024
March 24, 2020
Mitsui Fudosan Co., Ltd.
Tokyo, Japan, March 24, 2020—Mitsui Fudosan Co., Ltd., a leading global real estate company headquartered in Tokyo, announced today that it has decided to commence the Phase 2 development plan for MITSUI OUTLET PARK LINKOU. This expansion will increase the number of stores from around 220 at present to around 310, driving the evolution of the property into one of Taiwan's largest outlet mall.
This property enjoys a highly accessible location, situated about 30 minutes' drive from central Taipei, about 20 minutes' drive from Taoyuan International Airport and about 5 minutes' walk from the MRT Linkou Station. Since it opened in January 2016, the shopping mall has attracted a large number of visitors centered on customers from northern Taiwan, including the local Linkou area. It serves as an outlet mall featuring a diverse range of merchants, from outlet stores to restaurants, food courts, a cinema complex, and a luxury supermarket. Sales at the property have increased steadily every year. Through this expansion, Mitsui Fudosan seeks to develop an attractive shopping mall which will attract more customers.
Mitsui Fudosan had submitted a tender for the planned Phase 2 site through the Linkou Media Park Request for Tender, which was carried out in December 2019. In the process, Mitsuifudosan was selected as the most successful bidder for the planned site. Accordingly, Mitsui Fudosan has concluded an investment agreement with the New Taipei City government through Sanxin 2 Outlet Co., Ltd. (三新二奥特斯股份有限公司), the project company for the Phase 2 development.
Looking at the composition of stores for Phase 2, Mitsui Fudosan will seek to attract outlet stores primarily for international and Japanese brands, along with upgrading and expanding the lineup of eateries, for which there is strong demand from customers and employees expected to work at Linkou Media Park in the future. The introduction of large specialty stores and entertainment facilities will also be considered as part of efforts to add even more energy and excitement to this area
Currently, Mitsui Fudosan is carrying out the outlet mall business at three properties in Taiwan. Together with LaLaport properties, Mitsui Fudosan operates five retail properties in Taiwan (ten properties throughout Asia, including Malaysia and China). The Mitsui Fudosan Group will maximize the expertise it has cultivated in the course of developing, leasing, and operating over 100 retail properties in Japan and throughout the world, and will focus on further expanding its overseas business going forward.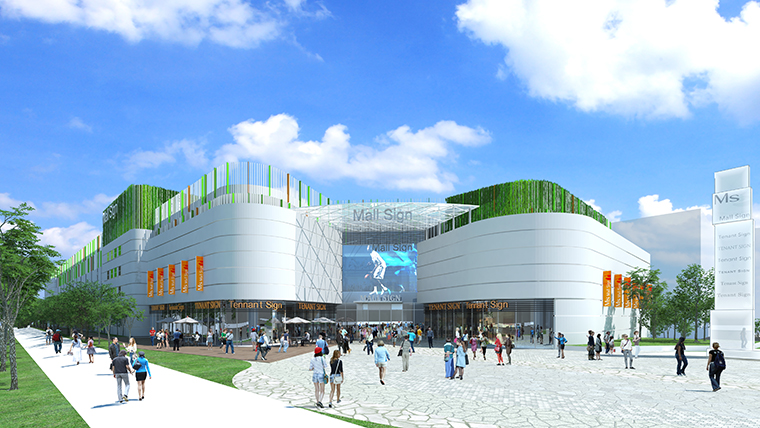 Prospective rendering of the MITSUI OUTLET PARK LINKOU Phase 2 development plan
Property Overview
Location
No. 386, 387, 388, Jianlin Duan, Linkou Dist., New Taipei City, Taiwan
Access
Approx. 30 minutes' drive from central Taipei
Approx. 20 minutes' drive from Taoyuan International Airport
Five minutes' walk from MRT Linkou Station
Project developer
Phase 1
Sanxin Outlets Co., Ltd.
(Ownership: Mitsui Fudosan Co., Ltd. 70%; Farglory Land Development Co., Ltd. 30%)

Phase 2
Sanxin 2 Outlet Co., Ltd.
(Share of business: Mitsui Fudosan Co., Ltd. 100%)
Business format
Multi-use retail properties including factory outlet malls
Phase 1
Phase 2
Total for phases 1 and 2
Site area
Approx. 724,841 ft2 (approx. 67,340 m2)
Approx. 300,528 ft2 (approx. 27,920 m2)
Approx. 1,025,370 ft2 (approx. 95,260 m2)
Total floor area
Approx. 1,513,190 ft2 (approx. 140,580 m2)
Approx. 976,824 ft2 (approx. 90,750 m2)
Approx. 2,490,015 ft2 (approx. 231,330 m2)
Store floor space
Approx. 484,375 ft2 (approx. 45,000 m2)
Approx. 294,823 ft2 (approx. 27,390 m2)
Approx. 785,012 ft2 (approx. 72,930 m2)
Number of stores
Approx. 220
Approx. 90
Approx. 310
Schedule
January 27, 2016 Phase 1 opening
2021 Phase 2 construction start (planned)
2024 Phase 2 opening (planned)
Mitsui Fudosan's Overseas Strategy
One of the aspirations of VISION 2025, the Mitsui Fudosan Group's long-term management policy, is "to evolve into a global company." Accordingly, the Group will continue to seek robust growth in the overseas business. Mitsui Fudosan has been conducting business in countries and regions in Asia, in addition to the US and the UK. In the retail property business, the Group has been promoting the outlet mall business in Kuala Lumpur and Taiwan, and the LaLaport business in Shanghai, Kuala Lumpur, and Taiwan. In addition, the Group has been pushing ahead with the housing business in Singapore, Thailand, Malaysia, Indonesia, the Philippines, China and Taiwan. The Group has also been conducting the hotel business in Taiwan, the logistics facilities business in Thailand, and the office buildings business in India. In these and other ways, the Group has been actively pursuing business in fast-growing Asia with the view of capturing growing consumer spending and expanding profits at the earliest opportunity in conjunction with contributing to local communities. Going forward, the Group will continue aiming to expand its businesses further.
The Mitsui Fudosan Group's Business in Taiwan
In 2016, the Mitsui Fudosan Group established Mitsui Fudosan Taiwan Co., Ltd., a subsidiary in Taiwan, as an investment base. The Group is developing nine properties in Taiwan, including retail properties, hotels, and housing, and plans to expand the business into logistics facilities and mixed-use developments going forward.
Main purposes
Location
Property name
Opening / Completion of construction
Outlet park
Linkou District, New Taipei City
MITSUI OUTLET PARK LINKOU
January 2016
Wuqi District, Taichung
MITSUI OUTLET PARK TAICHUNG PORT
December 2018
Gueiren District, Tainan
MITSUI OUTLET PARK TAINAN (tentative name)
2022 (planned)
Regional shopping center
Nangang District, Taipei
Mitsui Shopping Park LaLaport NANGANG (tentative name)
2022 (planned)
East District, Taichung
Mitsui Shopping Park LaLaport TAICHUNG (tentative name)
2023 (planned)
Hotel
Da'an District, Taipei
Zhongxiao Xinsheng Hotel (tentative name)
2020 (planned)
Zhongzheng District, Taipei
Zhongshan Zhongxiao Hotel (tentative name)
2022 (planned)
Songshan District, Taipei
Dunhua North Road Hotel (tentative name)
2024 (planned)
Housing
Sanchong District, New Taipei City
Sansong MPARK
2021 (planned)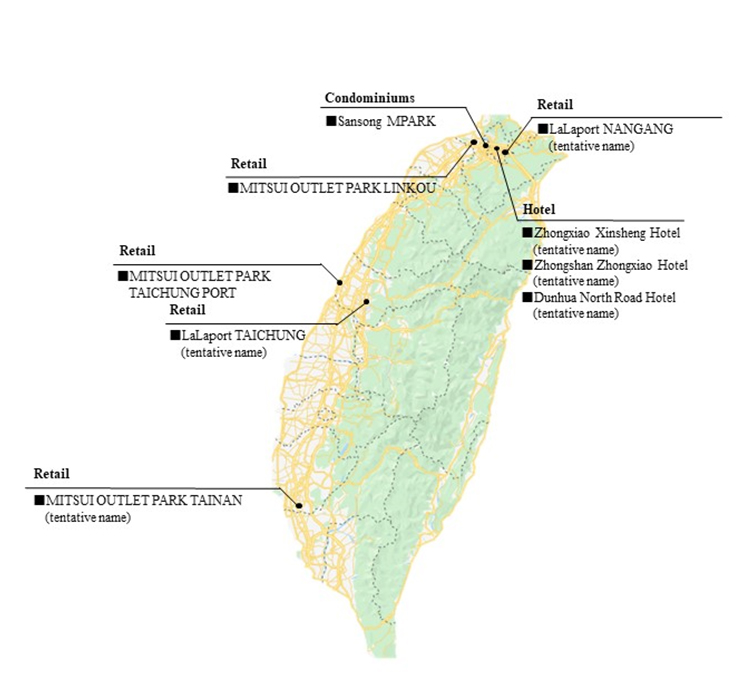 Location Map
Regional map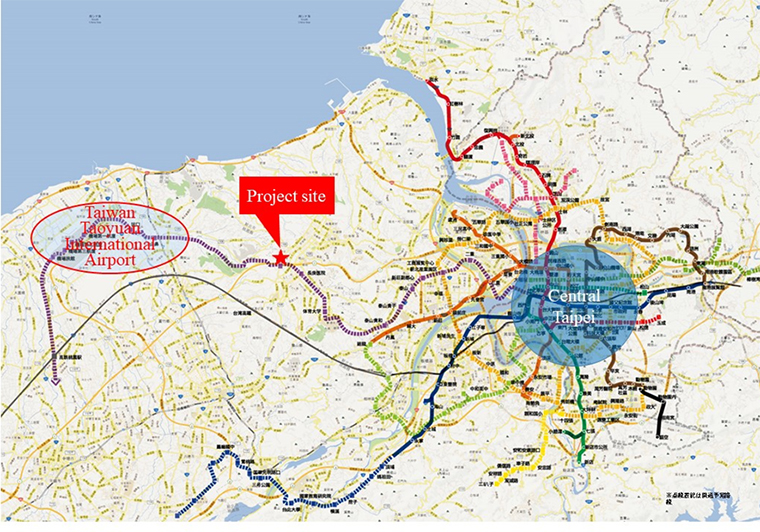 Local area map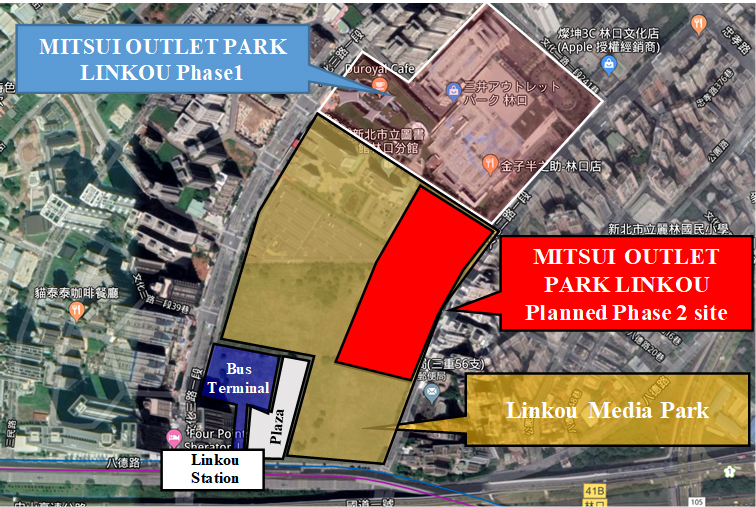 Mitsui Fudosan's Properties Overseas
Country/Region
Property
Opening year
Number of stores(approx.)
Storefloor space(approx.)
China
Shanjing Outlet Plaza-Ningbo
Phase 1: 2011
Phase 2: 2015
Phase 3: 2019
250
Approx. 538,195ft2
(approx. 50,000m2)
Mitsui Shopping Park LaLaport Shanghai Jinqiao(tentative name)
2020 (planned)
200
Approx. 645,834ft2
(approx. 60,000m2)
Lianhua Road Station Building Retail Facilities (tentative name)
2021 (planned)
90
Approx. 177,604ft2
(approx. 16,500m2)
Taiwan
MITSUI OUTRET PARK LINKOU
2016
220
Approx. 484,375ft2
(approx. 45,000m2)
MITSUI OUTRET PARK TAICHUNG PORT
December 2018
170
Approx. 376,736ft2
(approx. 35,000m2)
Mitsui Shopping Park LaLaport NANGANG (tentative name)
2022(planned)
250
Approx. 753,473ft2
(approx. 70,000m2)
MITSUI OUTRET PARK TAINAN (tentative name)
Phase 1: 2022 (planned)
160
Approx. 355,209ft2
(approx. 33,000m2)
Phase 2: 2025 (planned)
60
Approx. 123,785ft2
(approx. 11,500m2)
Mitsui Shopping Park LaLaport TAICHUNG (tentative name)
2023 (planned)
250
Approx. 721,182ft2
(approx. 67,000m2)
Malaysia
MITSUI OUTRET PARK KLIA SEPANG
Phase 1: 2015
130
Approx. 258,333ft2
(approx. 24,000m2)
Phase 2: 2018
70
Approx. 106,562ft2
(approx. 9,900m2)
Phase 3: 2021 (planned)
50
Approx. 108,715ft2
(approx. 10,100m2)
Mitsui Shopping Park LaLaport KUALA LUMPUR(tentative name)
2021 (planned)
300
Approx. 889,099ft2
(approx. 82,600m2)
Total
10 properties
2,200
Approx. 5,539,108ft2
(approx. 514,600m2)