Located in the Toyosu Bayside Cross Area Large-Scale Development Linked Directly to Toyosu Station
Mitsui Fudosan Completed the Construction of Toyosu Bayside Cross Tower
March 31, 2020
Mitsui Fudosan Co., Ltd.
* To prevent further spread of COVID-19, the scaled-up opening of Mitsui Shopping Park Urban Dock LaLaport Toyosu (Toyosu Bayside Cross Tower) has been postponed. The alter schedule will be announced on its official website at a later date.
Tokyo, Japan, March 31, 2020—Mitsui Fudosan Co., Ltd., a leading global real estate company headquartered in Tokyo, announced that today it completed the construction of Toyosu Bayside Cross Tower, which will form the core of the Toyosu Bayside Cross advanced in the Toyosu 2-Chome Station Area with cooperation from the owner of the project site, IHI Corporation.
Toyosu Bayside Cross is part of the large-scale development in Toyosu 2-chome and 3-chome that started in the 1980s. In collaboration with IHI, Mitsui Fudosan has built the Toyosu Park Bridge to adjacent Toyosu Park and established a pedestrian deck directly linking to Mitsui Shopping Park Urban Dock LaLaport TOYOSU 1 (LaLaport TOYOSU 1), further realizing a horizontal, mixed-use facility by forming a network with the surrounding area and making it easier to get around.
Toyosu Bayside Cross Tower, which was completed today, will meet the wide ranging needs of diverse people; it is a mixed-use development including an office zone equipped with state-of-the-art functions, a retail zone with a rich variety of shops, a hotel capable of serving guests ranging from business people to tourists and an energy center supporting safety and security. LaLaport TOYOSU 3, with 1 floor below ground and 4 floors above, will open with a total of 36 stores on Friday, April 24, 2020. Combined with LaLaport TOYOSU 1 and 2, the total number of stores will scale up to 214. In addition, 33F–36F will be used by Mitsui Garden Hotel Toyosu Bayside Cross, which will open on Wednesday, July 1, 2020.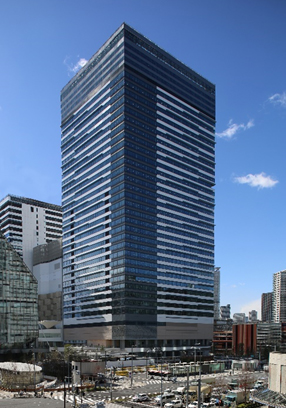 External view of Toyosu Bayside Cross Tower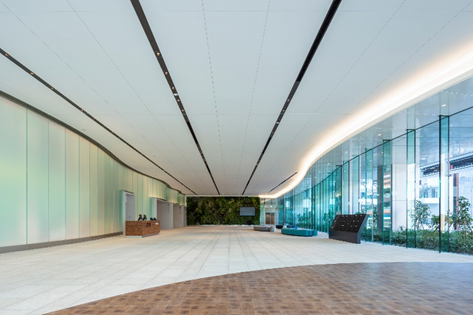 2F Entrance for offices
Largest Redevelopment Project in the Toyosu Area Featuring Offices, Retail Facilities, and a Hotel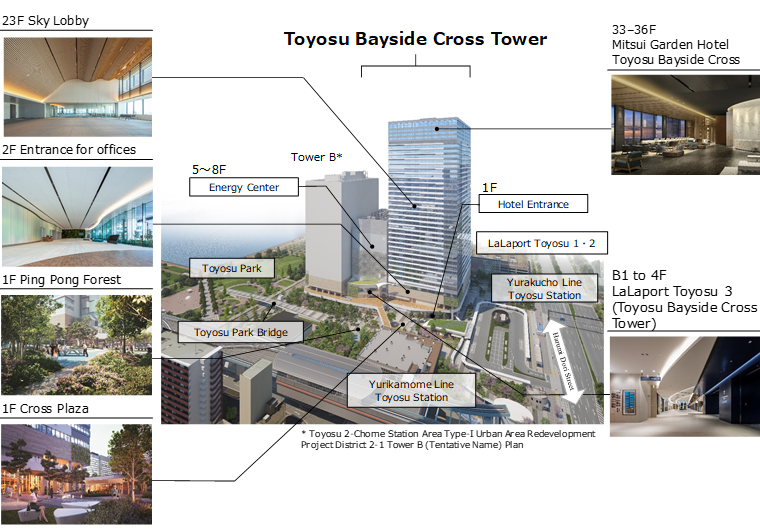 Toyosu Bayside Cross Tower offices will incorporate ICT and have large-scale floor plates with standard floor areas of approx. 3,300 m2, supporting working styles that suit various scenarios inherent of a diverse society.
"+C" (said "plus cross"), a shared facility with a concentration booth, relaxation room, mini gym that can be used as a running station, shower room, lounge, and conference rooms for hire, has been built to enhance office workers' productivity and efficiency. The tower has reached full occupancy, with tenants including the TIS INTEC Group and Fuji Xerox Co., Ltd. Toyosu will become an even more attractive neighborhood with the entry of globally leading companies that are a driving force for Japan.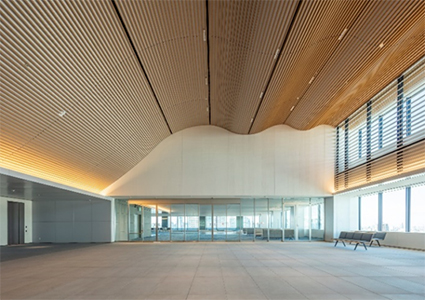 23F Sky Lobby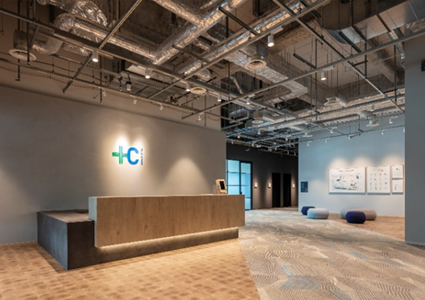 3F +C Lounge
On the 5th to 8th floors of Toyosu Bayside Cross Tower, the Toyosu Energy Center, a smart energy project, is jointly installed by Tokyo Gas Co., Ltd. and Mitsui Fudosan for Mitsuifudosan TG Smart Energy Co., Ltd. to supply the development area and the Toyosu Center Building outside the development area. The center was completed on Tuesday, March 31, 2020, and will begin operation from Wednesday, April 1, 2020. (This will be the second "designated power transmission project*" for Mitsui Fudosan involving power transmission and distribution outside of the redevelopment zone, following the Nihonbashi area.)
The center provides power centered around a cogeneration system (CGS) where gas is used to fuel electricity and heat and uses moderate pressure gas electricity generation, which has proved to be highly durable in earthquakes, and therefore able to supply a certain level of electricity and heat even during grid power outages.
* Designated power transmission project refers to entities that maintain and operate their own power electricity plants for transmission and distribution of electricity to conduct a retail supply or retail electricity business for a designated supply point.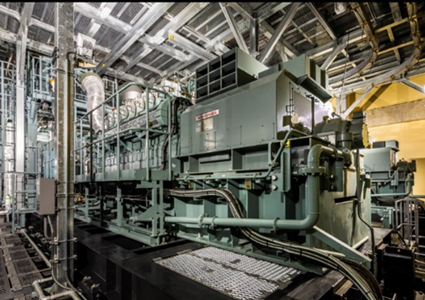 CGS, 8F, Toyosu Energy Center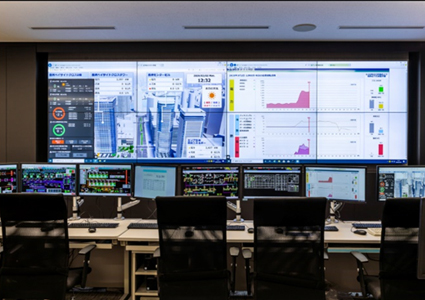 Central Control Room, 5F, Toyosu Energy Center
In addition to the supply of electricity and heat from this energy center, Toyosu Bayside Cross Tower is also equipped with oil-powered emergency generators and enough fuel for 72 hours of power, so that the building can maintain power, even if the power and moderate pressure gas system were to stop. Furthermore, measures have been taken to strengthen functions for accommodating those unable to return home in an emergency, with a 2,600 m2 space prepared and equipped with Wi-Fi, power to recharge batteries and three days' worth of supplies such as water, food, simple toiletries and emergency blankets for about 1,500 people. The building provides safety and security through support for business continuity planning (BCP) functions, assistance for those unable to return home following a disaster, and installed seismic resistant systems.
Moreover, to lighten its load on the environment, Toyosu Bayside Cross Tower has installed solar power generators and built green walls and a green rooftop, in addition to setting aside a greenery space of approx. 4,280 m2 within the site. It also uses such means as a district heating/cooling facility to achieve a Perimeter Annual Load (stage 3)* and Energy Reduction Ratio (stage 3)* under the Tokyo Metropolitan Government's Green Building Program and Comprehensive Assessment System for Built Environment Efficiency A-RANK self-evaluation.
* As of the start of construction
LaLaport TOYOSU 3 will open B1F–4F on Friday, April 24, 2020. In tandem with the adjacent LaLaport TOYOSU 1 and 2, of which the stores have reopened in succession from Wednesday, March 18, 2020 following a large-scale renovation, the facility will have 214 stores, increasing in scale to meet the pace of growth in the neighborhood and the increasing diversity of Toyosu's needs. Mitsui Garden Hotel Toyosu Bayside Cross will open on Wednesday, July 1, 2020 on 33F–36F. The hotel offers sights and tastes unique to the Toyosu area, such as the wonderful views of Tokyo from shared spaces such as the lobby or large bath and an Italian restaurant using ingredients sourced from the Toyosu Fish Market.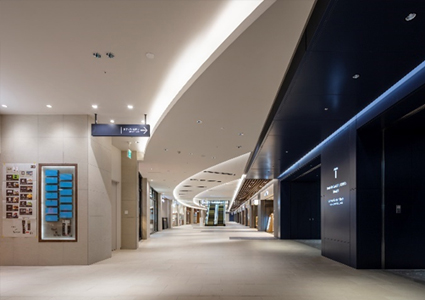 LaLaport TOYOSU 3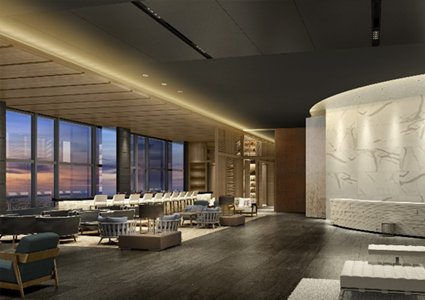 Mitsui Garden Hotel Toyosu Bayside Cross 36F lobby (illustration of completed lobby)
Outline of Toyosu Bayside Cross
Project name
Toyosu 2-Chome Station Area Type-I Urban Area Redevelopment Project District 2-1 (Tentative Name)
Construction representative
Mitsui Fudosan Co., Ltd.
Location
2-1 Toyosu 2-Chome, Koto-ku, Tokyo
Main purposes
Offices, retail stores (sales, restaurants), hotel, parking space, bicycle parking, energy supply facilities
Site area
District 2-1 site: approx. 27,800 m2
Schedule
Start of construction on Toyosu Bayside Cross Tower
December 1, 2016
Start construction on Tower B*
January 18, 2018
Completion of construction on Toyosu Bayside Cross Tower
Scheduled for March 31, 2020
Scale up opening of LaLaport Toyosu
Scheduled for April 24, 2020
Opening of Mitsui Garden Hotel Toyosu Bayside Cross
Scheduled for July 1, 2020
Completion of construction on Tower B*
Scheduled for October 2020
* Toyosu 2-Chome Station Area Type-I Urban Area Redevelopment Project District 2-1 Tower B (Tentative Name) Plan
Overview of Toyosu Bayside Cross Tower
| | |
| --- | --- |
| Access | Directly linked to Toyosu Station on the Tokyo Metro Yurakucho Line and Yurikamome Line |
| Site area | Toyosu Bayside Cross Tower site inside district 2-1: approx. 19,100 m2 |
| Floor space | Toyosu Bayside Cross Tower: approx. 184,800 m2 |
| No. of floors/height | Toyosu Bayside Cross Tower: 36 floors above ground and 2 below/approx. 177 m |
| Urban development/ Basic plan/ Supervision | Nikken Sekkei Ltd. |
| Design and construction | Taisei Corporation |
| Design supervisor | Jun Mitsui & Associates Inc. Architects |
Facility Overview of Mitsui Shopping Park Urban Dock LaLaport TOYOSU 1 & 2
| | |
| --- | --- |
| Location | 4-9 Toyosu 2-Chome, Koto-ku, Tokyo |
| Floor space | Approx. 60,000 m2 |
| No. of floors | 5 floors above ground and 1 below |
| No. of stores | 178 |
| Date of opening | October 5, 2006 |
Facility Overview of Mitsui Shopping Park Urban Dock LaLaport TOYOSU 3 (Toyosu Bayside Cross Tower)
| | |
| --- | --- |
| Location | 2-1 Toyosu 2-Chome, Koto-ku, Tokyo (Toyosu Bayside Cross Tower) |
| Store floor area | Approx. 7,000 m2 |
| No. of floors | 4 floors above ground and 1 below |
| No. of stores | 36 |
Facility Overview of Mitsui Garden Hotel Toyosu Bayside Cross