- Expanding to Become One of Central Taiwan's Largest Full-Fledged Outlet Malls -
Grand Opening of Phase 2 Development Plan for
MITSUI OUTLET PARK TAICHUNG PORT on December 16
Expanding by approximately 50 stores to approximately 220 stores
November 4, 2021
Mitsui Fudosan Co., Ltd.
Tokyo, Japan, November 4, 2020 Mitsui Fudosan Co., Ltd., a leading global real estate company headquartered in Tokyo, announced today that it has been proceeding with the Phase 2 development plan for MITSUI OUTLET PARK TAICHUNG PORT through project company SAN ZHONG GANG OUTLET CO., LTD.* and has decided to hold the grand opening on December 16, 2021.
Phase 1 of the facility opened in 2018, and since then it has been patronized by many customers. Even during the COVID-19 pandemic since last year, the facility has continued to operate without suspending business for even one day by implementing infection countermeasures under the guidance of the Taiwan authorities. The new Phase 2 development plan will add approximately 50 new stores, as the facility evolves into one of central Taiwan's largest full-fledged outlet malls with approximately 220 stores.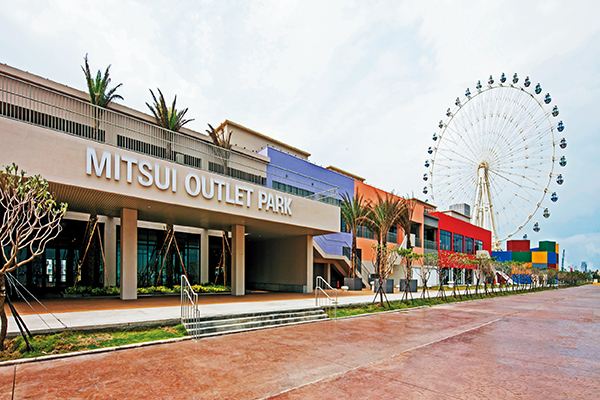 Exterior photograph of Phase 1
Under the Phase 2 development plan, the facility will feature a wide range of brands and product categories, including food and casual dining, with a central focus on enhancing the lineup of international brands and Japanese select shops to reflect the requests of customers. In the existing Phase 1 development area also, an even more expansive store lineup will be created with the renovation and expansion of luxury brand stores and the opening of popular restaurants.
* About SAN ZHONG GANG OUTLET CO., LTD. SAN ZHONG GANG OUTLET CO., LTD. is a wholly owned project company established by Mitsui Fudosan Taiwan Co., Ltd. to advance this project.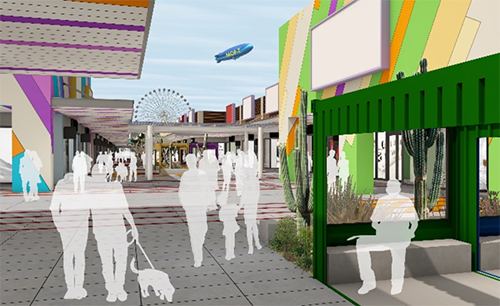 Perspective drawing of outside street of Phase 2
(1) Store composition
Under the Phase 2 development plan, approximately 50 new stores will open, including 9 stores opening in an outlet mall in Taiwan for the first time.
International brands including Taiwan debut stores such as Abercrombie & Fitch, HOLLISTER, as well as GAP, will be accompanied by an expansion of the Japanese select shop zone with BEAMS and UNITED ARROWS, among others.
The range of lifestyle brand stores will also be increased with Logitech and LE CREUSET.
Further enhancement to the area that opened with Phase 1 will include further expansion of the luxury and cosmetic zone with MICHAEL KORS, HUGO BOSS, and ESTEE LAUDER Group combination cosmetics shop, "The Cosmetics Company Store."

 (2) Building design and design features
The facility theme from the opening of Phase 1, "ENJOY THE VOYAGE OF STYLE", will be continued, taking the motif of shipping containers at a seaport to develop an even more expansive and open mall with a more colorful building than Phase 1.
Additional solar photovoltaic panels will be installed on the roof of the Phase 2 building in consideration of the environment (Approximately 7 megawatts of capacity together with the solar photovoltaic panels installed on the Phase 1 section, equivalent to approximately 30% of the electricity consumption of Phases 1 and 2).

Perspective drawing of the outside wall of the Phase 2
(3) New services and events, etc.
A free shuttle service will be launched to link the facility with the Gaomei Wetlands, a popular sightseeing spot in the central Taiwan area, and the nearest station, Shalu Station (conventional train line).
Expanded introduction of meal home delivery services such as Uber Eats and foodpanda to meet growing demand for eating at home.
Use of outdoor plaza adjacent to the port to hold large-scale events using projection mapping.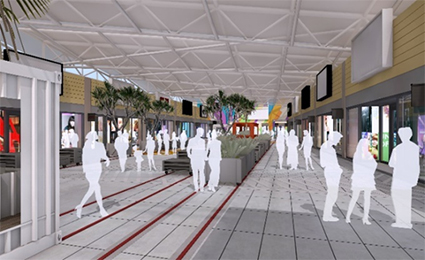 Perspective drawing of Phase 2 street
(under the large roof)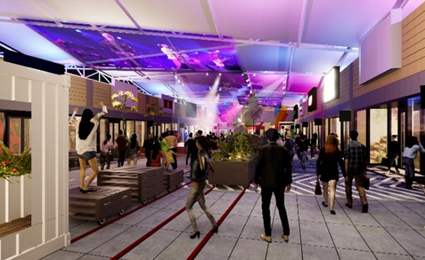 Perspective drawing of Phase 2 street
(under the large roof)
(Image of the scene during an event)
Mitsui Fudosan's Overseas Strategy
One of the aspirations of VISION 2025, the Mitsui Fudosan Group's long-term management policy, is "to evolve into a global company." Accordingly, the Group will continue to seek robust growth in the overseas business. Mitsui Fudosan has been conducting business in countries and regions in Asia, in addition to the Western countries such as the US and the UK. In the retail property business, the Group has been promoting the outlet mall business in Kuala Lumpur and cities in Taiwan, and the LaLaport business in Shanghai, Kuala Lumpur, and cities in Taiwan. In addition, the Group has been pushing ahead with the housing business in Singapore, Thailand, China, and cities in other Asian countries. The Group has also been conducting the hotel business in Taipei, the logistics facilities business near Bangkok, and the office buildings business in Bangalore, India. In these and other ways, the Group has been actively pursuing business in fast-growing Asia with the view of capturing growing consumer spending and expanding profits at the earliest opportunity in conjunction with contributing to local communities. Going forward, the Group will continue aiming to expand its businesses further.
Project Overview
Location
Section 10, Taiwan Boulevard, Wuqi District, Taichung City, Taiwan
Access
Approx. 22 kilometers from the center of the city using Taiwan Boulevard, the main arterial road (approx. 45 minutes by car)
Approx. 8 kilometers from Shalu Interchange on National Highway No. 3, the main arterial road running north to south through Taiwan
Project developer
/ Operations management
SAN ZHONG GANG OUTLET CO., LTD.
Business format
Factory outlet mall
Site area
Approx. 1,937,504 ft2
(approx. 180,000 m2)
Phase 1
Phase 2
Total of Phase 1 and Phase 2
Total floor area
Approx. 645,835 ft2
(approx. 60,000 m2)
Approx. 139,930 ft2
(approx. 13,000 m2)
Approx. 785,765 ft2
(approx. 73,000 m2)
Store floor area
Approx. 376,736 ft2
(approx. 35,000 m2)
Approx. 86,111 ft2
(approx. 8,000 m2)
Approx. 462,848 ft2
(approx. 43,000 m2)
Structure and scale
Reinforced concrete
structure 1 floor above
ground (2 floors in parts)
Reinforced concrete
structure 1 floor
above ground
Opening
December 12, 2018
December 16, 2021
Number of stores
Approx. 170
Approx. 50
Approx. 220
Building environmental design
MIX STUDIO WORKS
Landscape design
EARTHSCAPE INC.
Architect
TMA Architects & Associates
Construction
Reiju Construction Co., Ltd.
Mitsui Fudosan Group's Contribution to SDGs
https://www.mitsuifudosan.co.jp/english/corporate/esg_csr/
The Mitsui Fudosan Group aims for a society that enriches both people and the planet under the principles of coexist in harmony with society, link diverse values and achieve a sustainable society, and advances business with an awareness of the environment (E), society (S) and governance (G), thus promoting ESG management. By further accelerating its ESG management, the Group will realize Society 5.0, which the Japanese government has been advocating, and contribute significantly to achieving the SDGs.
* The initiatives covered in this press release are contributing to two of the UN's SDGs.
| | |
| --- | --- |
| Goal 7 | Affordable and Clean Energy |
| Goal 11 | Sustainable Cities and Communities |