Mitsui Outlet Park KLIA Sepang
The Opening of Phase 3 Expansion on 24 April 2022 (Sunday)
April 22, 2022
Mitsui Fudosan Co., Ltd.
MFMA DEVELOPMENT SDN. BHD., the joint venture of Mitsui Fudosan Co., Ltd. (Address: Tokyo, Chuo district, President and Chief Executive Officer, Masanobu Komoda) and MALAYSIA AIRPORTS HOLDINGS BHD. (hereinafter, "MAHB") will be expecting the opening of Mitsui Outlet Park KLIA Sepang (hereinafter, "MOP KLIA SEPANG") Phase 3 expansion on 24 April 2022 (Sunday).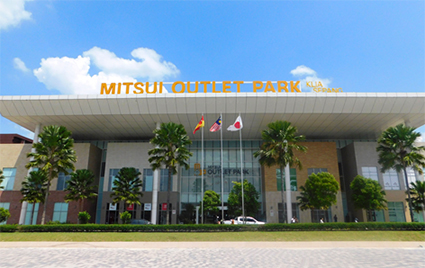 MOP KLIA SEPANG Exterior View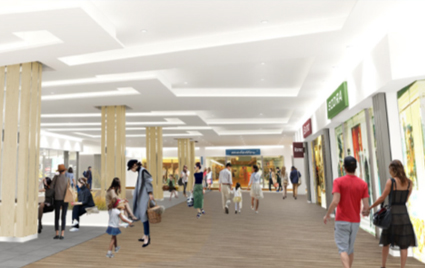 MOP KLIA SEPANG Phase 3 Interior Illustration
In May 2015, the facility is the first fullscale outlet mall in Kuala Lumpur to launch in the premise of Kuala Lumpur International Airport (hereinafter, "KLIA"). With the Phase 2 expansion that was opened in December 2017, the business has been steadily growing despite the outbreak of COVID-19 in 2020, the facility has housed several popular luxury brands, foreseeing a continuous growth in its business.
In the Phase 3 expansion, the well-known sports brand opened in Phase 1 and Phase 2 areas of the MOP KLIA SEPANG such as Adidas, Nike and PUMA will be relocated and expanded to the new areas in Phase 3. Adidas and PUMA will become one of the largest outlets to open in Southeast Asia, while Nike will introduce Malaysia's first concept store in this expansion. This marks the beginning of Malaysia's trendiest sports zone on record in MOP KLIA SEPANG. Furthermore, the biggest home appliances chain store in Malaysia, Singapore and Southeast Asia, COURTS and the local-favorite kitchen and home goods store, Objet will be one of the additions to the home appliance and goods category which is worth the hype as well. Customers can now enjoy shopping from their favorite brands in one of the biggest factory outlet malls in Southeast Asia.
Summary Points
Mitsui Outlet Park KLIA Sepang Phase 3 expansion to be opening on 24th April 2022.
Adidas, Nike and PUMA will be relocated to the Phase 3 areas, creating the trendiest sports zone in Malaysia.
Relocation of sports stores, expansion and more home appliances and home goods will open, transforming MOP KLIA into one of the biggest factory outlet malls in Southeast Asia.
Relocated/New Stores
< Relocated Stores >
Adidas designs some of the best performance-driven sportswear and sport-inspired fashion favoured by athletes globally.
The brand's largest factory outlet in Southeast Asia is now open at Mitsui Outlet Park, bringing a wide range of innovative sporting goods from shoes, apparel, and accessories to shoppers.
Nike Factory Store is now Nike Unite KLIA! Our new concept store at Mitsui Outlet Park reflects the heart and soul of the community – celebrating everything local from the landmarks to hometown athletes. With all your favorite gear, we're making it easy for your families to stay active. This is your home court bringing you closer to sport and to one another.
With thousands of stores across Southeast Asia, this highly fashioned sports brand, PUMA has launched a concept store by incorporating sports and lifestyle by showcasing a line-up of fashionable footwear, apparel and accessories.
< New Stores >
| | | |
| --- | --- | --- |
| | Objet is the ideal place to shop for kitchen, dining, living, bedroom, bathroom and more. There is a wide range of home goods available that best fit you, your family and friends' home needs. | |
| | With over 45 stores available in Malaysia, Singapore and Southeast Asia, Courts serves to provide home appliances for your home needs. In 2019, Courts became a subsidiary company for Nojima Co. Ltd., with the aim to provide services that cater to customers' needs by offering product consultations and after-sales services. You can find the best-valued items ranging from the latest trend products such as PC, electronic gadgets, AV, home appliances, beauty appliances, furniture and more. | |
Main Specialties of MOP KLIA SEPANG
Brands Available
MOP KLIA has brands from luxurious to sports, fashion, cosmetics, accessories and more. The Phase 3 expansion offers a more extensive brands line-up: the home appliances and living goods category, providing an elevated shopping experience to its valuable customers.
Location
MOP KLIA is located facing the main road across the KLIA airport and city center. The mall is strategically located approximately 60km from the city center, with approximately a 50-minute drive by car. The mall is accessible not only to the locals but also the visitors from KLIA.
Parking Lots
There are over 2,500 parking lots available, with the consideration that the majority of the residents in Kuala Lumpur will travel by car.
Free Shuttle Bus
Approximately two to three shuttle buses connecting KLIA and KLIA2 operate every hour from 8:20 a.m. to 11:00 p.m.
Automatic Check-in System
The system is applicable for flights with major airlines. Customers can maximize their time to enjoy shopping and meals before flights at ease.
Ticket Counter
Booking arrangements for taxis and rental cars are available.
Support Services for Foreign
Free Wi-Fi Internet is accessible throughout the facility and shopping coupons are available to foreign travelers upon presenting their passports.
Local Hospitality
The facility preserves the diversity of the Malaysian food culture by bringing a line-up of halal (Note 1), non-halal (Note 2) and pork-free (Note 3) restaurants to its customers, as well as male and female Surau (Note 4).
Note 1: Foods that comply with the Islamic Law, which excludes alcohol and meat that is not processed in accordance with the guidelines and other related foods.
Note 2: Foods other than halal foods.
Note 3: Foods that are prepared without containing pork, its extracts and ingredients.
Note 4: Prayer room.
About Malaysia Airports Holdings Berhad
Malaysia Airports Holdings Berhad is one of the world's largest airport operator groups in terms of number of passengers handled. It manages and operates 39 airports in Malaysia and one international airport in Istanbul, Turkey. The 39 airports in Malaysia comprise five international airports, 17 domestic airports
and 17 Short Take-Off and Landing Ports (STOLports). Its flagship airport, KL International Airport (IATA Code: KUL) is among the region's preferred aviation hub.
Apart from operating and managing airports, the Group also drives airport development under its Aeropolis initiative focusing on three core clusters: air cargo and logistics, aerospace and aviation, and MICE and leisure. Its flagship airport, KLIA, is currently set up to be a regional distribution centre for eCommerce with the presence of the first global eWTP (electronic world trade platform) hub.
Meanwhile, Lapangan Terbang Sultan Abdul Aziz Shah (LTSAAS) or better known as Subang Airport is being developed into a preferred aerospace and business aviation hub in Asia Pacific. It is currently the 2nd most preferred in Asia and 4th globally for business aviation MRO.
Malaysia Airports Holdings Berhad is listed on the Main Board of Bursa Malaysia Securities Berhad (Bursa Malaysia).
[ About the Oversea Development Strategies of Mitsui Fudosan ]
In the Group's long-term management policy "VISION 2025", achieving an exponential development in overseas business is one of the efforts toward "Evolution to a Global Company". To date, the Group has expanded its businesses in Asian countries and regions, as well as in Western countries such as the United States and the United Kingdom. As for the developments in the commercial facilities, the Group has developments of outlet properties in Kuala Lumpur and Taiwan, Lalaport projects in Shanghai, Kuala Lumpur and Taiwan. Moreover, the housing projects in Singapore, Thailand, China and other cities in the Asian region, hotel operations in Taipei, logistics facilities in suburbs of Bangkok and office building developments in Bangalore. The Group is constantly promoting its businesses to draw profits in the earlier stage while making its contributions to the rapid-growing Asian region.
[ About Mitsui Fudosan's business developments in Malaysia ]
The first LaLaport in Southeast Asia, "Mitsui Shopping Park LaLaport Bukit Bintang City Center" (hereinafter, "LaLaport BBCC"), opened in January 2022. In addition, the Company has plans to develop serviced rental housing in 2024 under the large-scale urban development project known as "Bukit Bintang City Center Project" in the heart of Kuala Lumpur where LaLaport BBCC is located. The Company is also promoting two condominiums, on top of these five properties in Kuala Lumpur. Mitsui Fudosan is expected to engage in more prospective business expansions in Malaysia in the near future.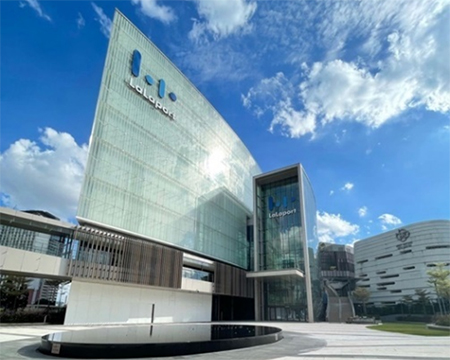 Lalaport BBCC Exterior View
Property Overview
Location
Persiaran Komersial, KLIA, 64000 Sepang, Selangor, Malaysia (inside the premise of KLIA)
Accessibility
A 5-minute drive from KLIA
A 50-minute drive from the city center of Kuala Lumpur
Business Operator
MFMA DEVELOPMENT SDN. BHD.
(Joint venture of Mitsui Fudosan (Asia) Malaysia Sdn. Bhd. and MAHB)
Phase 1
Phase 2
Phase 3
Phase 1-3 Total
Site Area
Approx. 115,000m2
Approx. 27,500m2
Approx. 20,000m2
Approx. 162,500m2
Site Area in Each Phase
Approx. 42,000m2
Approx. 16,000m2
Approx. 7,700m2
Approx. 65,700m2
Retail Area
Approx. 24,000m2
Approx. 9,800m2
Approx. 7,000m2
Approx. 40,800m2
No of Retail Outlets
Approx. 135 units
Approx. 65 units
Approx. 5 units
Approx. 205 units
Opening Dates
30 May 2015
15 December 2017
24 April 2022(Scheduled)
Structure
RC Construction 2-storey Building
Environmental Design
(Phase 1-3) Nonscale Co.
Design and Construction
(Phase 1・Phase 2) Nakano Construction Sdn. Bhd.
(Phase 3) SMCC Malaysia Sdn. Bhd.
Operation Management
MFMA DEVELOPMENT SDN. BHD.
Website
https://www.mitsuioutletparkklia.com.my
Detailed Map(Aerial View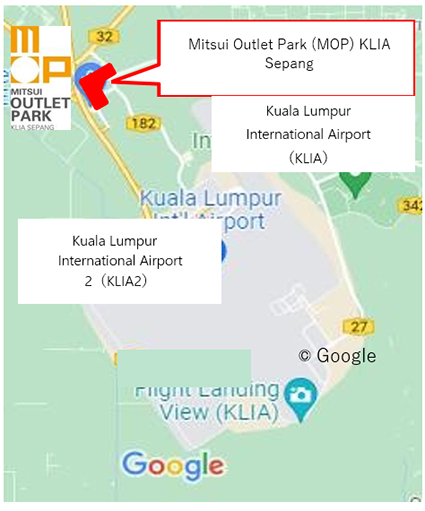 Site Map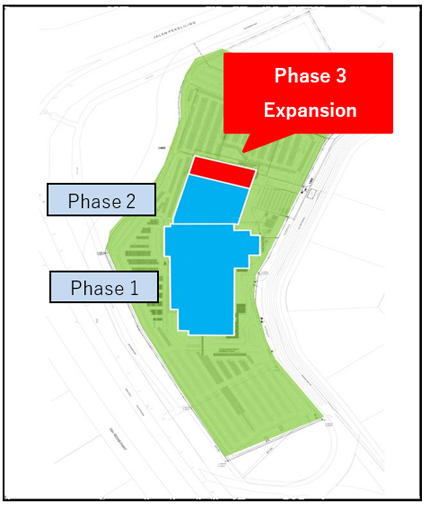 Overseas Commercial Facilities Developments by Mitsui Fudosan (as of April 2022)
Country/ Region
Property Name
Open Year
Number of Stores (est.)
Store Area (est.)
China
Mitsui Shopping Park Lalaport Shanghai Jinqiao
2021
180 stores
55,000 m2
Mitsui Shopping Park Lalastation Shanghai Lian Hua Lu
2021
90 stores
16,500 m2
 
Taiwa
Mitsui Outlet Park Taiwan Linkou
[Phase 1] 2016
220 stores
45,000m2
[Phase 2] 2024
(Tentative)
90 stores
26,900m2
Mitsui Outlet Park Taichung Port
[Phase 1] 2018
170 store
35,000m2
[Phase 2] 2021
50 stores
8,000m2
(Tentative name)
Mitsui Outlet Park Tainan
[Phase 1] 2022
(Tentative)
190 stores
34,000m2
[Phase 2] 2025
(Tentative)
60 stores
10,000m2
(Tentative name)
Mitsui Shopping Park La Laport Taichung
2022
(Tentative)
270 stores
68,000m2
(Tentative name)
Mitsui Shopping Park La Laport Taiwan Nan gang
2023 (Tentative)
250 stores
70,000m2
(Tentative name)
Mitsui Shopping Park Lalaport Kaohsiung
2026 (Tentative)
250 stores
74,000m2
Malaysia
Mitsui Outlet Park Kuala Lumpur International Airport Sepang
[Phase 1] 2015
135 stores
24,000m2
[Phase 2] 2018
65 stores
9,800m2
[Phase 3] 2022
5 stores
7,000m2
Mitsui Shopping Park Lalaport BUKIT BINTANG CITY CENTRE
2022
400 stores
82,600m2
Tota
10 facilities
2,425 store
565,800m2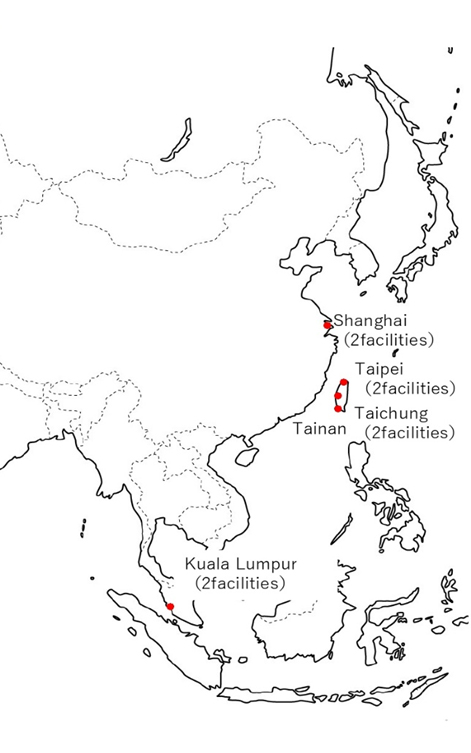 The contributions of Mitsui Fudosan Co., Ltd. in SDGs
https://www.mitsuifudosan.co.jp/corporate/esg_csr/
Based on the basic philosophies of "Coexist in Harmony with Society", "Seeking to Link Diverse Values" and "Realizing a Sustainable Society", Mitsui Fudosan Group aspires to create a society that enriches both people and the planet through expanding its business with the environment (E), Society (S) and Governance (G) in mind, hence the establishment of the ESG management. As indicated by the rapid growth of ESG management, the Group strives to contribute to the achievement of "Society 5.0" promoted by the Japanese government and SDG goals. In November 2021, the Group has formulated the following Group guidelines regarding "Realizing Decarbonized Society" and "Promoting Diversity & Inclusion" (kindly refer to the references below). The Group will continue to address social issues through urban developments.
[ References ]
・"Designing a Group Action Plan to Realize Decarbonized Society" https://www.mitsuifudosan.co.jp/corporate/news/2021/1124/
・"Designing a Diversity & Inclusion Declaration and Initiative Policy"
https://www.mitsuifudosan.co.jp/corporate/news/2021/1129_02/
*The initiatives found in this press release have contributed to 2 of the 17 goals in SDGs (Sustainable Development Goals).
| | |
| --- | --- |
| Goal 11 | Sustainable cities and communities |
| Goal 17 | Partnership for the goals |