First Regional Shopping Center Coming to Taichung, Taiwan's Second Largest City
Start of Construction at
Mitsui Shopping Park LaLaport TAICHUNG (tentative name)
Scheduled to Open in 2022
June 24, 2020
Mitsui Fudosan Co., Ltd.
Key Points of the Project
Construction beginning on Mitsui Shopping Park LaLaport TAICHUNG (tentative name); opening in 2022 as Taichung's first full-fledged regional shopping center
With a concept of "for the Vivid Colors of Life," the shopping center will house some 270 shops and restaurants and provide visitors with a host of options for spending time as a "one-stop" destination for enjoying shopping, dining and entertainment
The low-rise, mall-style structure with a high degree of mobility will help ensure pleasant, comfortable stays
Tokyo, Japan, June 24, 2020—Mitsui Fudosan Co., Ltd., a leading global real estate company headquartered in Tokyo, announced today it began construction on Mitsui Shopping Park LaLaport TAICHUNG (tentative name), a project finalized in March 2019 that is being developed with project partner SAN ZHONG EAST DIST LaLaport CO., LTD*. Construction is being led by Taisei Corporation, a major Japanese construction firm. The new shopping center is scheduled to open in the fall of 2022.
The site is located in a commercial area around a six-minute walk from Taiwan Railways' Taichung Station. Around one million people live within a 5-km radius and some 2.2 million live within 30 minutes by car, a large and productive commercial area population.
The shopping center will span two blocks and consist of two buildings with a connecting bridge on two levels. Building C on the north side will be designed in the vein of a green, grassy park with water features, and Building E, in a manner recalling the brickwork of Taichung's historical markets. It will be a low-rise mall through which visitors can move easily.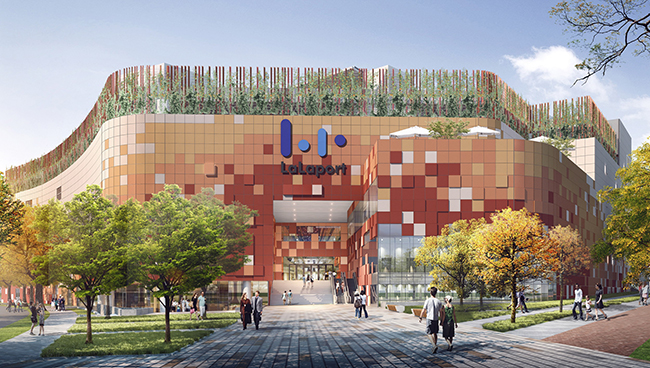 Bloc E exterior rendering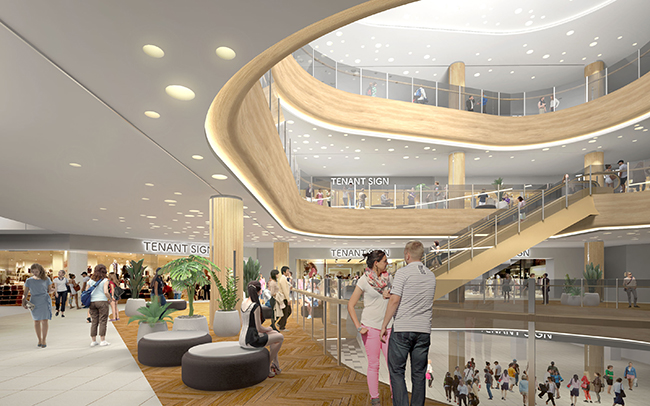 Mall interior rendering
The facility has a guiding concept of "for the Vivid Colors of Life" and will suggest new lifestyles for a colorful life and community. It will house approximately 270 shops and restaurants, including fashion brands from inside and outside Taiwan, shops opening in Taichung for the first time, including some from Japan, and restaurants and eateries, and by comprised to incorporate two food courts with local cuisine, plus a supermarket and other stores frequented daily. Moreover, there will be enhanced service and entertainment options as well. All in all, the shopping center is being designed to comprehensively meet the needs of Taichung consumers, a place where they can spend their time.
Along with Mitsui Shopping Park LaLaport TAICHUNG (tentative name), where construction is commencing, Mitsui Fudosan is also currently developing Mitsui Shopping Park LaLaport NANGANG (tentative name), which is scheduled to open in 2022 in the Nangang District in the eastern part of Taipei. Going forward, Mitsui Fudosan aims to further expand the LaLaport business in Taiwan along an axis between the cities of Taipei and Taichung. This will also be the Group's fifth retail property in Taiwan following the already operating MITSUI OUTLET PARKs in Linkou and Taichung Port and MITSUI OUTLET PARK TAINAN (tentative name) currently being developed.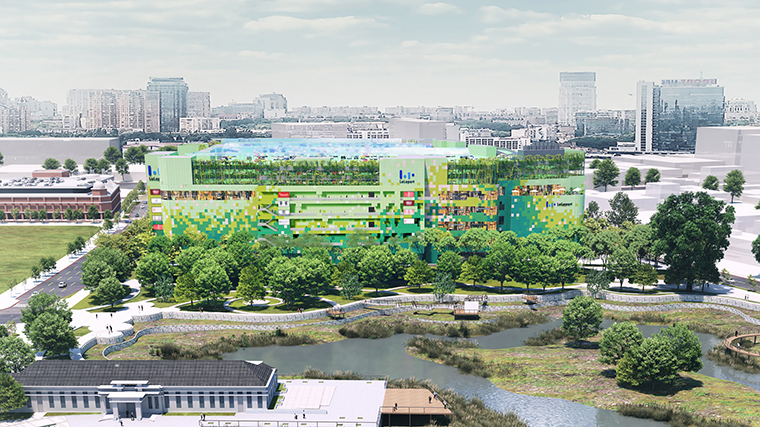 Water-feature park and Building C exterior rendering
Project Overview 
Location
Quanyuan Section, East District, Taipei City, Taiwan
Access
Six-minute walk from Taichung Station on the TRA
Project developer
SAN ZHONG EAST DIST LaLaport CO., LTD.
Business format
Regional shopping center
Site area
Approx. 43,000 m2 (Bloc C + Bloc E)
Total floor area
Approx. 197,000 m2 (Bloc C + Bloc E)
*Including parking
Store floor area
Approx. 68,000 m2 (Bloc C + Bloc E)
Structure
Bloc C: 7 floors above ground, 1 floor below ground (stores on 1–5F)
Bloc E: 4 floors above ground, 1 floor below ground (stores on B1–3F)
Number of stores
Approx. 270
Design architect
Ta Chuang Architecs & Associates
Environmental design
Exterior, landscaping

Interior
Ishimoto Architectural & Engineering Firm, Inc.,
Buchan, FORMium Landscape Architects Pty Ltd
LAND ART LABO INC.
Contractor
Taisei Corporation (Taiwan Office)
Schedule
Start of construction: June 24, 2020
Completion of construction and opening: Fall 2022 (planned)
Mitsui Fudosan's Overseas Strategy
One of the aspirations of VISION 2025, the Mitsui Fudosan Group's long-term management policy, is "to evolve into a global company." Accordingly, the Group will continue to seek robust growth in the overseas business. Mitsui Fudosan has been conducting business in countries and regions in Asia, in addition to the US and the UK. In the retail property business, the Group has been promoting the outlet mall business in Kuala Lumpur and Taiwan, and the LaLaport business in Shanghai, Kuala Lumpur, and Taiwan. In addition, the Group has been pushing ahead with the housing business in Singapore, Thailand, Malaysia, Indonesia, the Philippines, China and Taiwan. The Group has also been conducting the hotel business in Taiwan, the logistics facilities business in Thailand, and the office buildings business in India. In these and other ways, the Group has been actively pursuing business in fast-growing Asia with the view of capturing growing consumer spending and expanding profits at the earliest opportunity in conjunction with contributing to local communities. Going forward, the Group will continue aiming to expand its businesses further.
The Mitsui Fudosan Group's Business in Taiwan
In 2016, the Mitsui Fudosan Group established Mitsui Fudosan Taiwan Co., Ltd., a subsidiary in Taiwan, as an investment base. The Group is developing nine properties in Taiwan, including retail properties, hotels, and housing, and plans to expand the business into logistics facilities and mixed-use developments going forward.
Main purposes
Location
Property name
Opening / Completion of construction
Outlet park
Linkou District, New Taipei City
MITSUI OUTLET PARK LINKOU
January 2016
Taiwan Blvd., Section 10, Wuqi District, Taichung
MITSUI OUTLET PARK TAICHUNG PORT
December 2018
Gueiren District, Tainan
MITSUI OUTLET PARK TAINAN (tentative name)
2022 (planned)
Regional shopping center
Nangang District, Taipei
Mitsui Shopping Park LaLaport NANGANG (tentative name)
2022 (planned)
East District, Taichung
Mitsui Shopping Park LaLaport TAICHUNG (tentative name)
2022 (planned)
Hotel
Da'an District, Taipei
Zhongxiao Xinsheng Hotel (tentative name)
2020 (planned)
Zhongzheng District, Taipei
Zhongshan Zhongxiao Hotel (tentative name)
2022 (planned)
Songshan District, Taipei
Dunhua North Road Hotel (tentative name)
2024 (planned)
Housing
Sanchong District, New Taipei City
Sansong MPARK
2021 (planned)
* About SAN ZHONG EAST DIST LaLaport CO., LTD.
SAN ZHONG EAST DIST LaLaport CO., LTD. is a wholly owned project company established by Mitsui Fudosan Taiwan Co., Ltd. to advance this project
Map
Wide area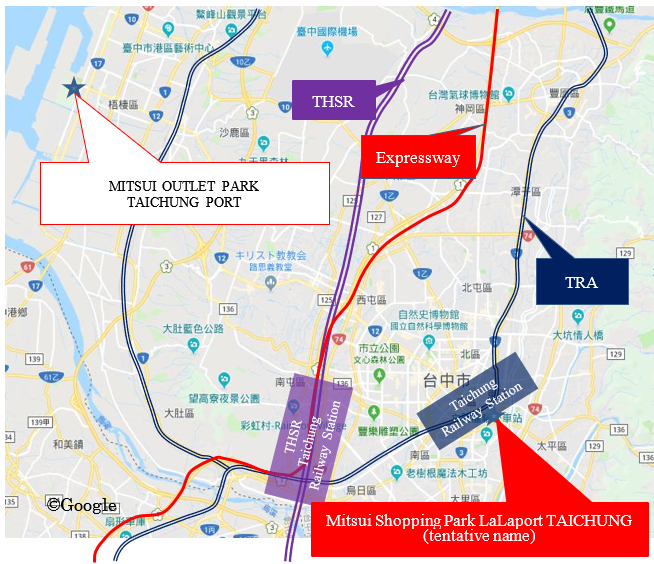 Mid-range map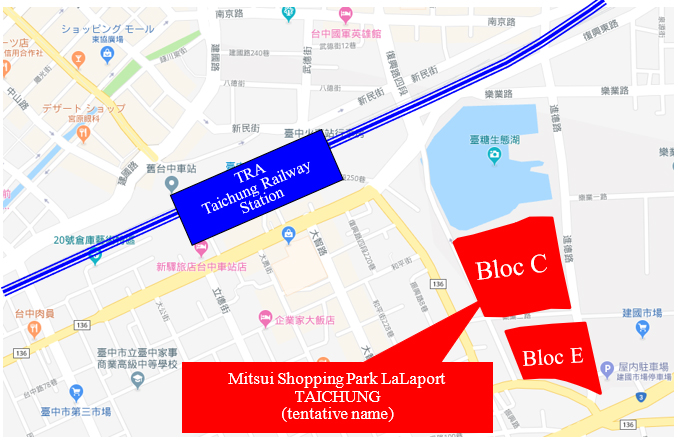 Mitsui Fudosan Retail Facilities for Overseas Development (as of June 2020)
Country/Region
Property
Opening year
Number of stores(approx.)
Storefloor space(approx.)
China
Mitsui Shopping Park LaLaport Shanghai Jinqiao(tentative name)
2020 (planned)
200
Approx. 645,834ft2
(approx. 60,000m2)
Lianhua Road Station Building Retail Facilities (tentative name)
2021 (planned)
90
Approx. 177,604ft2
(approx. 16,500m2)
Taiwan
MITSUI OUTRET PARK LINKOU
Phase 1: 2016
220
Approx. 484,375ft2
(approx. 45,000m2)
Phase 2: 2024(Planned)
90
Approx. 294,931ft2
(approx. 27,400m2)
MITSUI OUTRET PARK TAICHUNG PORT
December 2018
170
Approx. 376,736ft2
(approx. 35,000m2)
Mitsui Shopping Park LaLaport NANGANG (tentative name)
2022(planned)
250
Approx. 753,473ft2
(approx. 70,000m2)
MITSUI OUTRET PARK TAINAN (tentative name)
Phase 1: 2022 (planned)
160
Approx. 355,209ft2
(approx. 33,000m2)
Phase 2: 2025 (planned)
60
Approx. 123,785ft2
(approx. 11,500m2)
Mitsui Shopping Park LaLaport TAICHUNG (tentative name)
2022 (planned)
270
Approx. 731,945ft2
(approx. 68,000m2)
Malaysia
MITSUI OUTRET PARK KLIA SEPANG
Phase 1: 2015
130
Approx. 258,333ft2
(approx. 24,000m2)
Phase 2: 2018
70
Approx. 106,562ft2
(approx. 9,900m2)
Phase 3: 2021 (planned)
50
Approx. 108,715ft2
(approx. 10,100m2)
Mitsui Shopping Park LaLaport KUALA LUMPUR(tentative name)
2021 (planned)
300
Approx. 889,099ft2
(approx. 82,600m2)
Total
9 properties
2,060
Approx. 5,306,607ft2
(approx. 493,000m2)