Among the Tokyo Metropolitan Area's Largest Outdoor Robot Development and Verification Bases
Use of KOIL MOBILITY FIELD Starts in June 2021
Accelerating New Industrial Creation in Kashiwa-no-ha Smart City
June 10, 2021
Mitsui Fudosan Co., Ltd.
Tokyo, Japan, June 10, 2021 – Mitsui Fudosan Co., Ltd., a leading global real estate company headquartered in Tokyo, will open KOIL MOBILITY FIELD on June 15, 2021 to support mobility development of devices like drones and robots under development in District 135 of the Innovation Campus Zone in Kashiwa-no-ha Smart City, a neighborhood creation promoted as a private-public-academic collaboration. KOIL*1 opened in April as an incubation office that gathers companies to generate new industries, followed by the KOIL TERRACE*2 office opening in January 2021. Now with the formation of KOIL MOBILITY FIELD, the first outdoor KOIL facility, new industry creation will accelerate in Kashiwa-no-ha Smart City.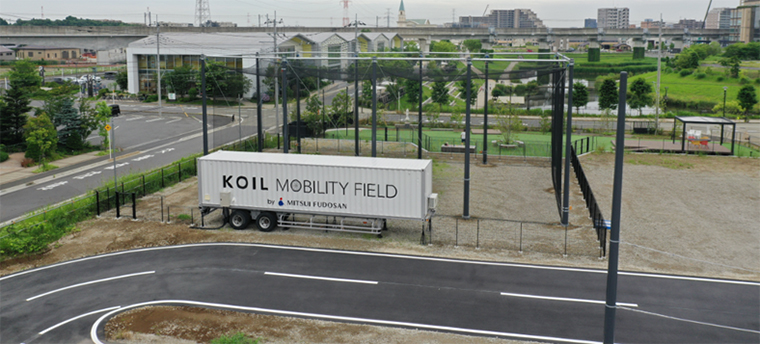 Exterior view of KOIL MOBILITY FIELD
Features of KOIL MOBILITY FIELD
Multiple locations are in place in accordance with the specifications of robot development and verification of items such as drones and automated driving vehicles.
Simplified reception enables one-stop procedures for using the area.
Outstanding location for medium- to long-term development and verification being conveniently accessible from central Tokyo, with accommodations and retail facilities nearby.
■Background to Establishment: Preparing a Place for Development and Verification in a Realistic Environment
KOIL MOBILITY FIELD is a development and verification field to address the issue of having safe and easy testing of robots under development, which has been a challenge in Japan's robot-related industries where growth, such as in automated driving, micro mobility and drones are expected.
Kashiwa-no-ha has been approached many times with queries about testing and verification or robot development, but at times has failed to meet the pace sought by startup companies and the like because it often took a lot of time dealing with procedural requirements from governments and other bodies to be able to use public roads for development or verification and testing. For drones in particular, tests are required to be carried out in airfield environments completely enclosed by a barrier net to prevent uncontrollable drones from flying away, which is a concern during development.
Meanwhile, there are few verification fields with sufficient environments to freely test robots in the Tokyo metropolitan area. Setting up this facility in Kashiwa-no-ha Smart City, which has good access to central Tokyo, raises expectations that it will be used by many researchers and developers from companies and universities.
Moreover, the facility will accelerate the neighborhood creation vision of Kashiwa-no-ha to create new industries by making development and verification procedures faster and simpler, setting up easy-to-use test environments and moving forward on attracting companies and research organizations involved in further robot or mobility development in the Innovation Campus Zone, the base for this facility.
■Layout of the KOIL MOBILITY FIELD Facility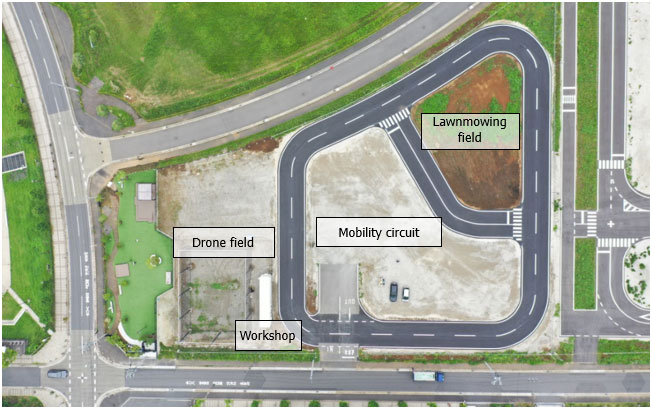 Facility layout
Mobility circuit (400 m long x 7 m wide):

Micro mobility development, including automated driving, wireless power supply while driving and robots to support walking

Drone field (flight test facility with a barrier net) (23 m long x 18 m wide x 9 m high):

Development of hydrogen fuel cell-powered and manned drones
Lawnmowing field (Approx. 13,401 ft2 (1,245 m2)): Development of robotic lawnmowing equipment
Workshop (trailer) (Approx. 30 m2 (40-ft container), equipped with electricity and air conditioning): A control room equipped with monitors and charging environments
■Three-Pronged Support System for Creating New Industries
Setting up this facility strengthens the project acceptance system at Innovation Field KASHIWA-NO-HA, a service verification field. Furthermore, the Company will start*3 providing free subscriptions of Microsoft Azure to members of the Kashiwa-no-ha IoT Business Co-creation Lab as one aspect of the lab. Provision of these subscriptions will also support robot development as collection of data to control aircraft is required for the drones and robots developed at KOIL MOBILITY FIELD.
In Kashiwa-no-ha Smart City, Mitsui Fudosan will use IoT to resolve the area's issues and accelerate social implementation and creation of new industries through verification at Innovation Field KASHIWA-NO-HA.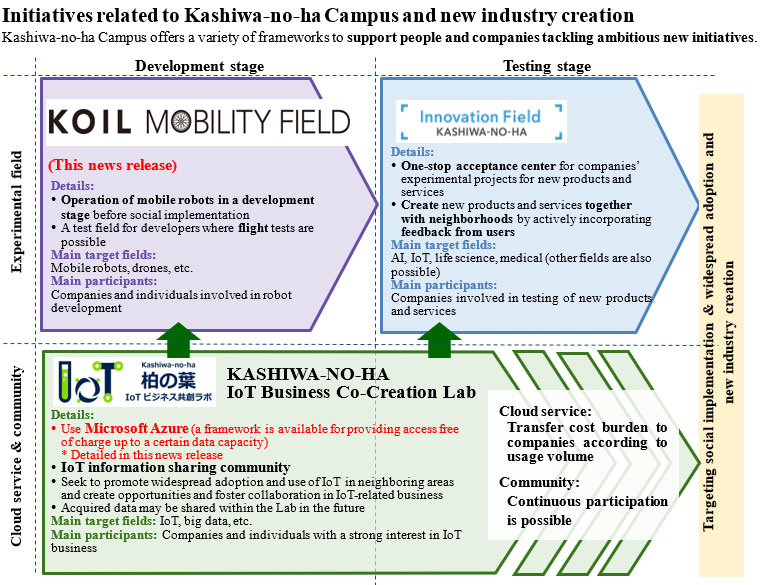 ■ Kashiwa-no-ha IoT Business Co-creation Lab and Innovation Field KASHIWA-NO-HA
The City of Kashiwa and Mitsui Fudosan are central in advancing the smart city concept in collaboration between the public, private and academic sectors under the three themes of creating "an Environmental-Symbiotic City," "a City of Health and Longevity" and "a City of New Industry Creation" in Kashiwa-no-ha Smart City, where the aim is to create an urban development model that resolves worldwide issues.
The Kashiwa-no-ha IoT Business Co-creation Lab (administrating company/secretariat: Mitsui Fudosan and others) was established in June 2018 under a theme of new industry creation, and individual working groups comprised of participating companies spread and utilize IoT technologies in the IoT test field environment constructed in the Kashiwa-no-ha area and have worked on conducting various tests and experiments to create opportunities for IoT business.
The Kashiwa-no-ha IoT Business Co-creation Lab is engaged in a wide variety of other public-private-academic IoT initiatives, and plans to broadly roll out this project within and beyond the Kashiwa-no-ha area. Kashiwa-no-ha Smart City has narrowed its focus to the two fields of AI/IoT, including the Kashiwa-no-ha IoT Business Co-creation Lab, and life science/medical, and Innovation Field KASHIWA-NO-HA (Website: https://innovation-field-kashiwanoha.jp/ (Japanese)) serves as a receptor for all experimental projects staged in the town of Kashiwa-no-ha, providing a testing platform for a wide variety of private companies to create new products and services.
■The Innovation Campus Zone
The Kashiwa-no-ha area was developed to be an international academic research city/next-generation environmental city based on the Kashiwa-no-ha International Campus Town Initiative. This endeavor was jointly drafted by Chiba Prefecture, Kashiwa-shi, Chiba University, the University of Tokyo, the Urban Renaissance Agency (UR) and Mitsui Fudosan. The Initiative designates the adjacent area which is to the north of the "By-the-station district," which has been already developed, as the "Innovation Campus Zone" (a "multipurpose, creative industrial sector"), as the next area for development. The public-private-academia partnership has been engaged with its construction. In addition to residential functions, the Innovation Campus Zone will have a concentration of business/research functions and commercial facilities to develop a multifunctional and vital compact city where living and working are close to each other.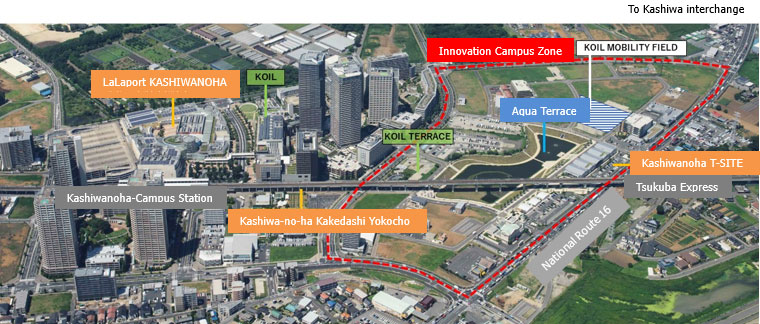 ■ Facility Overview
| | |
| --- | --- |
| Name | KOIL MOBILITY FIELD |
| Address | 1 District, 135 Chuo, 393 Shorenji, Kashiwa, Chiba Prefecture |
| Access | Eleven minutes on foot from Kashiwanoha-Campus Station on the Tsukuba Express |
| Opening day | June 15, 2021 (planned) |
| Project operator | Mitsui Fudosan Co., Ltd. |
| Contracted operator | DroneWorks Inc. |
| Site area | 6,545 m2 |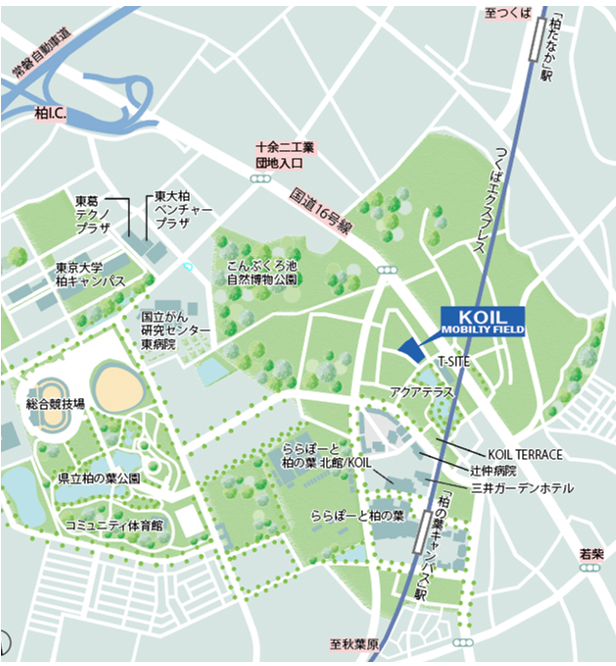 ■Kashiwanoha Campus Area
Located approx. 30 minutes from central Tokyo, Kashiwa-no-ha Smart City offers tremendous accessibility, and is also an area of accumulated knowledge where the nation's top research institutes such as The University of Tokyo and Chiba University are concentrated within a 2 km radius of Kashiwanoha-campus Station. Kashiwa-no-ha Smart City is being built through a private-public-academic collaboration, and there is proactive engagement in demonstration projects using technology from startups and universities. KOIL, which opened in 2014 as a hub of innovation, is bustling with the concentration and interaction of entrepreneurs and creators. Utilizing these unique features of the Kashiwanoha Campus area, workers and tenant companies gathered at KOIL TERRACE are looking ahead to collaboration that will generate new innovation.
Mitsui Fudosan is a comprehensive developer that creates new value by striving to resolve social issues through urban development. At Kashiwa-no-ha Smart City, Mitsui Fudosan aims to create a smart, compact city driven by data through the introduction of new technologies such as AI and IoT. It has been selected by the Ministry of Land, Infrastructure, Transport and Tourism as an advanced model project for a smart city towards realizing Society 5.0. Going forward, Mitsui Fudosan will work on developing smart medical institution services for health and medicine. In addition, the Mitsui Fudosan Group believes that it can contribute significantly to the realization of Society 5.0, which is advocated by the Japanese government, and to the achievement of the SDGs, by promoting ESG management, which means advancing businesses based on an awareness of the Environment (E), Society (S), and Governance (G).