Mitsui Fudosan Makes Its Debut in Dallas,
Texas as Construction Commences on Maple Terrace, a Mixed-Use Development Project
June 17 2021
Mitsui Fudosan Co., Ltd.
Tokyo, Japan, June 17th, 2021 - Mitsui Fudosan Co., Ltd, a leading global real estate company headquartered in Tokyo, announced today through its U.S. subsidiary Mitsui Fudosan America, Inc. (CEO: John Westerfield), that construction has begun on Maple Terrace, a mixed-use development project in Dallas, Texas, US. This is Mitsui Fudosan Group's first project in Texas.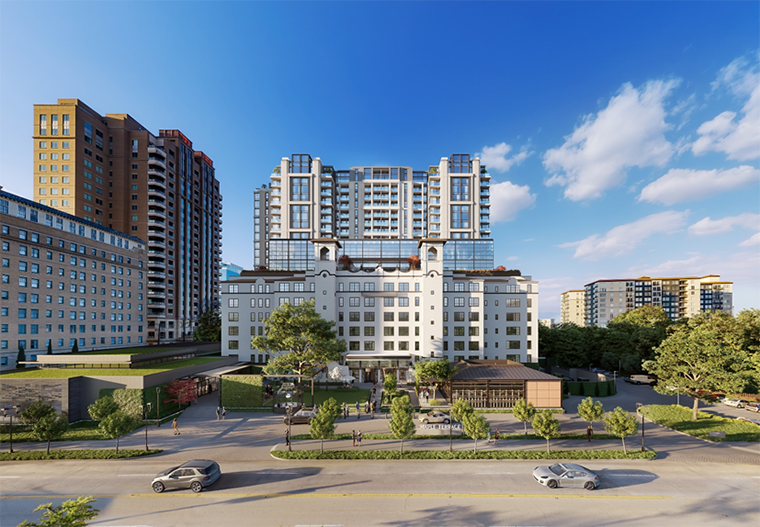 Rendering of Maple Terrace Exterior
Key Points of the Project
Construction starts on Maple Terrace, a mixed-use development project in Dallas, Texas, US. consisting of rental housing, office buildings, and retail facilities.
This will be Mitsui Fudosan's first project in Texas.
The project is located in the Uptown area of Dallas, a popular location for rental housing and offices, with many restaurants and retail facilities.
Aims to both develop while preserving the façade of a historic building, built in 1925.
About Maple Terrace
Maple Terrace is located in the Uptown area of Dallas, a popularneighborhood where rental housing, offices,as well as numerous luxury condominium and hotels, exist. The location is within walking distance of McKinney Avenue, where many restaurants and retail facilities are located, as well as the American Airlines Center, where many sports, music, and other entertainment events are held every year. Not only that, the location is just a 20-minute drive away from Dallas Fort Worth International Airport, one of the leading international airports in the US. In addition, the nearby Katy Trail, a recreational trail built on an abandoned railroad line, and Turtle Creek, a twenty-acre park, offer a serene retreat for walks, picnics, and special events, giving the location multiple features for live, work and play.
The property will be a mixture of a rental housing, office, and retail. While the rental housing and retail facilities will be newly built, the office will be both an expansion and preservation of the structure of the historical building constructed in 1925, including a façade famous for its distinctive features.
The rental housing is planned to have ample amenities, including a fitness center, swimming pool, dog park, and rooftop lounge. With prospectivetenants ranging from young single workers in Dallas to dual-income households and active seniorcouples, a wide range of floor plans are scheduled to be offered. While the office will have a historic exterior, the inner structure features a sophisticated design with the latest facilities and an atrium space, providing an airy atmosphere. As for retail, Chicago-based steakhouse Maple & Ash plans to open its first location in Texas here on the property, further energizing the area.
Methods will also be taken to reduce the property's environmental burden, such as acquiring LEED Silver certification for the office and rental housing wings, and WELL certification for the office wing.
The Group's business partner for this project is Hines, a major real estate developer based in Houston, Texas and operating around the world.
Rendering of entrance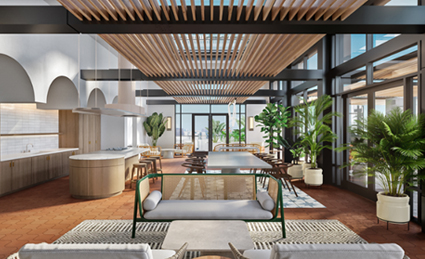 Rendering of rental housing wing's common area and rooftop lounge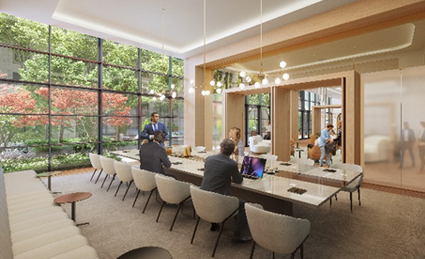 Rendering of office wing's common area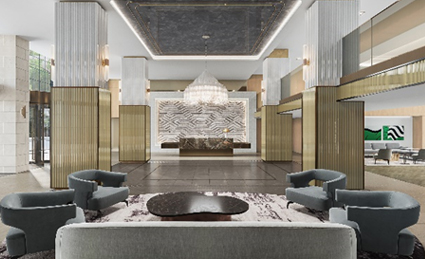 Rendering of office wing's entrance lobby
The Mitsui Fudosan Group's Overseas Strategy
The Mitsui Fudosan Group aims to evolve into a global company, as stated in its long-term management policy, Vision 2025, and a dramatic growth in the overseas area is expected in the future. Mitsui Fudosan has thus far expanded its operations to the US and the UK, as well as areas such as China, Taiwan, Southeast Asia and India. Mitsui Fudosan is engaged in multiple business developments spanning offices and residential housing, and will continue to expand business in multiple cities while aiming to capture further business opportunities, In the US, the Group has been expanding its operations in several cities, with completion of the 55 Hudson Yards office building in Manhattan, New York in October 2018 and participation in the Brannan Square project in San Francisco, to name a few, and looks to continue seizing additional business opportunities in the future. Mitsui Fudosan has been pursuing rental housing business since 2013 in cities such as New York and San Francisco, and is moving forward with rental housing operations totalling 12 properties, including Maple Terrace, with about 3,600 housing units combined throughout the US.
Overview of Maple Terrace Development Project (Planned)
Location
3001 Maple Ave, Dallas, TX 75201
Access
1-minute walk from Maple Wolf-S-NS bus stop
1-minute drive from Dallas North Tollway entrance
Site Area
Approx. 147,000 ft2 (approx. 13,600m2)
Total Floor Area
Approx. 1,087,000 ft2 (approx.101,000m2)
Rental Space
Approx. 573,000 ft2(approx. 53,200 m2)
Rental housing: Approx. 418,000 ft2 (approx. 38,900m2)
Offices: Approx. 142,000 ft2 (approx. 13,200m2)
Retail facilities: Approx. 12,000 ft2 (approx. 1,100m2)
Units
345
Structure
Rental housing: Steel-framed ferroconcrete construction
Offices: Steel-framed ferroconcrete construction and steel structure
Retail facilities: Steel structure
Floors
Rental housing: 21 floors above ground, 3 floors below ground
Offices: 9 floors above ground, 3 floors below ground
Retail facilities: 1 floor above ground
Purpose
Rental housing, offices, and retail facilities
Schedule
2021 construction start
2023 completion (planned)
Map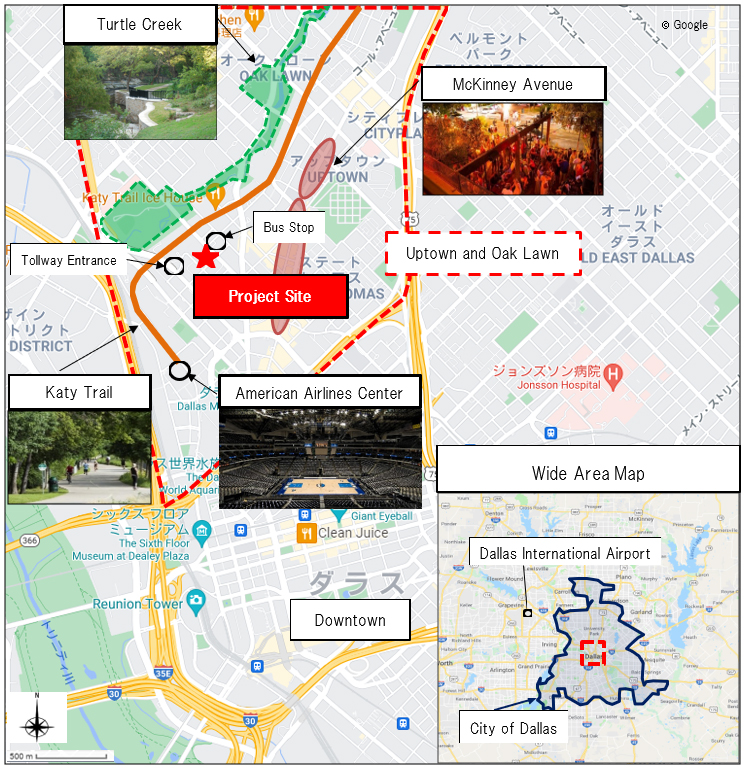 Project Layout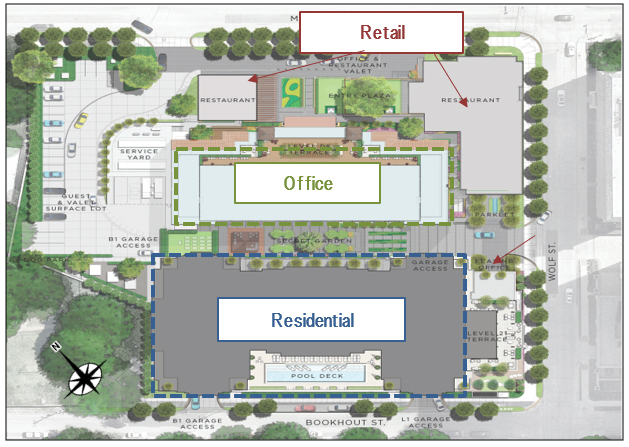 Office and Residential Projects in the US.(As of June 2021)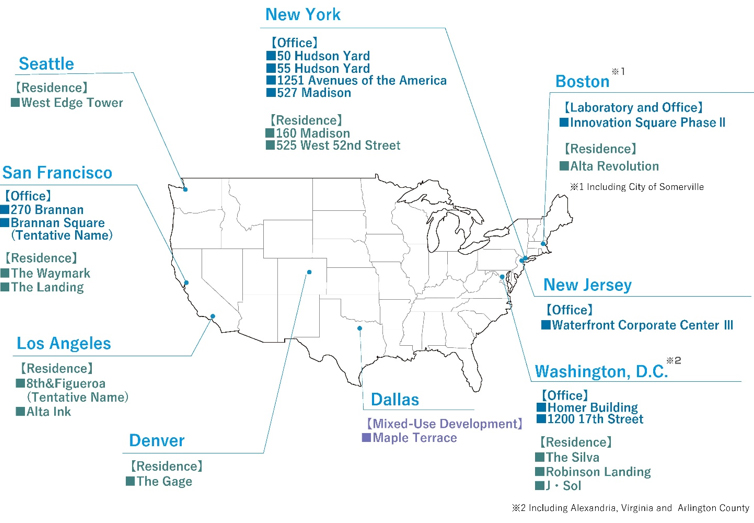 Mitsui Fudosan Group's Contribution to SDGs
https://www.mitsuifudosan.co.jp/english/corporate/esg_csr/
The Mitsui Fudosan Group aims for a society that enriches both people and the planet under the principles of coexist in harmony with society, link diverse values and achieve a sustainable society, and advances business with an awareness of the environment (E), society (S) and governance (G), thus promoting ESG management. By further accelerating its ESG management, the Group will realize Society 5.0, which the Japanese government has been advocating, and contribute significantly to achieving the SDGs.
| | |
| --- | --- |
| Goal 7 | Affordable and Clean Energy |
| Goal 11 | Sustainable Cities and Communities |
| Goal 17 | Partnerships for the Goals |